From Will and Jada Pinkett Smith to Ariana Grande and Dalton Gomez, these stars kept their splits on the down low.
Celebrity splits are bound to make headlines — and fans want to know every detail about why their favorite famous couple have called it quits. But the ending of a relationship can be a difficult time, so some stars take extra caution to keep their split a secret. A few of these celebs are able to keep their breakup on the down low for months before the public finds out — and some stars actually go years without anyone knowing. While it may be a tough task to keep fans from finding out about their personal heartbreak, these celebrities say that having their privacy was incredibly important during such a hard time.
Read on to find out which celebs kept their split secret…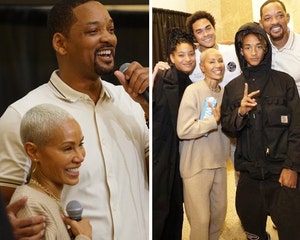 Will Smith Surprises Jada Pinkett Onstage, Says Relationship is 'Brutal and Beautiful'
1. Will Smith & Jada Pinkett Smith
Ahead of the release of her memoir, Jada Pinkett Smith revealed that she and estranged husband Will Smith have actually been separated since 2016. Despite making public appearances as a family and Will calling Jada his "wife" during his Oscars scandal, Jada says they are not a couple and don't live together.
"Why it fractured… that — that's a lot of things… By the time we got to 2016, we were just exhausted with trying. I think we were both kind of just still stuck in our fantasy of what we thought the other person should be," Jada told TODAY's Hoda Kotb. "I made a promise that there will never be a reason for us to get a divorce. We will work through… whatever. I just haven't been able to break that promise."
She added that the pair are "still figuring it out" and have been "doing some really heavy-duty work together," before concluding, "We just got deep love for each other and we are going to figure out what that looks like for us."
2. Florence Pugh & Zach Braff
Florence Pugh and Zach Braff faced a lot of backlash during the three years they dated due to their age difference — so when they split, they kept it private so as to not invite more commentary from the public. After breaking up in early 2022, they didn't tell fans until August of that year.
"We've been trying to do this separation without the world knowing because it's been a relationship that everybody has an opinion on," Florence told Harper's Bazaar. "We just felt something like this would really do us the benefit of not having millions of people telling us how happy they are that we're not together. So we've done that."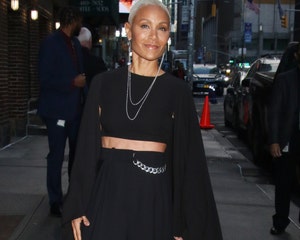 Jada Pinkett Smith Says She's Had 'Sexual Experiences with Women' as She Addresses Gay Rumors
3. Lili Reinhart & Cole Sprouse
Lili Reinhart and Cole Sprouse first separated in January 2020 and then decided to make their split permanent in March of that year. While rumors swirled about their relationship, the former couple did not address their secret breakup until August. In a statement on Instagram, Cole finally confirmed that they had broken up and wished each other the best.
"Lili and I initially separated in January of this year, deciding to more permanently split in March," Cole wrote on Instagram. "What an incredible experience I had, I'll always feel lucky and cherish that I had the chance to fall in love. I wish her nothing but the utmost love and happiness moving forward. All I'll say about it, anything else you hear doesn't matter."
4. Miley Cyrus & Liam Hemsworth
Miley Cyrus and Liam Hemsworth had an on-and-off relationship during the 10 years that they were together — but no fans saw a breakup coming after they officially tied the knot in 2018. Unfortunately, less than a year later, they split. Miley later shared that she came to the conclusion that her marriage was over during the Glastonbury Festival in June 2019 but kept the news secret for a couple of months.
"So Glastonbury was in June which was when the decision had been made that me and Liam's commitment to be married just really came from — a place of love first, because we've been together for 10 years — but also from a place of trauma and just trying to rebuild as quickly as we could," Miley shared in a TikTok, referencing the Malibu fire that had destroyed their home.
She continued, "The day of the show was the day that I had decided that it was no longer going to work in my life to be in that relationship. So that was another moment where the work, the performance, the character came first and I guess that's why it's now so important to me for that not to be the case. The human comes first."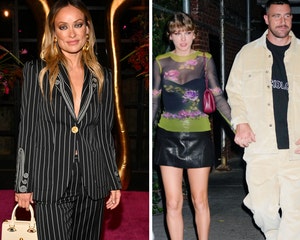 Olivia Wilde Defends Posting Taylor Swift/Travis Kelce Perceived Dig
5. Jason Sudeikis & Olivia Wilde
Jason Sudeikis and Olivia Wilde were engaged for seven years, but they waited almost an entire year to make their split public. The couple secretly went their separate ways in early 2020, but fans didn't find out until November of that year.
"The split happened at the beginning of the year," a source told People at the time. "It's been amicable and they've transitioned into a great co-parenting routine. The children are the priority and the heart of the family's relationship."
6. Ariana Grande & Dalton Gomez
Ariana Grande kept her relationship status on the down low after splitting with her ex Dalton Gomez. The pair, who got married in May 2021, secretly split in early 2023, according to TMZ. While they reportedly tried to reconcile and Ariana publicly acknowledged their wedding anniversary that May, things ultimately didn't work out. The public didn't find out about the separation until July when fans noticed she wasn't wearing her wedding ring.
Not long after, rumors surfaced that Ariana was dating her Wicked costar, Ethan Slater, and she officially filed for divorce in September.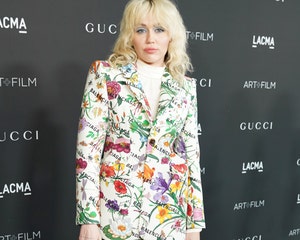 Miley Cyrus Goes Back to Brunette After 10 Years As a Blonde
7. Chase Stokes & Madelyn Cline
Outer Banks costars Chase Stokes and Madelyn Cline dated for over a year, and when they split, they kept it on the down low. When news surfaced of their break up, they had already been separated for months.
"Madelyn and Chase are no longer together. They were trying to work things out privately but broke up a couple of months ago," a source told People, with another confirming, "They are definitely broken up."
8. Sean Hannity & Jill Rhodes
In 2020, news anchor Sean Hannity and his wife, Jill Rhodes, announced that they had gotten divorced after 20 years of marriage. In a statement, the couple explained that they had actually separated years prior and had finalized their divorce in 2019.
"Sean and Jill are committed to working together for the best interests of their children. Amicable agreements were entered into over four years ago between Sean and Jill. They maintain a close relationship as parents to their children," the pair said in a joint statement.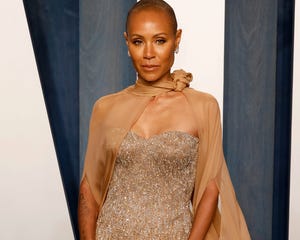 Everything Jada Pinkett Smith Says About Her Connection to Scientology In New Book
9. Helena Bonham Carter & Tim Burton
When Helena Bonham Carter and Tim Burton called it quits in 2014 after 13 years together, they kept the news private for some time. They only confirmed they were going their separate ways months after they split.
"[They] separated amicably earlier this year and have continued to be friends and co-parent their children. We would ask that you respect their privacy and that of their children during this time," Helena's rep said in a statement at the time.
10. Amy Robach & Andrew Shue
When photos surfaced of Good Morning America anchors Amy Robach and T.J. Holmes showing some major PDA, viewers were under the impression that they were both married to other people. But sources close to the former couple say Amy and her husband, Andrew Shue had split a while ago and were waiting until their divorce was settled to tell anyone.
"They were waiting on [the settlement] to tell people. The whole point of why she waited to share the news that her marriage was over: she went to [divorce] mediation," a source told People.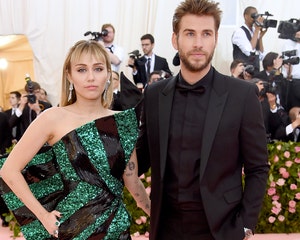 Miley Cyrus Shares Moment She Knew Marriage to Liam Hemsworth Was 'No Longer Going to Work'
11. JoJo Siwa & Kylie Prew
After JoJo Siwa came out in 2020, girlfriend Kylie Prew was her first public relationship. The pair dated for a year and then announced their split. But in 2022, the two got back together and dated again for several months. When they broke up for a second time, they kept it private. Kylie didn't share the news of the split for almost two months.
"I don't like drama and it makes me really, really anxious and so I don't want to talk about it for a while, but, um, someone asked me just now if I was single [and] I am," Kylie said during an Instagram Live stream. "I've been single for almost two months and it's OK. It's not deep, I promise. Everything's fine. Not everything has to be messy and gross because it's not, and I just want to clear the air."
12. Laurence Fishburne & Gina Torres
Laurence Fishburne and Gina Torres may have announced their split in September 2017, but it turns out that they had actually split a year earlier. Gina issued a statement shortly after photos surfaced of her kissing a new man.
"With heavy hearts, Laurence and I quietly separated and began the dissolution of our marriage in the early fall of last year. There are no bad guys here. Only a love story with a different ending than either one of us had expected," Gina told People.
Gina continued, "Happily, however, our family remains intact and we will continue to raise our daughter together with love and joy and awe. As well as raise each other up with respect and love and the continued understanding that we're in this together, if not side by side."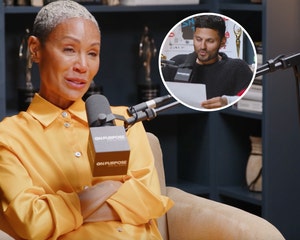 Jada Pinkett Smith Gets Emotional After Surprise Letters from Will Smith, Willow About Her Book
13. Vanessa Hudgens & Josh Hutcherson
Vanessa Hudgens and Josh Hutcherson started up a romance while they were filming Journey 2: The Mysterious Island but kept the relationship low-key. While there were rumors about their romance, many people didn't even know when exactly they split — including an interviewer who asked them about their relationship. The former couple had to awkwardly clear things up.
"We're not. We were at one point, but she broke my heart…no, I'm just kidding," Josh jokingly said.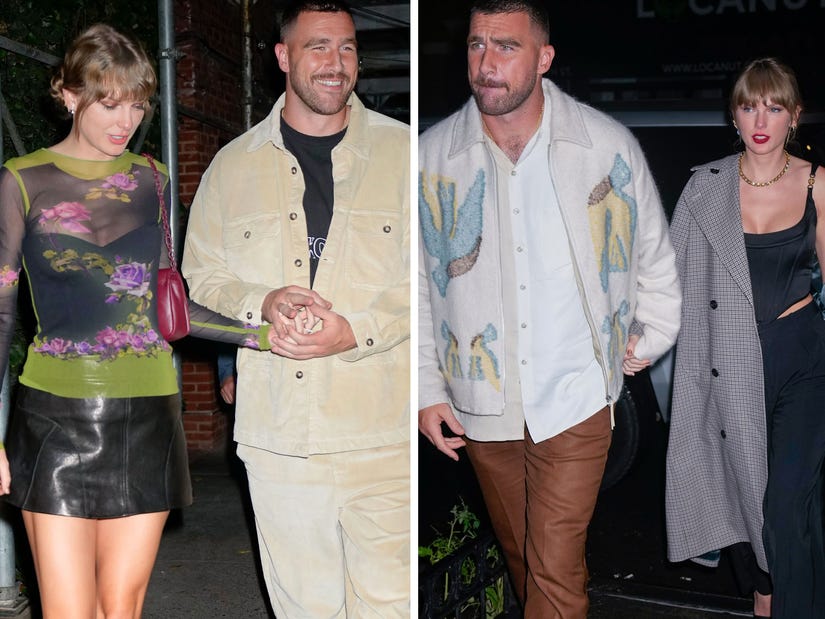 Source: Read Full Article