The tattoo artist says she is "making amends with my followers because for so many years, I've been putting out a certain message that makes me sad I was ever even a part of."
Kat Von D is speaking out about her decision to convert to Christianity.
The former L.A. Ink star opened up about the controversial move on the Relatable with Allie Beth Stuckey podcast Monday, where she shared why she ultimately moved away from witchcraft and restored her relationship with God.
"I was just searching for answers and meaning in so many of the wrong places, like most people do," Von D said.
While the tattoo artist, who also struggled with alcohol and drugs, became sober almost 17 years ago, she started to find that the non-Christian spirituality she had longed turned to, was no longer serving her, comparing it to "short-lived band-aids on a sinking ship."
Then one night, she decided to get rid of her "crutches" and throw away all her books on witchcraft and other new age practices.
"I don't want these crutches in my life anymore, and that's what really I saw them as," the 41-year-old said. "I just want Jesus, and it's a very narrow road. I feel like all these other, these breathing techniques, or spell work, nature worship, all these things, they're just crutches. They're not really my answer."
Von D continued, "And so for me, I would rather eliminate any distractions. And this is just what works for me."
Her move to Christianity came just ahead of the COVID-19 lockdowns, a time where Von D said she was working on "re-evaluating" her life.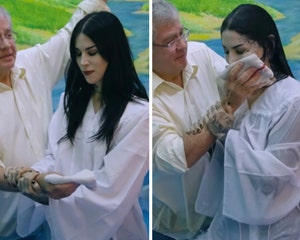 Kat Von D Shares Video of Baptism After Renouncing Witchcraft and The Occult
At that same moment, a friend had sent her a sermon that she "loved" and felt it "answered a lot of questions" she had.
"I'm on fire for Jesus. I don't plan on this dimming out," she maintained. "The more and more I learn, the more excited I get about things and the more at ease I am about what's happening in this world and what's happening in my marriage, in all of it."
She noted she still has friends into new age practices like tarot, witchcraft and meditation, but feels like they are "miserable" and admits she was "one of them."
"I would look around at my Christian friends, they're not perfect by any means, but I want what you have," she said. "Like I love the light that you have."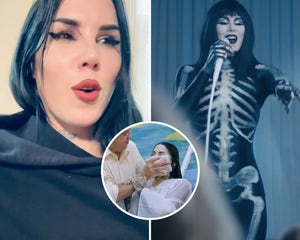 Kat Von D Addresses Baptism Backlash: 'It Was Really the Christians Who Were the Worst'
Von D made her decision all the more permanent by getting baptized in her new home state of Indiana.
The mother of one joined a Baptist church and shared footage of the monumental moment on social media, which she said earned her both praise and backlash.
"It went from, 'Well, her hand wasn't completely submerged in water, so this is fake, it doesn't count…' Other people were like, 'She's faking it, this is just for a PR stunt,'" Von D recalled.
"I'm not an idiot," she continued. "I knew that when I posted that video, people would have questions."
But, posting the clip, Von D said, was intentional and a way of "atoning" for her past.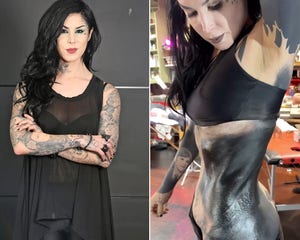 Kat Von D Reveals Massive Tattoo Coverup: '80% Done with Blacking Out My Body'
"There's the symbolic gesture of baptism, but also a part for me is a bit of making amends with my followers because for so many years, I've been putting out a certain message that makes me sad I was ever even a part of," she explained.
Von D continued, "To publicly proclaim this was me setting some things right. Just for me. It has nothing to do with — my church isn't involved in that thought process. It was important to me to share that."
Ultimately, her move to Christianity is something the singer said she wants to celebrate.
"This is something I want to celebrate. I want to be open and honest about it," she added.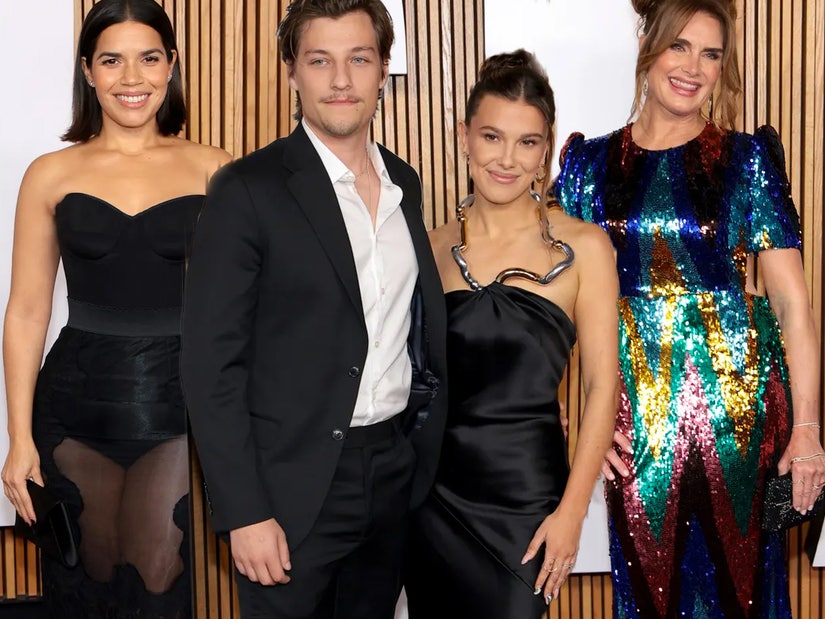 Source: Read Full Article