This month, award-winning visual artist Mark Leckey unveils his latest group exhibition at Turner Contemporary. As both an artist and editor, Leckey's involvement sees him use the concept of a magazine editorial to choreograph the immersive experience. Alongside his newly commissioned video DAZZLEDDARK, the show comprises work from a line-up of artists and musicians who bring their own take on the seaside theme.
Whilst some artists use the show to explore their existing ideas of Margate, others draw on memories of British seaside towns. For Leckey, the show was a chance to navigate his nostalgia-induced connection to the seaside. Having visited Blackpool regularly with his grandparents in his youth, he found the destination to be an escape from the gray city life of Birkenhead – a feeling shared by many who vacation in similar spots.
What sets British coastal towns aside from anywhere else in the world is its slightly dilapidated charm. In between the joys of the funfair, arcades and promenade, there are torn, and slightly faded, remnants of the past signifying what the seaside once was. Drawing on this current of change, the artist titles the exhibition In The Offing – a phrase that refers to the part of the sea that looks into the horizon, channeling the message of being juxtaposed in the middle of the past and the future.
As the exhibition opens its doors in Margate – a town that straddles the past and future more than ever before – Leckey hopes visitors will get to see a more raw and emotion-filled depiction of the coast through a series of transportive videos and experimental sound bites. Find out more about his process in editing the show in the exclusive interview with Hypebeast below.
Hypebeast: Tell me a bit about how your new exhibition came about and how you came to explore the seaside and British coastal towns.
Mark Leckey: I got invited to do the show by the director at Turner Contemporary, Clarrie Wallis. She explained that it'd mean commissioning other artists to make work as well as showcase a new work from myself. There was already a loose idea of basing it around Dreamland, which is the amusement park in Margate, so I knew I was going to make it about the seaside. Last year, I went down to the coastal town because I didn't know a lot about it. The way I work is to just go somewhere, stay there for a while and experience it. I'll also Google search the sh*t out of it. I learnt everything I could about the seaside and about Margate.
As I was doing that, I came across "In The Offing," an old phrase that now means something is about to happen, something inevitable. I decided to use this phrase at the same time I decided that I was going to commission young artists and musicians that I was interested in. So, there was a sense that they were emerging as talent from the unfolding future.
Tell us a little bit about the artists in the exhibition. What kind of perspectives can we expect them to bring to this theme?
When I started thinking about artists that I wanted to be involved, I had this idea that I didn't want to be a curator of a show but instead make the exhibition like a magazine editorial. I'd be the editor and set a theme of 'In The Offing' for this season's magazine. The work can explore anything that's around the seaside or the sea or the horizon, but whatever you make can only be six minutes long.
Because of my NTS connection, I wanted to have musicians and producers involved but also those who would be able to transfer their ideas into the visual realm. In terms of musicians, there is Blackhaine, nakaya mossi, Lucy Duncombe, Iceboy Violet and ANGUSRAZE. While most of those are principally making music, there are some artists who make music and videos like Charlie Osbourne.1 of 3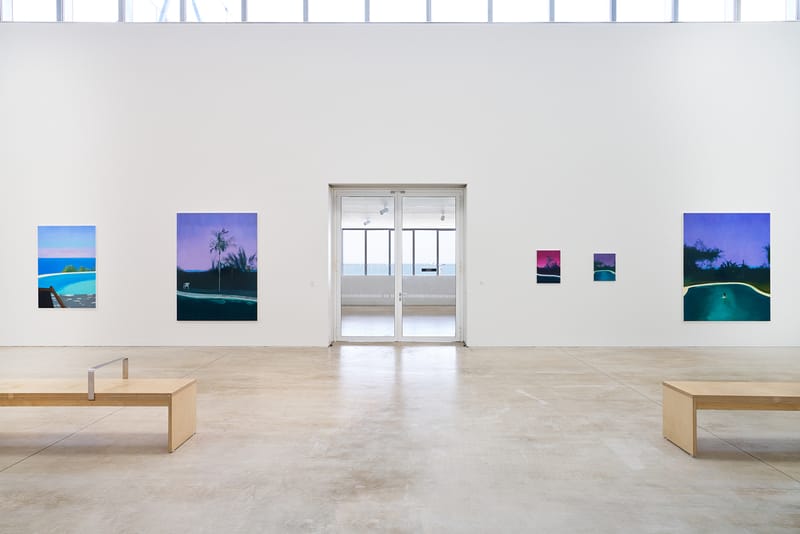 In The Offing, 2023. Installation View. © Courtesy Turner Contemporary. Photo: Reece Straw2 of 3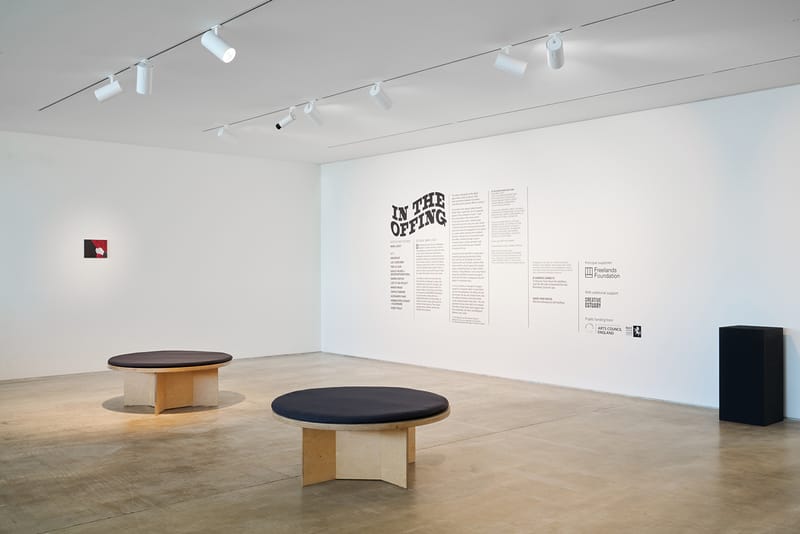 In The Offing, 2023. Installation View. © Courtesy Turner Contemporary. Photo: Reece Straw3 of 3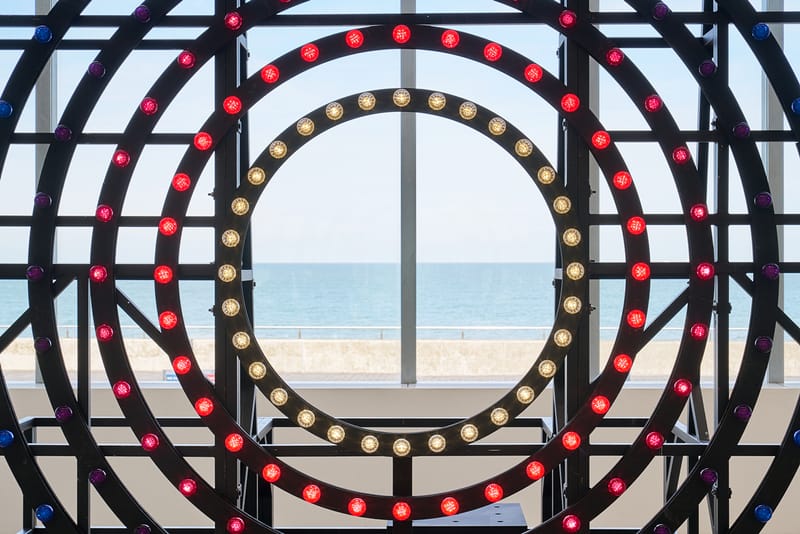 In The Offing, 2023. Installation View. © Courtesy Turner Contemporary. Photo: Reece Straw
How did the commissioning style of a magazine editorial translate into the guest experience and overall format of the show?
Once you walk in, the whole idea of it being like a magazine collapses. It was more of a way to organize the show itself without being too obvious or overdetermined. I knew that I wanted a video to start, but I didn't want each commission to play in a single black box because it never really works so I chose something more dynamic. I came up with this idea of a dark ride where you can move through the space with video, sound and lights going on and off. I didn't know this when I commissioned and briefed the artists but a lot of dread has surfaced in the work of the show. It's quite dark but still with moments of lightness and joy so that ghost train analogy works in terms of this undercurrent of anxiety.
The exhibition is not necessarily intended to spook you, I was more interested for visitors to be surrounded by a mixture of sound and light. In between that, there are moments when there's just music alone and incidental sounds that ricochet through the galleries. The exhibition is choreographed with a central show system –a new technology designed for the theater which allows you to coordinate sound and image. It's a sophisticated way of playing with and presenting the different commissions.
What did you learn from working with these new emerging artists and their approach to the theme?
I'm interested in what people do and how they put something together. I feel like that's what interests me about making work digitally; you can shape it and form it in any way, and that's what I was hoping for. I wanted them to take these ideas and see what they came up with sonically and visually in response to the messages that they would like to say. I sort of knew what was going to be said because as soon as you start looking out into the sea, your immediate response is going to be the future. The thing that manifested in all this work is this anxiety about the future. I just wanted it to be more of an emotional response or a feeling.
Give us a little insight on your own video that will be showcased?
My video encapsulates everything I've just mentioned. The name DAZZLEDDARK came from something I was reading about negative theology which is the idea that God is essentially indescribable. The only way that you can describe God is through contradictory ideas – so God is "dazzling dark." In my video, I was trying to make something that seemed contradictory or conflicted. When I go to the seaside now, I'll always go down to the sands, and look at the sea at night because it terrifies me.
The video focuses around these two toy animals from the fairground, who are stranded in between the dark sea and the bright lights while the tide has gone out. I'm always fascinated by the tide when the sea has gone right out and the sand is completely featureless. So the video ends up with these two little creatures sitting on the sand because they're lost from the fairground and ended up at high tide. 1 of 3
In The Offing, 2023. Installation View. © Courtesy Turner Contemporary. Photo: Reece Straw2 of 3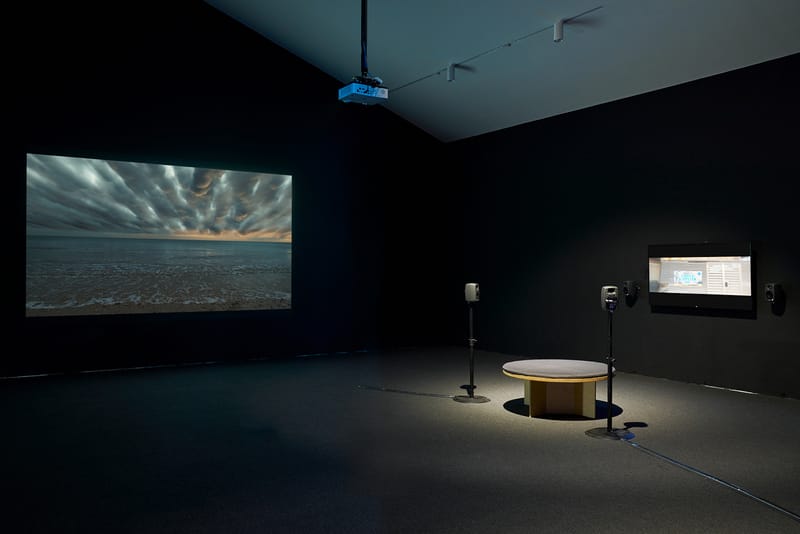 In The Offing, 2023. Installation View. © Courtesy Turner Contemporary. Photo: Reece Straw3 of 3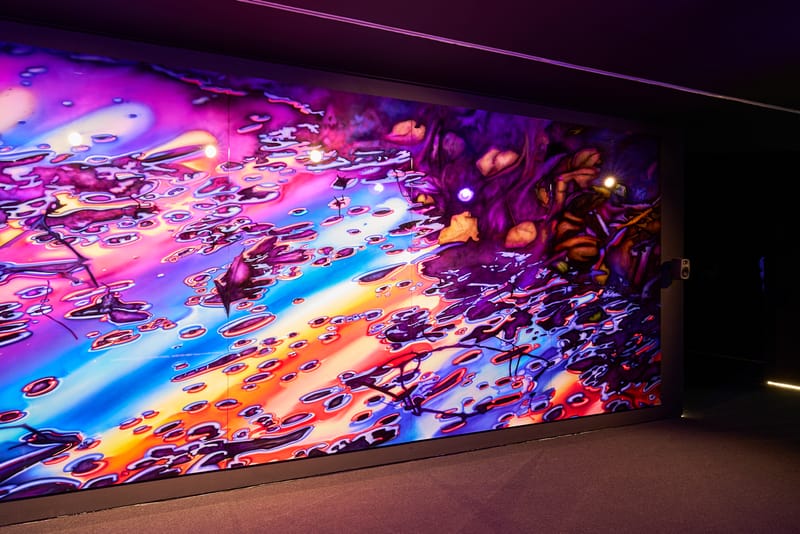 In The Offing, 2023. Installation View. © Courtesy Turner Contemporary. Photo: Reece Straw
Typically, your videos touch on society and class. Do you feel like the same themes and messages are explored in this work?
I'm not looking for a message but I'm trying to evoke the spirit of those topics. When you first get off the train in Margate, the first place you come to is Dreamland along the promenade. At the other end is Turner Contemporary. Both places mark the two poles of the town and it's a place that is very much about the past and what it's becoming. While Dreamland represents where I come from, and the way I grew up with amusement arcades, the other end is this shining, new institution of contemporary art.
There are people who will go to Dreamland but they won't go to Turner Contemporary because they feel those spaces aren't for them. Now, I travel back and forth and I suppose I'm part of the greater bourgeoisie. If you invite them in, there's a kind of suspicion. I wanted to create a show that speaks to those people, giving something within that experience that resonates with them. Essentially, I wanted the Dreamland and the Turner to move closer together in some way through my exhibition. I was thinking about how we could create an exhibition which is also an attraction.
In the run-up to the exhibition, you also hosted your own variety show at Dreamland's Roller Room, what did that involve and how did you balance entertainment of the past and present?
Variety shows were something I grew up with. I remember Morecambe and Wise who used to do a little skit which was followed by a juggler or dancer, or even some poetry. I've always liked that format. Same with doing my NTS show. As I've gotten older, I've accumulated lots of interests and I've been listening to music and watching TV and film for 40 years so I'm still engaged with entertainment. I wanted to do the show to put all the things that I loved on one stage.
The Divine David was there with Nicky Harris who dressed up and sang '70s ballads. Eben Sodipo performed a beautiful poem. Manchester-based artist Rowland Hill did a performance that played with a curtain, lights and fog. I think people turned up because they might have recognized some names on the bill or just thought the whole idea was interesting. It was a very mixed crowd, as was the whole event.
How do you feel the audience will be transported to a different place when arriving at the exhibition?
Whenever I do a show, transportation is the kind of feeling that I'm aiming for but something that is more akin to a psychedelic experience. I don't make work that's contemplative or engages you to think more seriously about topics, I'm after a psychedelic experience where you get swept up by it all. That is the best way to describe it. There is this phrase "show, don't tell" which is from script writing and filmmaking. It's the idea that you don't have lots of exposition or explain things, you try to visually show it as much as you can. That's what I'm trying to do and that's my motto at the moment.
In The Offing is an exhibition edited by and featuring Mark Leckey, with ANGUSRAZE, Lucy Duncombe, Theo Ellison, Ashley Holmes + Seekersinternational, Darren Horton, Lost at Sea Project, nakaya mossi, Charlie Osborne,Alessandro Raho, Hannah Rose Stewart + Blackhaine, and Iceboy Violet. The exhibition is the culmination of a multi-year project generously funded by Freelands Foundation as the Principal Supporter and will be on until January 14 2024 at Turner Contemporary.
To find out more, head to the gallery's website now.
Source: Read Full Article