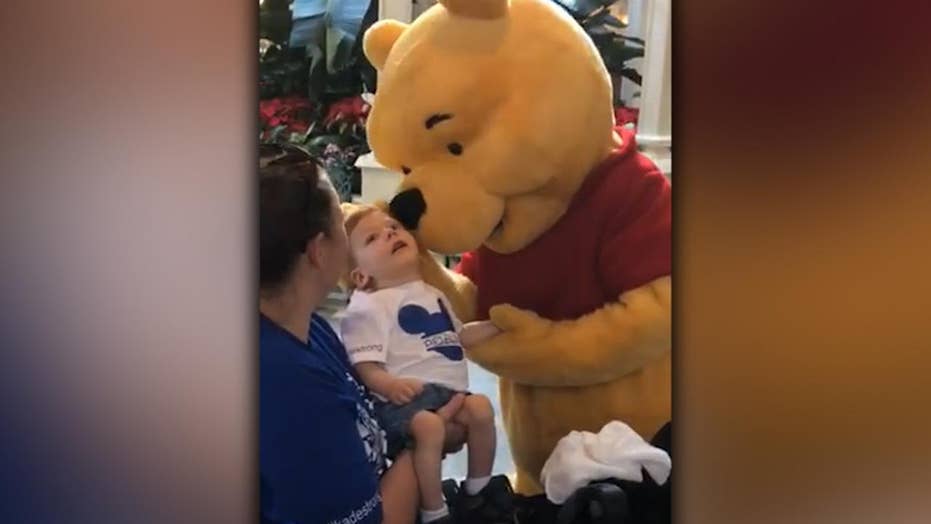 Winnie the Pooh shares tender moment with disabled child
Raw video: Family of disabled boy shares footage of Walt Disney World staff member, dressed as Winnie the Pooh, interacting with their child at the resort in Orlando, Florida.
Disney World truly was the most magical place on Earth for one mom.
Jessie Barger shared a video on social media of the heartwarming moment shared between her young disabled son and Winnie the Pooh.
The family was dining at The Crystal Palace restaurant in the Magic Kingdom during a character breakfast when the cuddly bear came over and started interacting with the 18-month-old, who has cerebral palsy.
IKEA PRAISED FOR LETTING STRAY DOGS SLEEP INSIDE STORE DURING WINTER MONTHS
"For those of you who have disabled children know the feel when people look but aren't sure how to interact with your kiddo. This Winnie the Pooh melted my heart and knew exactly what to do! He spent 10+ minutes with our little guy and he loved every second of it. Thank you Pooh!" Barger wrote on Facebook.
She told WTSP Pooh was "very gentle and caring" with her son, who is only able to communicate by facial expressions. In the nearly two-minute long video, Winnie the Pooh can be seen holding the boy's hand and nuzzling his face and hair.
FOLLOW US ON FACEBOOK FOR MORE FOX LIFESTYLE NEWS
"This was his first time at Disney World. I had no idea the video would go viral. We were just hoping to reach other special needs families to show this amazing interaction and that it is worth the trip to Disney," Barber said.
Source: Read Full Article