During her long reign over the United Kingdom, Queen Elizabeth II has met numerous presidents of the United States. She hasn't yet met Donald Trump. And some people don't think that she ever will, since he already canceled a trip to the United Kingdom (and doesn't seem to be winning many fans among the British people). But Trump could still be in the running for a high honor bestowed by the monarch: an honorary knighthood.
In fact, several U.S. presidents have been knighted by Queen Elizabeth II. And if you look at one characteristic that those presidents had in common, it seems that Donald Trump could be next.
How do you become a knight?
There are five separate ranks in the Most Excellent Order of the British Empire. | Michael Ukas/Pool/Getty Images
When the queen knights a president, what does that really mean? As Mental Floss notes, the British government has awarded spots in the Most Excellent Order of the British Empire since 1917. The Order originally honored civilian and military behavior during wartime. But as Mental Floss notes, it quickly expanded to honor peacetime achievements, too.
The order has five separate ranks. At the top is the Knight Grand Cross (Dame Grand Cross for women). Then comes the Knight Commander (Dame Commander for women). Achieving either of those two ranks counts as a knighthood. And several U.S. presidents have achieved the very top honor.
Next: How do you address a president who's also a knight?
'Sir' or 'Mr. President'?
Anyone who's not British can only get an honorary knighthood. | Idesignimages/iStock/Getty Images
People who are knighted can add "Sir" or "Dame" to their names. But anyone who's not British — say, the president of the United States — is only eligible for an honorary knighthood. That means that even though the queen has made these people knights, they can't ask others to call them "Sir." So the American presidents knighted by Queen Elizabeth II can't get people to call them "Sir" just because of their knighthood.
On the other hand, it's (American) protocol to address the president as "Mr. President" the first time you speak, and "Sir" for the remainder of your conversation. But when they visit with Queen Elizabeth II, maybe the protocol is to stick with "Mr. President" instead of "Sir."
Next: This president was the first to be knighted. 
Dwight D. Eisenhower
He received his from King George VI. | James Anthony Wills/Wikimedia Commons
The Associated Press reports that Dwight D. Eisenhower numbers among the presidents who have had honorary knighthoods. But interestingly enough, he already had his knighthood when he moved in the White House in 1952 — and Queen Elizabeth II didn't bestow it upon him. In fact, King George VI conferred Britain's exclusive Order of Merit (much more exclusive than knighthood) on Eisenhower. And Eisenhower also became a member of the Most Honourable Order of the Bath, Knight Grand Cross.
But Eisenhower didn't just earn a British knighthood. In fact, Eisenhower earned a Danish knighthood for his actions during World War II, when he ran the Allied campaign against Adolf Hitler. As the NY Daily News explains, King Christian X of Denmark awarded Eisenhower the knighthood in the Order of the Elephant.
Next: Queen Elizabeth II knighted this president. 
Ronald Reagan
Queen Elizabeth II awarded his. | Ronald Reagan Library

The Associated Press reports that Ronald Reagan was made a Knight Grand Cross of the Most Honorable Order of the Bath. This knighthood was awarded by Queen Elizabeth II. "The government, which had not bestowed this rank on an American since the war, dusted it off in 1989 for Reagan, former Prime Minister Margaret Thatcher's conservative soul mate," AP explains.
As The New York Times reported at the time, Reagan said, "I feel greatly honored" as he left Buckingham Palace with a box containing the insignia of the knighthood: a star, badge, and red silk sash. The queen, standing beside Reagan, reportedly said, "Don't drop them." The Times also noted that "most British honors are made on the recommendation of the prime minister and formally awarded by the Queen."
Next: Queen Elizabeth II also honored this president with a knighthood. 
George H.W. Bush
He received the highest honor Britain can bestow on a foreigner. | Luke Frazza/AFP/Getty Images
George H.W. Bush joined Reagan in being named a Knight Grand Cross of the Most Honorable Order of the Bath. (That's the highest honorary rank that Britain can bestow upon a foreigner.) The Associated Press referred to Bush as "a Texas Yankee in Queen Elizabeth's court" after he received an honorary knighthood at Buckingham Palace.
At the time, Deseret News noted that according to British officials, the award "marked the close relationship between the Republican president and Britain's Conservative government, particularly during the gulf war."
Next: The presidents who became knights all have this trait in common. 
What do these presidents all have in common?
Both Republicans and Democrats have received the honor. | The White House Historical Association
If you hadn't spotted it already, there's one characteristic shared by the presidents who have British knighthoods. They all belong to the Republican Party — the same party, of course, that Donald Trump now heads. But the monarchy has knighted many other politicians, too. And not all belonged to the Republican Party.
Speaker of the House Tom Foley, Sens. Ted Kennedy and George J. Mitchell, and Secretary of State Dean Rusk all became knights. And they each belong or belonged to the Democratic Party. But many Republican politicians also received the honor, including New York mayor Rudy Giuliani, Federal Reserve chair Alan Greenspan, Senators Richard Lugar and John Warner, Secretary of Defense Caspar Weinberger, and ambassador John Gilbert Winant.
Next: Could Donald Trump become a knight?
Donald Trump
He'll probably have to wait. | Thomas Peter/AFP/Getty Images
So could Donald Trump be next? Would Queen Elizabeth II consider knighting Trump? The most likely answer: not anytime soon (and no, not because of Trump's politics). Eisenhower received his knighthood in 1943, before assuming the presidency in 1953. But Ronald Reagan wasn't made a knight until 1989, after his presidency ended. Similarly, Bush didn't become a knight until his term as president had concluded.
If Trump becomes a knight, that likely wouldn't happen until someone else is in the Oval Office. That hasn't stopped some Brits from considering the possibility — and lobbying for the government and the queen to get on board. Nonetheless, the website for the U.K. Government and Parliament rejected a petition for Donald Trump to be awarded an honorary knighthood. So far, the only knighthood that Donald Trump has achieved is an honor given by Tintagel's Camelot Castle Hotel.
The presidents she never met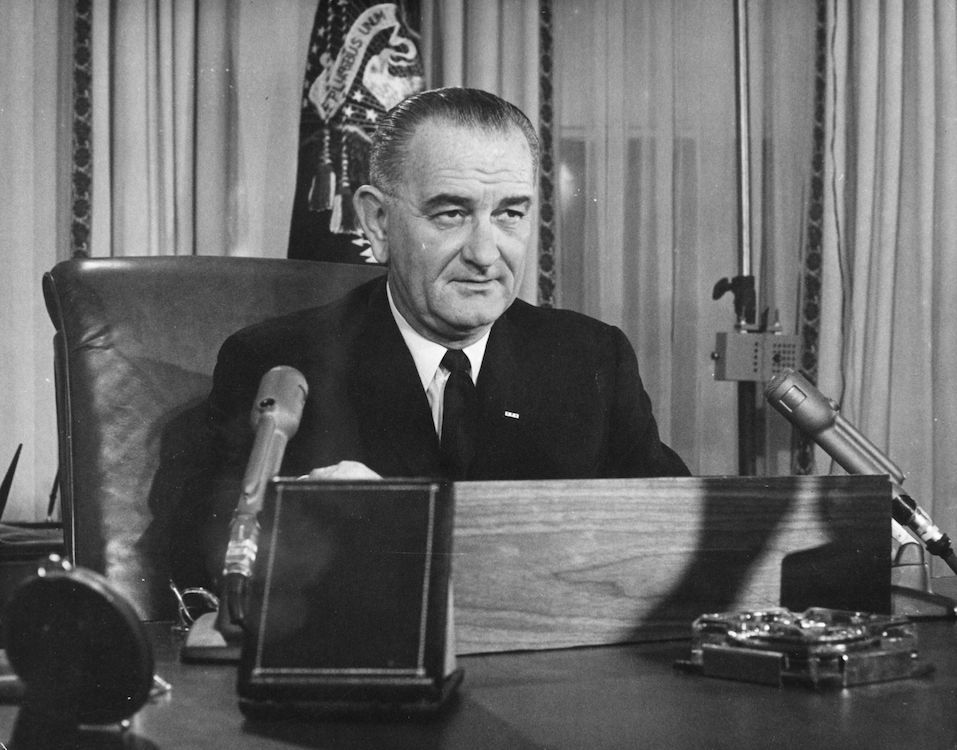 Lyndon Johnson never met the queen. | Keystone/Getty Images
Amazingly, the Queen has met virtually every president since Herbert Hoover. And while she met most during state visits, there are two notable exceptions. Of presidents that have served since 1929, the only presidents she never met were Franklin Roosevelt and Lyndon Johnson.
Jimmy Carter's faux pas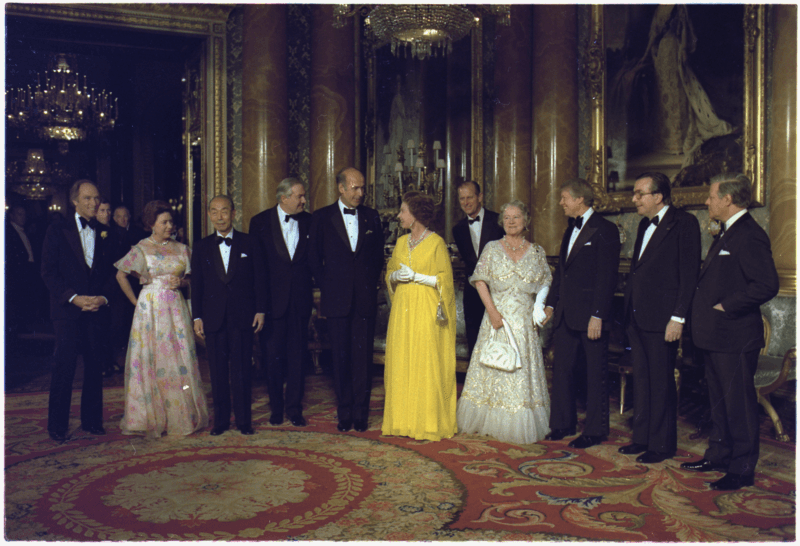 She was miffed that he didn't respect protocol. | Jimmy Carter Library
During the first year of his presidency, Jimmy Carter attended a dinner for foreign heads of state held at Buckingham Palace. Carter described the palace as "one of the most beautiful places I've ever seen." He also noted that he had a "good place to sit" at the dinner.
"I was between the queen and Princess Margaret, and across the table was Prince Charles and Prince Phillip and the Queen Mother." However, ABC reports that the queen held a grudge against Carter for years because instead of greeting her with a bow, he instead went in for a kiss.
George W. Bush gets a scolding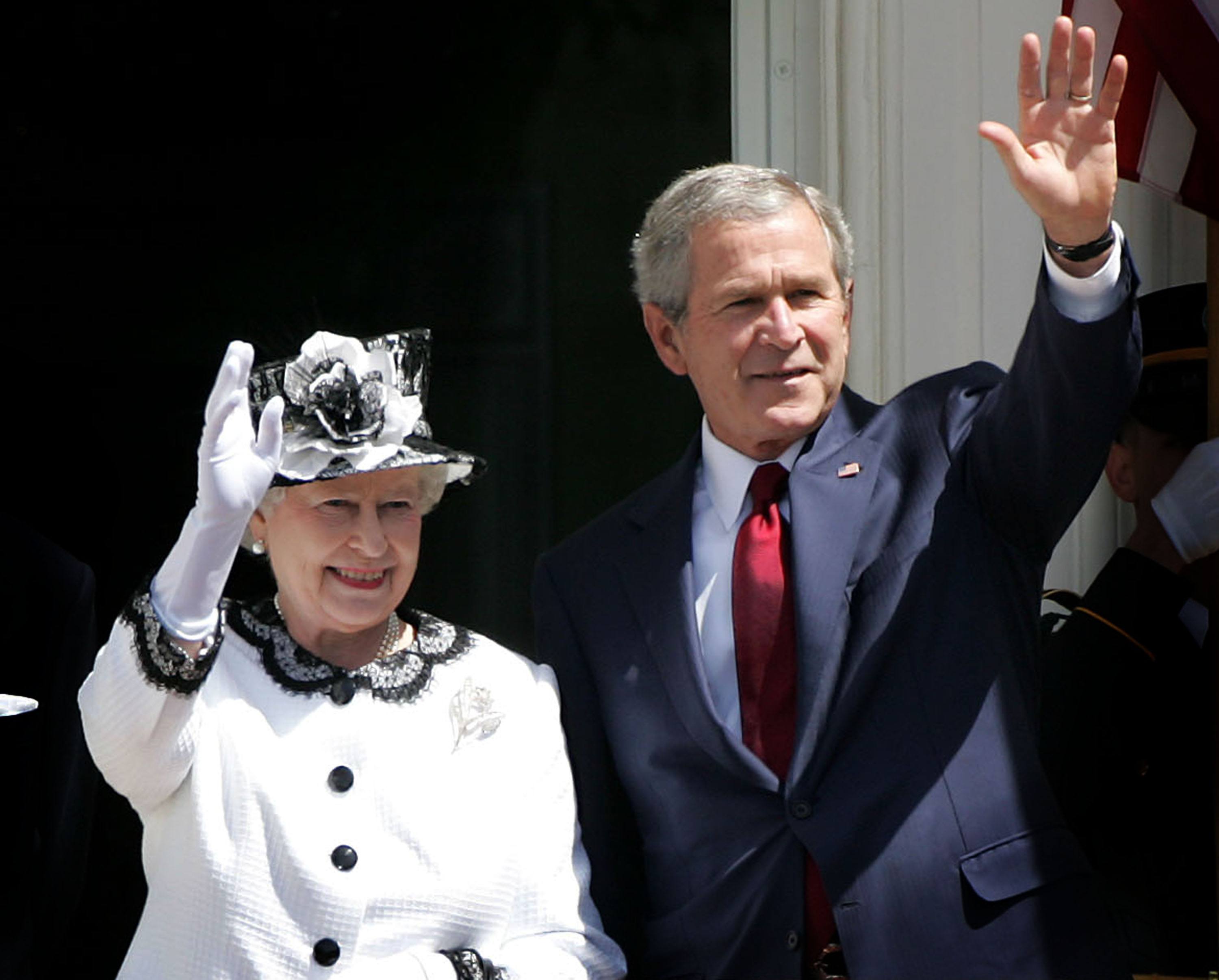 She didn't seem to approve of his flub. | Chris Jackson/Getty Images
George W. Bush first visited the queen on an official state visit in 2003. And the queen traveled to the United States in 2007, for a celebration of the 400th anniversary of the founding of Jamestown. During his welcoming speech at that event, Bush accidentally messed up his lines.
He started to say to the queen, "You helped our nation celebrate its bicentennial in 17–," accidentally implying that Queen Elizabeth II had been on the throne since the 18th century. Bush turned to the queen and winked at her. But later he said that she gave him "a look that only a mother could give a child." Needless to say, we doubt he's going to be knighted anytime soon.
Read more: These Are the Best Times Presidents (Including Donald Trump) Reminded Us They're Human
Check out The Cheat Sheet on Facebook!
Source: Read Full Article