If you can't even listen to a xylophone without feeling some major '90s nostalgia, you're going to flip out over the new Rugrats Monopoly board game that you can now get at Urban Outfitters. Yes, all in one stop, you can buy yourself a fresh pair of mom jeans, and a Rugrats-themed game of Monopoly to really drive those retro vibes home. Now I know what you're thinking: you've probably had a Monopoly game lying around your house for ages. But most likely, money is missing, homes are no where to be found and a few of the figurines are hiding in other board games by accident. For these reasons alone, you should treat yourself to a fresh game. And why get a plain old regular game when you can get a Rugrats-themed game that has a giant illustration of Chucky, Angelica, and Tommy on the center of the board? Be still my '90s heart, there are still a few units left in stock!
If at first glance you assumed that this game is like regular Monopoly, only with a few thematic images, you'd be very wrong. The folks at Hasbro and Nickelodeon went all out of this iteration of the game. Instead of buying and selling properties, when you play, you'll be buying and selling fan favorite episodes of the show — like the episode when Angelica broke her leg, aka fakes breaking her leg for attention, or the episode when all the kids went to see Reptar on Ice with Reptar's baby, aka a lizard they found in the yard — it's serious crawl down memory lane.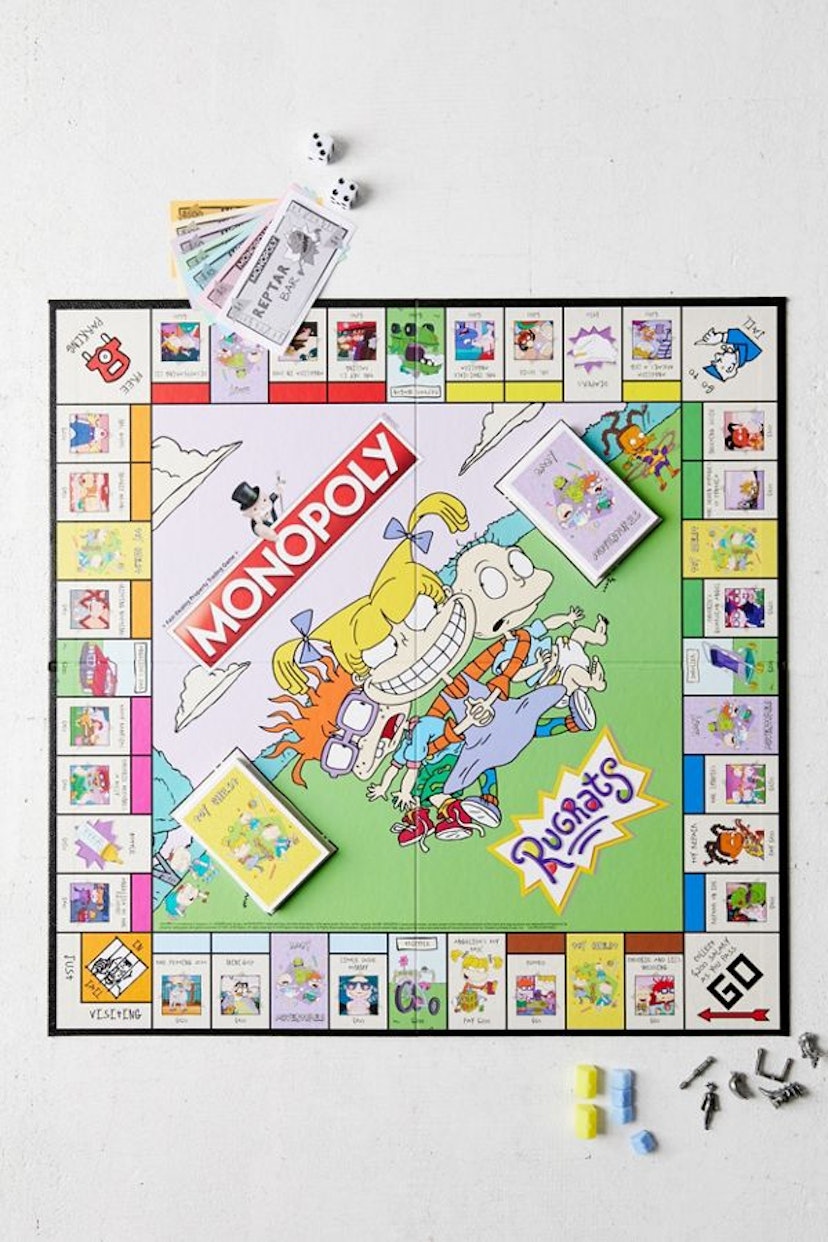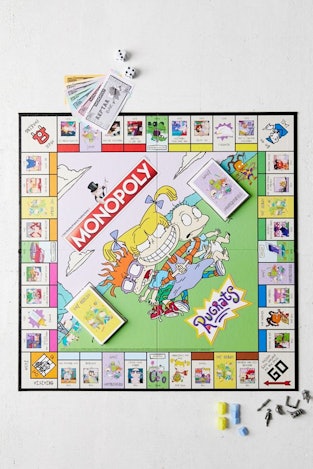 Rugrats Monopoly
$39.95
Urban Outfitters
Currency in the game is made of Reptar bars, and with it you can stock up on baby gates and playhouses in lieu of homes and hotels. But perhaps what's most charming about this revival and tribute board are the figurines: Spike, the Pickle's family dog; Reptar, the infamous T.Rex; Cynthia, Angelica's doll with sparse and semi-electrocuted hair; the beloved screw driver that Tommy always had in his diaper to get the babies in and out of the play pen; Chucky's glasses; and the rubber ducky that Phil and Lil had embellished on their outfits. How stinkin' cute?
The fact alone that I haven't watched this TV show in over 20 years and immediately recognized each and every one of the figurines and references that are listed in the game's description tells me just how iconic they are and just how much this game is going to resonate with fellow '90s babies. So order yourself a game before they're gone, and call up some friends for the most throwback game night of all time. Stock up on some Capri Sun, grab some Lunchables, some Dunkaroos, and some Gushers and have the #tbt party game night of your dreams. All of this excitement should hold you over until Rugrats returns to TV (with 26 new episodes on Nickelodeon, airdate TBD), and the silver screen (with a live action CGI movie coming to theaters) in 2020.
Source: Read Full Article