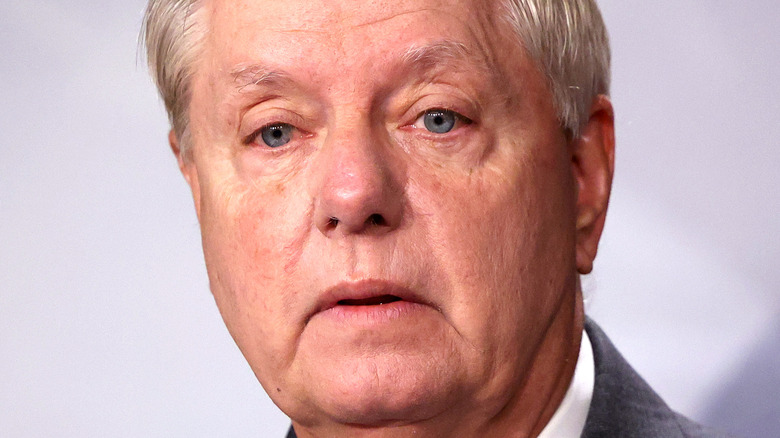 Senator Lindsay Graham from South Carolina confirmed that he has tested positive for COVID-19 and would be quarantining for 10 days. "I started having flu-like symptoms Saturday night and went to the doctor this morning," he tweeted. "I feel like I have a sinus infection and at present time I have mild symptoms. I am very glad I was vaccinated, because without vaccination I am certain I would not feel as well as I do now. My symptoms would be far worse." Early on in the pandemic, Graham appeared to downplay the severity of the disease (via Business Insider), so his diagnosis has Twitter talking.
Some had zero sympathy for the senator. One Twitter user wrote, "Four days ago, Lindsey Graham mocked House Democrats for wearing masks. Just seemed like a good time to mention this." 
Another tweeted, "Lindsay Graham tested positive for coronavirus. Thoughts and prayers to the virus." 
"Well, at least now Lindsay Graham has one positive thing about him," another joked.
Some wish Lindsay Graham did more to promote vaccinations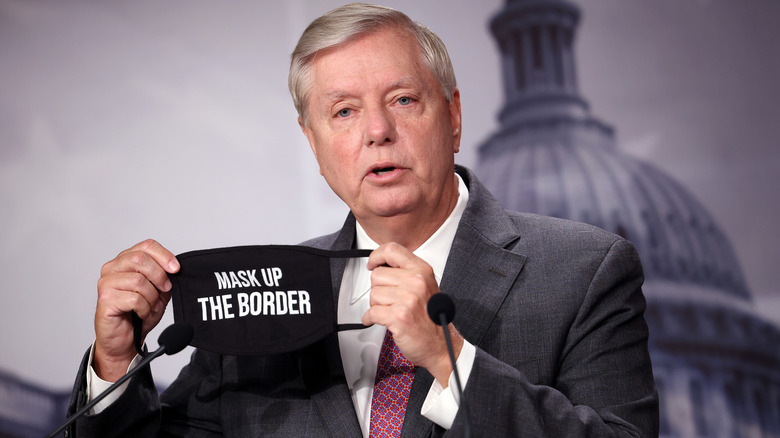 Others are happy that Senator Lindsay Graham publicly pointed out his vaccination status and how that impacted his illness. One tweeted, "Thankfully, he acknowledged that he believes that his symptoms would be much worse if had not been vaccinated." 
Another wrote, "Thank you for your public statement on this. If it gets one more person vaccinated, [it's] one of the best things you've done in public office." 
"I'm a Democrat so I don't really like you … but I respect the hell out of you for posting this. THANK YOU! You could save lives with this post and that's what is important!" wrote another.
Some Twitter users felt he didn't go far enough in promoting the vaccine. One tweeted, "This is usually the part when you tell your constituents and fellow Americans to get vaccinated."
Another commented, "Since South Carolina's vaccination rate is only at 40%, you and your team should call your constituents to get vaccinated. That will be a good use of your quarantine time."
And some are hoping that Graham takes the opportunity to encourage more COVID safety protocols on Capitol Hill. One user wrote, "Please tell your House colleagues to stop the cultural pandering and to encourage their constituents to get vaccinated." 
Source: Read Full Article