It takes quite a bit for Fox News to regret something that happened on the air. After Sean Hannity and other hosts pushed a conspiracy theory about Seth Rich's murder, all the audience got was a quiet retraction. (Hannity, unfazed, continued pushing the conspiracy theory.)
After Bret Baier went on the air with some fake news regarding Hillary Clinton's pending indictment days before the 2016 election, viewers also got a humble retraction. (Baier admitted he never confirmed the anonymous tip.)
These might sound like career-ending mistakes, but neither Fox host got reprimanded by the network. Not even Hannity campaigning onstage with Donald Trump led to actual consequences at Fox. (In one amazing moment, Hannity called Fox News reporters and other members of the press at the rally "fake news.")
So what does it take for the network to actually be embarrassed by on-air media malpractice? Apparently, interviews with former EPA Administrator Scott Pruitt finally crossed the line.
Fox & Friends asked for talking points, gave Pruitt the questions.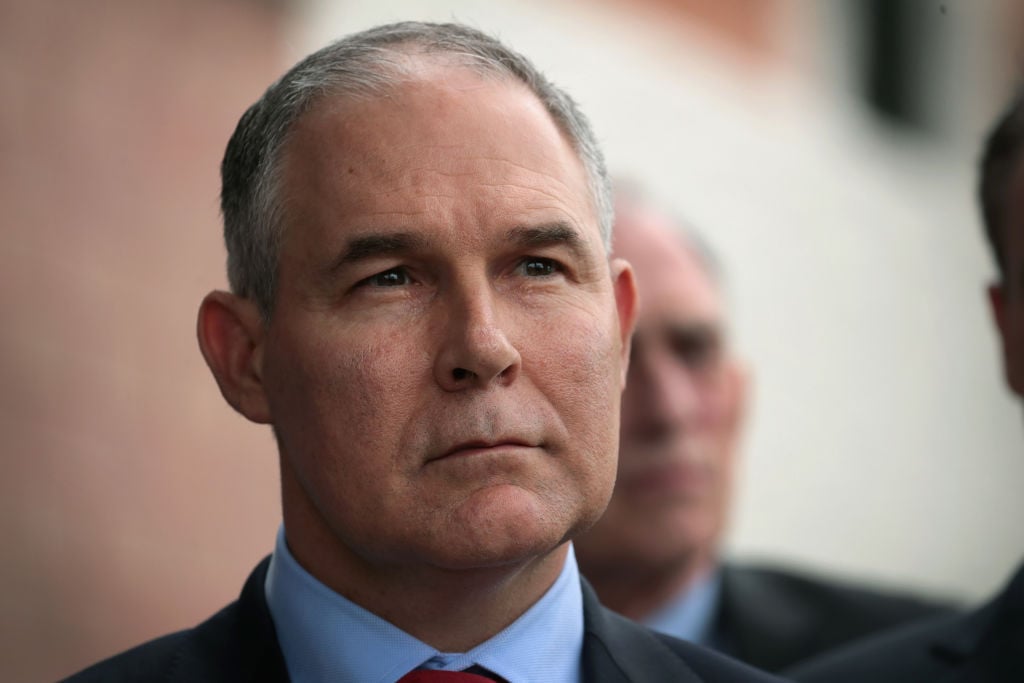 After more than a dozen ethics investigations, Scott Pruitt resigned as EPA chief. | Scott Olson/Getty Images
How would a journalist conducting an interview shred even the concept of integrity? There are several options, and the gang at Fox & Friends took an all-of-the-above approach, you'll find in a report by The Daily Beast.
In emails released by the EPA following a Freedom of Information Act (FOIA) request by The Sierra Club, Fox & Friends producers allowed Pruitt's staff to pick interview topics, review the questions in advance, and even approve copy in the show's script. What Fox News viewers saw was essentially a PR release by the Pruitt EPA transmitted live on TV.
The following came from an email Diana Aloi, a Fox & Friends producer, sent to Pruitt's staff. "Would this be okay as the setup to [Pruitt's] segment?" Aloi asked.
There's a new direction at the Environmental Protection Agency under President Trump—and it includes a back-to-basics approach. This after the Obama administration left behind a huge mess more than 1,300 super-fund sites which are heavily contaminated—still require clean-ups. So why was President Obama touted as an environmental savior if all these problems still exist?
Team Pruitt loved the material. "Yes — perfect," was the reply.
David Hawkins, a journalism professor at Fordham with a long track record in the business, summed it up succinctly. "This is worse than [providing scripts]," Hawkins told The Daily Beast. "It would and should get you fired from any news organization with integrity."
If only Fox News met that standard Hawkins dictated. At this point in time, few people familiar with the industry would call it a news organization with integrity. A "state-news network" or "propaganda arm of the GOP" certainly ring closer to the truth. After all, providing scripts for government approval is exactly what state-news networks do.
Fox's crackdown on the Friends producers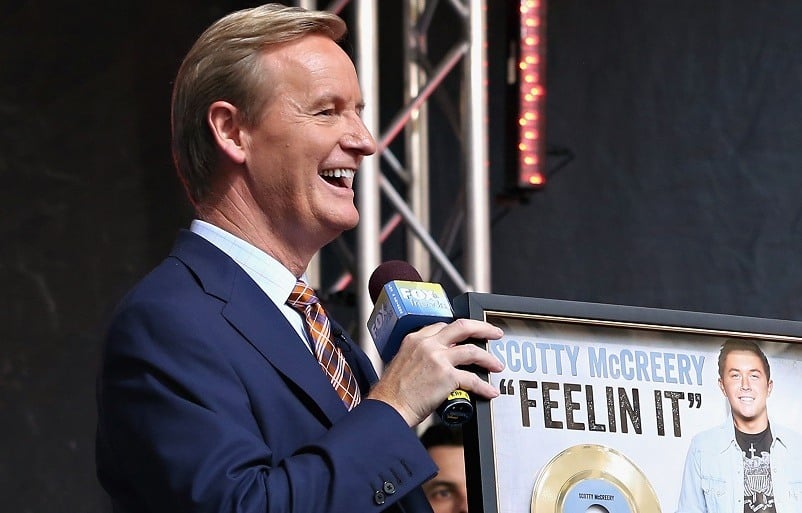 Steve Doocy was one of the 'Fox & Friends' hosts who asked Pruitt pre-approved questions.| Cindy Ord/Getty Images
How hard did Fox come down on the producers for the Pruitt debacle? We'll have to wait for the full details, but the immediate response was harsher than what we saw in the case of transgressions by Baier and Hannity.
"This is not standard practice whatsoever and the matter is being addressed internally with those involved," a Fox News spokeswoman said in a statement reported by The New York Daily News.
In the case of Hannity's campaigning with Trump prior to the election, the network had adopted a softer tone. "Fox News does not condone any talent participating in campaign events," a statement read. "This was an unfortunate distraction and has been addressed."
If anyone wonders how it was "addressed," we'll leave it to your imagination. Nothing changed at Hannity's show, that's for sure. Hannity brushed it off by saying it was spontaneous on Twitter ("NOT planned") and left it there.
Here's the bigger question: Will Tucker Carlson treat this like the Donna Brazile scandal? For those who don't recall, Tucker ran wild with the story that Hillary Clinton got a debate question from Brazile while she worked at CNN.
Carlson broke into hysterical laughter and mocked Brazile relentlessly when she explained that she didn't want Clinton "blindsided" by topics at the debate.
"That's the greatest spin I've ever heard, 'I didn't want them blindsided,'" he told Brazile. "That is hilarious."
Stay tuned to Tucker these coming days to find out if these things still tickle his funny bone.
Check out The Cheat Sheet on Facebook!
Source: Read Full Article