Ariana Grande just dropped her new song "Imagine," and let's all take a moment to listen because it's super beautiful:
Ariana already revealed that the song is about the end of a relationship and denial (to quote: "kind of like…pretending it never ended"), but she didn't confirm which relationship in particular. That said, fans are convinced "Imagine" is about Mac Miller.
First of all, here are the full lyrics, care of Genius:
Sure, these lyrics sound pretty vague, but fans think there are some compelling reasons to think they're about Mac in particular. For one, he had an "imagine" tattoo:
CURIOSITY: Did you know that Mac Miller had a tattoo with the same name as Ariana Grande's "#imagine" song?#imaginetonight pic.twitter.com/fql2S0RfNW
But there are also some lines that seem similar to lyrics in Mac's song "Cinderella."
"And when you hungry I can shut you up with stir fry." – Mac Miller, Cinderella
"Staying up all night, order me pad Thai." – Ariana Grande, Imagine
💫🌑😇#imagine #love #loss @ArianaGrande
wait
did ariana reference mac's cinderella?
cinderella: when you hungry I can shut you up with stir fry
imagine: staying up all night, order me pad thai
cinderella: you used to tell me all the time I ain't your type
imagine: baby I never thought that it would be you#imagine
Meanwhile, Genius annotations speculate that the lyric "Knew you were perfect after the first kiss" could be a reference to Mac and Ariana's first kiss that was captured on camera for their music video:
Again, Ariana hasn't confirmed who "Imagine" is about, so all we really know for sure is that it's beautiful and lovely.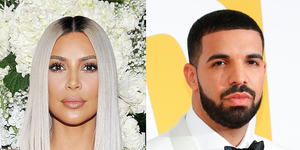 Source: Read Full Article