Meghan Markle and Kate Middleton both had fortunes of their own before marrying into the royal family. Meghan was an actress, and Kate was involved in her parents' successful party supplies business. But one of these married royals is worth just a few million more than the other.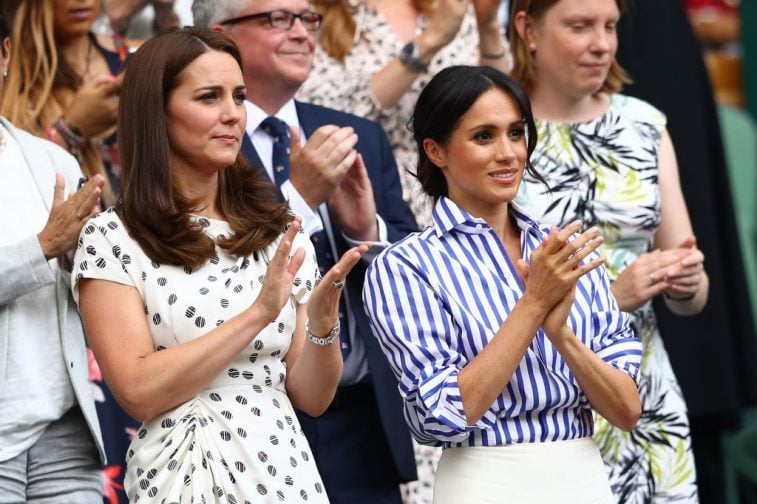 Kate Middleton and Meghan Markle | Michael Steele/Getty Images
Meghan had a successful career as an actress before marrying Prince Harry
Meghan grew up in Los Angeles and aspired to be an actress from a young age. Her father, Thomas Markle, was a lighting director in Hollywood. That's how Thomas met Meghan's mother, Doria Ragland. The two married and had Meghan back in 1981. Meghan would often visit him on set and watch the actors and actresses run their lines. From there, Meghan wanted to get into acting and auditioned for several roles as a young woman; she even went by "Meghan" instead of "Rachel" likely to give herself a more memorable name. She was a suitcase girl on Deal or No Deal and had a brief role in the young-adult drama 90210. Eventually, she landed the starring role on Suits, which is how she made most of her money.
Meghan was worth an estimated $5 million prior to becoming a royal
Meghan may live in a nicer home these days and wear more expensive outfits than ever before, but that doesn't mean she didn't have any money to her name prior to marrying Prince Harry. Actually, Meghan was reportedly worth around $5 million before she and Harry tied the knot. Although the royal family has billions of dollars in assets, Harry's net worth is only a fraction of that. According to Time, the Duke of Sussex is worth somewhere between $25 and $40 million. Most of Harry's money comes from Princess Diana's estate, which was split between him and Prince William when their mother died.
Kate was involved in Party Pieces, her parents' successful business
Kate may have been a no-name before marrying Prince William, but she definitely wasn't struggling to get by. Her parents are the owners of Party Pieces, a popular party supplies company that has netted the family millions of dollars. (Kate's parents reportedly paid for her $300,000 wedding dress back in 2011 — yes, they have that kind of money.) Kate spent a lot of time working with her parents' business before marrying Will. She was on the front of catalogs as a child and worked on the design of some of the pieces. As a result, she had a nice cut of the company, which is valued around $50 million.
Kate was worth an estimated $6 to $9 million before marrying Prince William
Kate was estimated to be worth somewhere between $6 and $9 million sans Will. That is due largely to her parents. Had Kate never married Will, she still would have lived a very luxurious life. If she'd decided to take over the family business, she may have been sitting on a gold mine worth more than Will himself.
At the end of the day, Kate is worth more than Meghan, but neither of these women should ever sell themselves short — they'd still be perfectly fine if they hadn't married royals.
Check out The Cheat Sheet on Facebook!
Source: Read Full Article