If you thought pickle madness ended with the summer, think again. Earlier this year, the (internet) world was dazzled and confused by a focus on the deli counter staple. While jars of the sour spears are present in many refrigerators, rarely have they been used to flavor everything from slushes to popcorn, the way they were in the summer of 2018; if you know someone who was plugged into the trend, Walmart has created what might be the perfect gift for a devoted pickle head. The Deluxe Pickle Lovers Gift Pack is just that: packed with everything a pickle lover could ever need (and more!).
The Deluxe Pickle Lovers Gift Pack from Walmart is filled with essentials for anyone who claims to be devoted to the snack. For a little under $35, you get a (reusable) tin filled with pickle bandages, pickle lip balm, pickle mints, a pickle-shaped stress toy, an "I Love Pickles" Can Koozie, an "I Heart Pickles" Wristband, and some Dill Pickle Salt. So, not only does this gift set provide you with accessory essentials, it touches on lip care and cupboard essentials. There is not one emergency, pickle-related or un-pickle-related, it cannot meet. What more could you possibly need?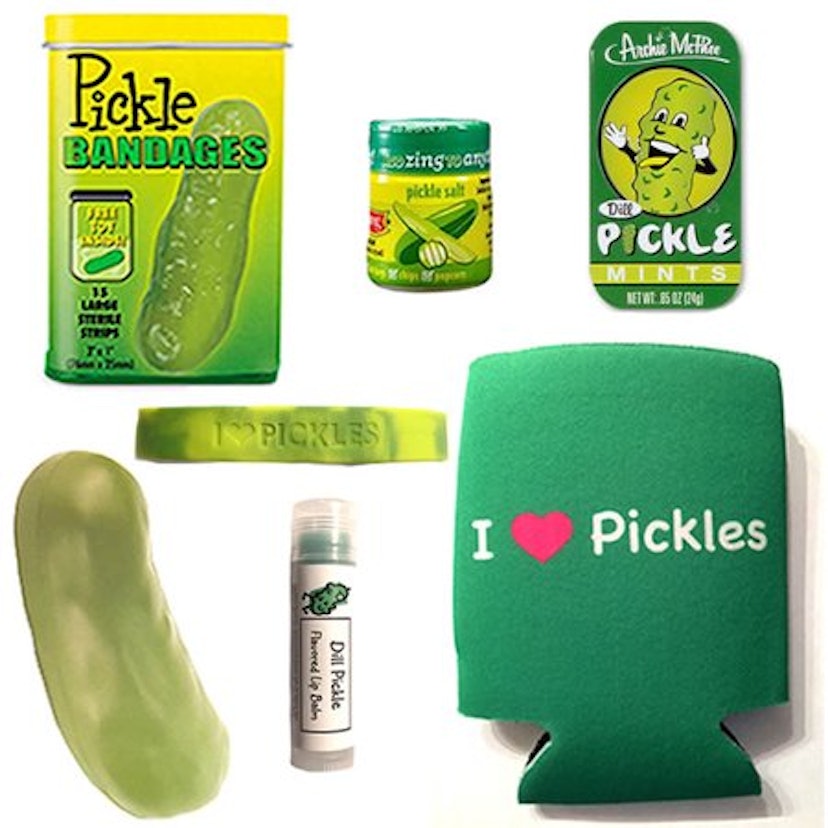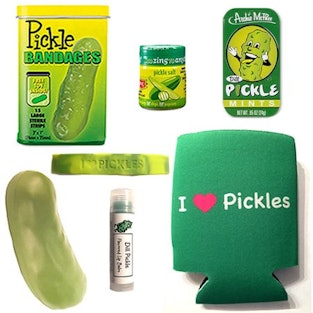 Deluxe Pickle Lovers Gift Set
$34.99
Walmart
Well, now that you mention it, an actual pickle-flavored snack would be nice. Don't worry, Walmart has that covered, too. In fact, there is an entire section of the website devoted to pickle gift packs. You can find it on the Walmart website if you search "Pickle addicts."
In the EXTREME Pickle Lovers Gift Pack, you will find everything in the standard Pickle Lovers Gift Set, as well as a bag of pickle-flavored gummy candy. If on second thought you realize you ONLY want edible pickle gifts, that is an option, too! The Extreme Pickle Candy Sampler Gift Pack offers an assortment of pickle-flavored confections; it includes pickle-flavored lollipops, pickle-flavored mints, a giant pickle gummy, and not one but two varieties of pickle-flavored hard candies (in original and spicy).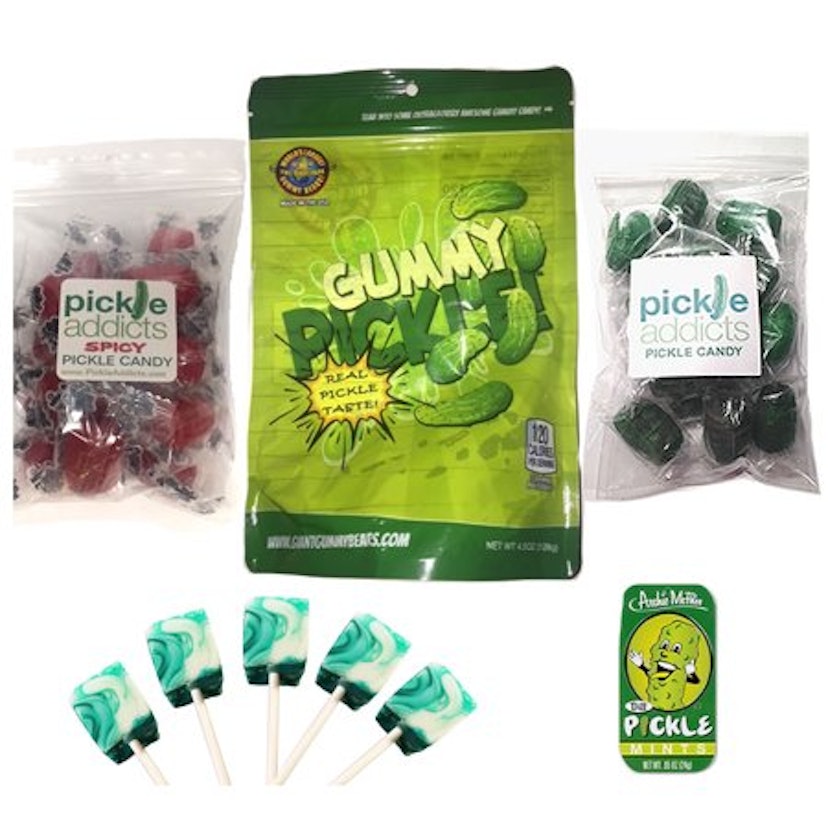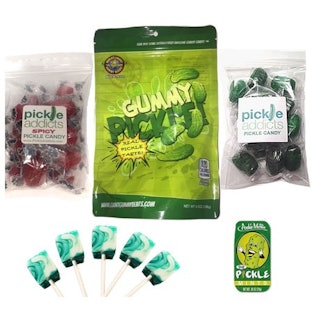 Extreme Pickle Candy Sampler Gift Pack
$37.99
Walmart
It goes without saying pickles have been around for a long time — back to the B.C. era, according to PBS! — but the archaic food preservation method found new life this past summer after an explosion of pickle-flavored oddities.
Drive-in chain Sonic made headlines and earned a feature in the Food and Wine with the addition of a pickle-flavored slush to its summer sweet treat menu. Apparently, the sip was pretty well-executed, too; it's not like you got a mouthful of pickle brine. But if that sounds good to you, artisan small batch cocktail brine is also available from Washington, DC-based Gordy's Pickle Jar. KFC even got in on the trend recently with the release of its Pickle Fried Chicken over the summer.
Unfortunately, none of these are ideal holiday gifts, seeing as most of them were seasonal (and it's difficult to gift wrap fried chicken). So, Walmart's specially-designed gift packs for pickle lovers are your best bet. Those detailed above are only a few of what the online store is carrying, so be sure to explore everything Walmart has to offer to satisfy your sour soul and tastebuds.
Source: Read Full Article