It looks like Uncharted fans will get two Nathan Drakes for the price of one in the upcoming movie. Ever since Uncharted star Tom Holland met Nolan North, the voice behind the treasure hunter in the video games, many people have wondered if North would have a cameo in the adaptation. The two actors kept quiet on the matter for months, but Holland let it slip in a recent interview that he filmed a scene with his Nathan Drake predecessor. Here's what he said.
Nolan North met Tom Holland during an 'Uncharted' set visit in 2020
For those who are unfamiliar, North voiced Nathan Drake in Uncharted 1 through 4, as well as the spinoff game Uncharted: Golden Abyss. The video game series follows the treasure hunter on various missions throughout his 30s and 40s.
Meanwhile, Holland's Nathan is in his 20s as he embarks on his first adventure with his mentor, Victor "Sully" Sullivan (Mark Wahlberg). The movie acts as an origin story for the games, telling a standalone tale that both new and longtime Uncharted fans can enjoy.
Worlds collided in October 2020 when North stepped onto the Uncharted movie set and got the chance to meet the younger version of his character. As seen in the tweet below, he and Holland were photographed chatting with each other. Additionally, North shared some photos of props from the movie. One image showed an ancient relic inside a crypt, while the other showed a copy of a Ferdinand Magellan biography.
"Like looking into a mirror! Proud to have [Tom Holland] continuing the Drake legacy! Absolutely smashing it!" North wrote in the caption.
Is Nolan North in the 'Uncharted' movie?
As it turns out, North did a little more than just visit the set. In a recent Let's Play Uncharted video with gaming YouTuber Jacksepticeye, Holland teased that he "shot a scene" with the voice actor for the movie. The Spider-Man: No Way Home star explained that he was honored to film alongside North, and the moment "meant a lot" to him.
"I really wanted his approval because he created this character and brought [Nathan] to life," Holland said. "He's sort of passing on the baton. [North] was very gracious about the whole thing and was very supportive."
Unfortunately, Holland didn't say exactly what Nolan North's cameo in Uncharted would entail. However, the news does give fans a sign to keep a sharp eye out for the voice actor. Perhaps he'll walk by in the background and wave or give young Nathan directions to the nearest treasure clue.
Nolan North shared his thoughts on the adaptation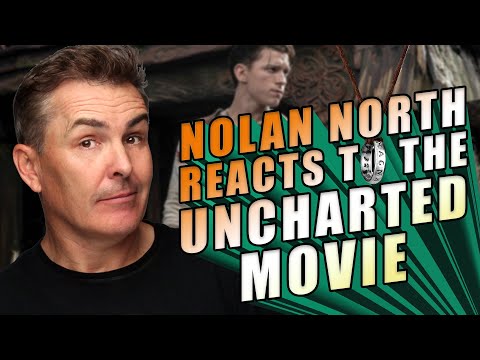 Thankfully for Holland, it seems North has given the Uncharted movie his whole stamp of approval. Back in May 2021, North appeared on the Good Game Nice Try podcast, where he called the adaptation a "brilliant idea."
"Rather than have these movies remake the game into this passive experience where you just sit there for 2 hours and go, 'OK that happened,' now you're getting this opportunity to see … it's not a prequel, but it's like, 'Here's our version of Nathan Drake but in his 20s.' I think it's great," North said.
North also showered Holland with praise, complimenting his kindness and his skills.
"The great thing about it is, he's a super, super nice kid," the voice actor explained. "He's enthusiastic, he's so athletic, he's an amazing dancer, he actually did a lot of the stunts. His physical intelligence is off the chain."
Uncharted hits theaters on Feb. 18.
Source: Read Full Article