The world hasn't heard much from Samantha Markle lately, and if you, like me, thought that it might be because Samantha was miraculously done dragging her personal drama into the national spotlight, well, unfortunately you would be WRONG.
One of the reasons that Samantha has been so mum lately might be because she's been working on—wait for it—a tell-all book that, yes, will likely include a ton about her half-sister Meghan Markle.
Samantha told the Daily Star that her book, entitled "In The Shadows Of The Duchess" (which, lol), "covers everything" and that "the world does not know truth total truth…[I'm] holding nothing back!" She also said that the book will talk about how she's been cyber bullied and received death threats since her half-sister became a royal.
And even though Samantha also mentioned that she wants to use her new-found platform to "benefit others and bring about change," she's also releasing the book in April or May, aka when Meghan and Prince Harry's baby is due, which screams more "attention, please! Even if it will distress a very pregnant woman!" rather than "how can I help the world?"
Oy, Samantha. Just…oy.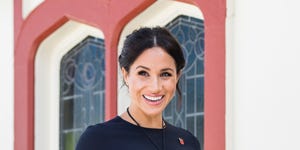 Source: Read Full Article