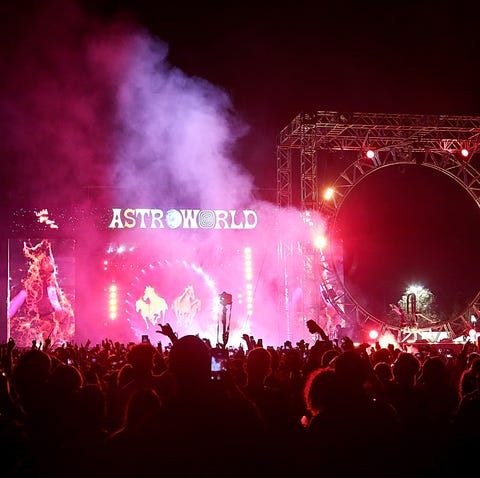 Travis Scott is currently in the middle of his Astroworld: Wish You Were Here tour, which is basically an amusement park, crossed with a concert, wrapped up in an Ulta Beauty store. (Yeah, Kylie Jenner's Lip Kits are for sale.) In other words, you don't want to miss it—so here's everything you need to know about Scott's third tour, including how to get tickets, what the merch situation is like, and why Nicki Minaj has been so pissed about it all.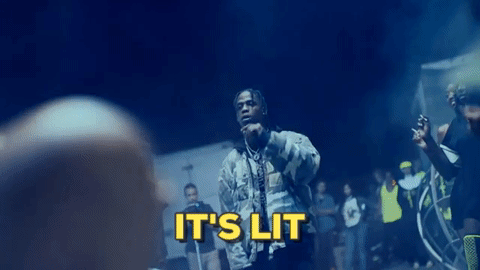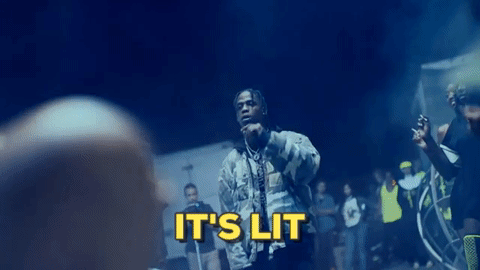 The Tour Dates and Tickets
Good news for people who are trying to save money: you can see Travis Scott perform IRL for as little as $19.95 in some stadiums! Which means you can spend the rest of your paycheck on an expensive sweater! Here are his upcoming tour dates, and if you're interested in VIP tickets, keep scrolling for the details.
Psst: A few of Travis' dates have been postponed due to production issues, but don't worry, they're noted below!
November 19: Yum! Center, Louisville
BUY
November 21: Scotiabank Arena, Toronto
BUY
November 24: Prudential Center, Newark
BUY
November 25: PPG Paints Arena, Pittsburgh
BUY
November 27: Madison Square Garden, New York
BUY
November 28, Madison Square Garden, New York
BUY
November 29: Capital One Arena, Washington, DC
BUY
November 30: XL Center, Hartford
POSTPONED
December 1: Wells Fargo Center, Philadelphia
BUY
December 2: TD Garden, Boston
BUY
December 4: Quicken Loans Arena, Cleveland
POSTPONED
December 5: Little Caesars Arena, Detroit
BUY
December 6: United Center, Chicago
BUY
December 9: Fiserv Forum, Milwaukee
POSTPONED
December 10: CHI Health Center, Omaha
BUY
December 12: Pepsi Center, Denver
BUY
December 15: Golden 1 Center, Sacramento
BUY
December 16: Oracle Arena, Oakland
BUY
December 18: Talking Stick Resort Arena, Phoenix
BUY
December 19: The Forum, Los Angeles
BUY
December 20: The Forum, Los Angeles
BUY
December 22: Moda Center, Portland
BUY
The VIP Tickets
Okay, so there are VIP tickets but they aren't that exciting—especially considering they'll cost ya $249. If you want to spring for a VIP experience, you'll get access to the floor before other ticket holders, great seats, free parking or an Uber credit, and you can buy fancy food and drinks. But what you don't seem to get is access to Travis, so…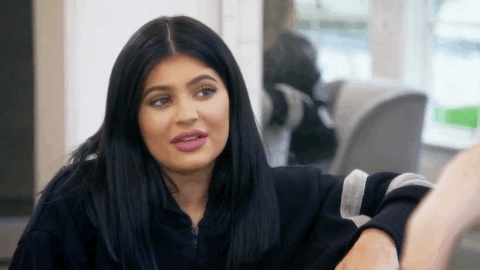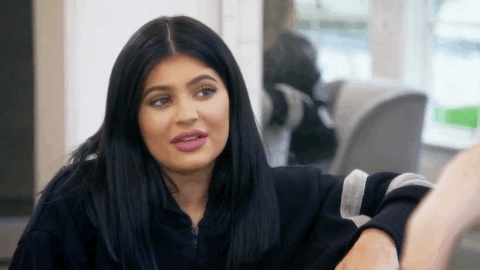 The Experience
The Astroworld tour is modeled after an amusement park, as in there are literal rides—including a massive ferris wheel that Travis lets one lucky fan take a whirl on during every show:
View this post on Instagram
FUCKKKK BALTIMORE DAY 1 RIDE 1 OF MANY AND IM PICKING AND FAN TO RIDE ERRRVYYY NIGHT. !!! LLETS GOOO
A post shared by flame (@travisscott) on
And there's literally a roller coaster:
#AstroWorldFest is gonna be crazy in Houston next week. & this was only Baltimore. #ASTROWORLD @trvisXX pic.twitter.com/vOzJHlXNEK
The Opening Act
That would be rappers Gunna, Sheck Wes, and Trippie Redd—but Travis has also been joined on stage by the likes of Drake, and apparently Kanye West and Off White's Virgil Abloh will join him on select dates. Here's a taste of what to expect:
View this post on Instagram
🎢💡🔥 @travisscott @champagnepapi Astroworld Tour: Day 3
A post shared by Travis Scott (@lordtravisscott) on
The Drama
In case you missed it due to being busy with drama in your own life, Nicki Minaj was SUPER pissed about Travis' Astroworld tour announcement. Mostly because Kylie Jenner promoted it, and apparently Nicki wasn't here for that noise. Here's what she said:
I put my blood sweat & tears in writing a dope album only for Travis Scott to have Kylie Jenner post a tour pass telling ppl to come see her & Stormi. lol. Im actually laughing. #Queen broke the record of being number 1 in 86 countries. Thank Jesus & thank you to my fans.
LOL, kay.
The Merch
Travis' Astroworld merch plan is best described as genius. The rapper created a capsule collection before his tour even started (which included a shirt designed by Virgil Abloh), and everyone who purchased an item also got a digital copy of his album—something called bundling, which Nicki Minaj was (surprise, surprise) not happy about.
ASTROWORLD TOUR MERCH 🎠 pic.twitter.com/FMWr5LW1l5
While most of Travis' initial merch has already sold out on his site, the swag situation available on tour is supposedly awesome. And it includes Lip Kits. Which brings us to….
The Fam
Not only are Kylie Jenner and Stormi joining Travis on tour, but Kylie has teamed up with her boo to create Astroworld Lip Kits:
Kylie Jenner will have up Astroworld Lipkits on tour pic.twitter.com/VAtitT0p61
The makeup mogul has been documenting their time on tour together, and recently shared this really sweet tribute to Travis:
View this post on Instagram
only the people around you really know how hard you work. i love to watch you make all your dreams come true. your first festival. we're so proud of you. we love you 🖤
A post shared by Kylie (@kyliejenner) on
Welp, that pic is enough to get me to buy tickets, so see ya there.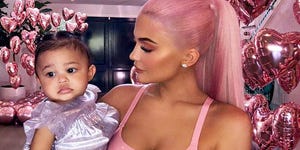 Source: Read Full Article