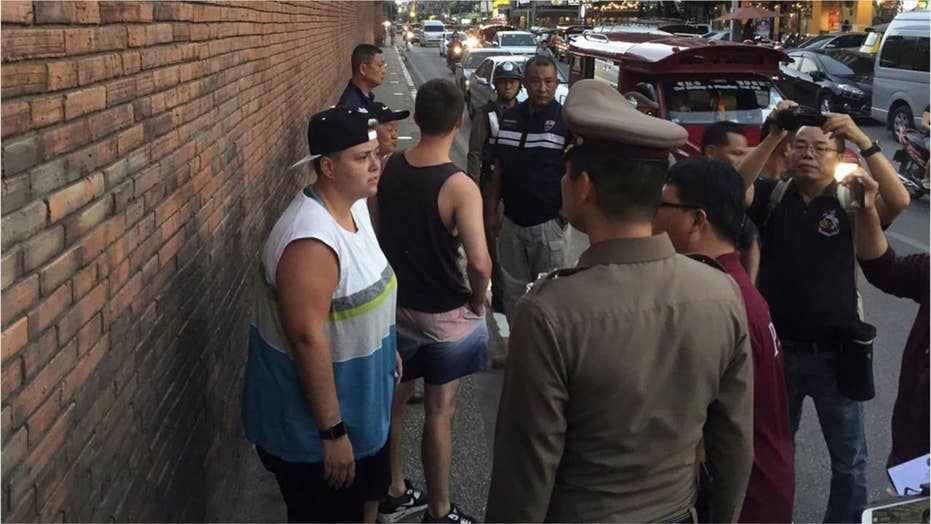 Two tourists face ten years in Thai jail over vandalism
A Canadian and British tourist are facing ten years in jail in Thailand after defacing an ancient stone gate with graffiti while drunk.
Two tourists facing 10 years in jail for graffiti-tagging an ancient wall in Thailand say they were "ridiculously drunk" when they pulled off the stunt.
Canadian Brittany Schneider, 22, and British man Lee Furlong, 23, were caught on CCTV on Thursday spray-painting a message on the wall of the 13th century Tha Pae Gate in Chiang Mai.
Mr Furlong had spray-painted the words "Scousse Lee," a misspelt reference to his home town of Liverpool, England, while Schneider had spray-painted a "B."
The pair was arrested and taken before a judge who warned they faced the prospect of 10 years in jail and a fine of more than $43,000 for defacing the wall.
The preserved Tha Pae Gate is one of Chiang Mai's most famous attractions and part of a fortress around the ancient old city.
Schneider said she spent three nights in jail before being bailed out but was "terrified" as the pair waited to learn their fate.
"I'm terrified for my life. I'm so sorry for what I did, beyond sorry," she told The Canadian Press. "I'm just so overwhelmed and just want to go home."
Schneider said she and some friends were out on Thursday night when they got "ridiculously drunk" and started heading back to their hostel.
They came across a bottle of spray-paint and decided to use it.
"I came to as I finished writing the B and I stopped because I knew it was bad," she said.
"But it was already too late."
The pair went back to their hostel and went to sleep, but the next morning, she said she remembered what she did and felt "so scared."
Then a hostel staff member found her and said there was an issue downstairs.
"My heart dropped. I knew," Schneider said. "I walked downstairs, opened the door and there were like seven police officers standing there.
"They showed me a video and asked if it was me in the video spray-painting the wall. I said, 'Yes, it was me'."
She and Furlong were arrested and taken to a police station where they were charged with vandalising registered ancient artifacts.
If found guilty, they face up to 10 years in jail and a fine of one million baht ($30,307).
Lieutenant Colonel Teerasak Sriprasert from Chiang Mai police told The Sun the pair was caught in CCTV footage.
"The graffiti says 'Scousse Lee'. This means 'Scouser Lee from Liverpool'. The girl is called Brittney and she wrote a letter 'B' on the wall," he said.
"Officers investigated the vandalism after it was seen on CCTV cameras. The offenders were tracked to a guesthouse near the same road as the wall.
"The accused will be investigated and prosecuted according to the law."
Schneider and Furlong have been taken to the wall where they were forced to point where their graffiti was.
Earlier, Furlong told The Sun his actions were "very stupid".
"I was drunk and didn't know what I was doing," he said.
"I'd been drinking all day. I'd had some bad news from my family and I went out drinking. I mean, I was really, really drunk.
"I saw the spray can and just picked it up. Honestly, I didn't know what I was doing. When I woke up the police were here.
"They took me to the station and I was in shock. I'm terrified of what will happen now."
Furlong said his passport has been taken off him.
He and Schneider will face a court hearing in about two weeks.
This article originally appeared on news.com.au.
Source: Read Full Article