I love nothing more than actors from my favorite movies reuniting IRL… especially when it's one of my all-time favorite casts, like the actors from Harry Potter. Apparently, after a full seven years post-production, the cast and crew of the eight part film series make a point to get together pretty frequently. And even though Hermione Granger and Draco Malfoy never got along as classmates, Tom Felton and Emma Watson reunite "quite a lot," per the Slytherin Harry Potter star. IDK about you, but my heart is totally melting.
Very few Hogwarts rivalries were more chilling than that of Malfoy (played by Tom Felton) and Hermione (played by Emma Watson). Malfoy was always quick to bring up Hermione's parents — a muggle and a wizard — often referring to her as a "mud blood." Hermione, on the other hand, never failed to put Malfoy in his place (she even slapped him in Prisoner of Azkaban, if you recall).
Anyway, their contempt for each other as Harry Potter characters was genuinely all an act. That's right — apparently the two stars hang out on the regular, which Felton told Us Weekly in a heartwarming interview on Saturday, Nov. 24.
Per Us Weekly, Felton told the mag,
Apparently, the former co-stars flew on broomsticks (I mean, they went skateboarding together) at the beach in Los Angeles earlier in November. Apparently, they really enjoy hanging out together. In a video shared in an Instagram post on Watson's account on Nov. 8, the pair are sharing a skateboard ride, and Felton jokingly tells her, "Easy with the wobbling … You're dancing around on the board like a clown. Hang on tight."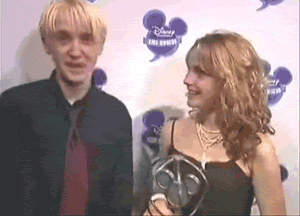 Felton described their skateboard outing further, as he said,
The Perks Of Being A Wallflower actress actually did fans a major solid and 'Grammed the entire experience, as you can see below. They took a selfie on the beach, and they even snapped a video of themselves cruising on the skateboard, with Felton in the front and Watson in the back. Honestly, it was adorable, and IDK if my heart can take much more of it.
Watson showed support for her former co-star by giving a shoutout to his latest YouTube series, Origin, in the caption of the photo. She said:
SO CUTE. It's almost surreal to see Malfoy and Hermione smiling together, without a dementor or black cloak in sight. Spoooooky.
Watson isn't the only HP star Felton's been hanging out with. In fact, Felton reunited with Jason Isaacs (aka Lucius, aka his on-screen FATHER) at the Wizarding World of Harry Potter in Orlando, Florida back in January 2017. It was totally magical, but to be quite honest, they're an absolutely terrifying duo (even without any Death Eaters around).
I love a good HP reunion, and Watson and Felton's definitely didn't disappoint. Guys, keep doing what you're doing… and please make sure to post about it on Instagram.
Source: Read Full Article