"We are not the same, never been, never will."
Teresa Giudice came out swinging following the text message drama sister-in-law Melissa Gorga brought up on the season premiere of "Real Housewives of New Jersey" this week.
ICYMI, on the premiere, Melissa said Teresa didn't respond to her for two months after Gorga texted Giudice immediately following their heated reunion interactions, attempting to smooth things over. That, said Melissa, only drove more of a wedge between her, her husband Joe and Teresa, after Gorga had been iced out of being a bridesmaid for Giudice's wedding as well.
"This is what I have to say about that. I gave birth on the show. I went to prison on the show. I got divorced on the show. I got married on the show. I buried my parents on the show. This is what I've done. And her story is I didn't return a text message?" Giudice exclaimed on her Namaste B$tches podcast on Wednesday. "That's her storyline. We are not the same, never been, never will. We'll never be the same."
Unable to render YouTube Video.
The message in question read, "I'm just letting you know I'm truly fine with not being in the wedding. I don't want to bring it up again within our family. Moving forward. I wish you guys all the best. I'm not gonna get mad at you for what Jennifer does and you shouldn't get mad at me for what Margaret does. Goodnight."
"It's like, are you kidding me?" Teresa continued, before giving her reasons for not responding.
"We left the reunion, I get that text message in the car driving home from the reunion. After 15 hours of taping," said Giudice. "I just had surgery, I was so exhausted, I was in pain. I read her text, I was like, okay, cool, we're good. There was no question mark. Perfect, okay."
"To start the season off that way, it was so crazy to me," she continued.
Teresa then wondered why she and Luis Ruelas were even invited to the roller skating party Melissa and Joe threw in the premiere, since they stopped showing up for family events Giudice invited them to after taping the reunion.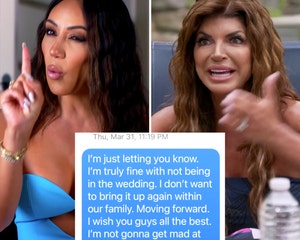 Melissa & Teresa's Texts Following Messy RHONJ Reunion Revealed on Season Premiere
"I always invited them over. The only time they invite me over for birthday cake is when the cameras are rolling," she continued. "I wanna see my niece and nephews when it's their birthday. She never invites me, her husband's sister over. Now we don't speak anymore. So this year, since we stopped speaking, since they didn't come to my wedding, I haven't invited them. Since we don't speak anymore."
"Why did you invite me to the roller skating party? Right there, you could have cut me out of your life forever. Why? Because the cameras are rolling," she added. "I didn't think they were mad at me about anything. They didn't come to my 50th, I'm not gonna be mad at them. We have busy lives. If [Joe] thought practicing for his comedy show was more important than coming to my 50th, no problem."
Speaking about her brother talking about Luis on the show, she added: "I know you don't have a storyline and I've been your storyline for the past 10 years, that gravy train is over, seriously. Totally done."
Calling the texting drama "so funny," she also told listeners to keep watching this season "to see the shenanigans that happened."
"It's crazy," she teased, "your mind's gonna be f—ing spinning."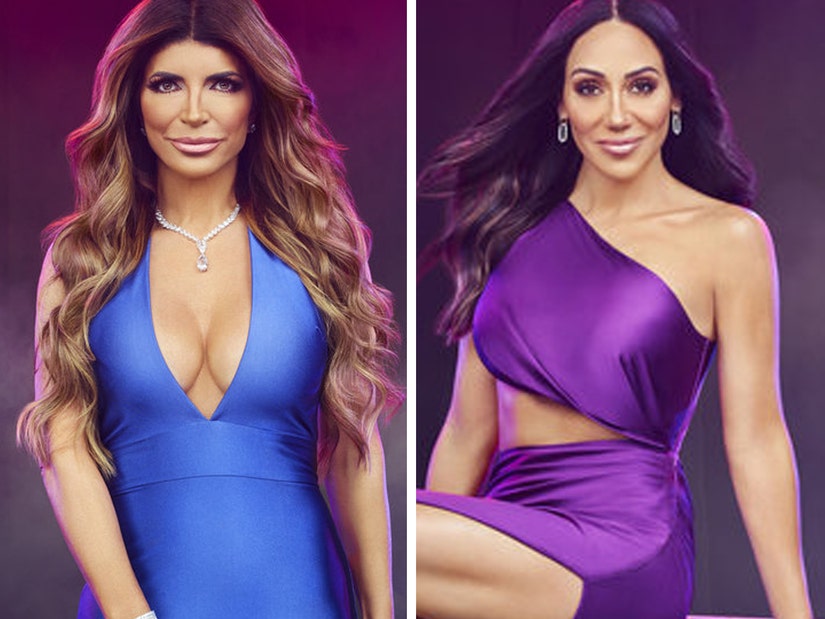 RHONJ airs Tuesdays on Bravo.
Source: Read Full Article