Spider-Man: No Way Home featured an ending that many interpreted as the conclusion of Tom Holland's Spider-Man's arc in the Marvel Cinematic Universe. However, it could also serve as a new beginning for the character. Whatever the case may be, most fans agree that the movie's finale is heartbreaking. And the writers revealed that a sincere moment between three actors influenced one aspect of the ending.
What happened at the end of 'Spider-Man: No Way Home'?
As many people know by now, Andrew Garfield and Tobey Maguire reprised their roles as Peter Parker in Spider-Man: No Way Home. Their characters crossed over to the MCU after Tom Holland's Peter and Doctor Strange botched a spell that tore open the multiverse. And once all three Peters met up with one another, they decided to work together to save the villains.
During the film's climax, the three Spider-Men lured the villains to the Statue of Liberty, where they successfully removed their evil tendencies. Unfortunately, the multiverse was still in danger. So Holland's Peter decided to let Doctor Strange perform a spell that made the world forget who he was.
Peter then said goodbye to his loved ones. And he shared a tender moment and a hug with the other two Peters at the end of Spider-Man: No Way Home.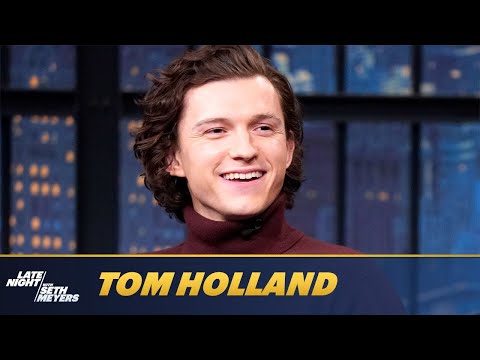 Tom Holland reveals what influenced the ending of 'Spider-Man: No Way Home'
While speaking with Seth Meyers on Late Night with Seth Meyers, Tom Holland told a behind-the-scenes story from Spider-Man: No Way Home.
"I remember, we were shooting this scene, which was a really emotional scene," Holland said. "And I was struggling to find the emotion just because, you know, when you make these big movies, it can take two days to shoot a scene. I've been crying for days on end. So I went up to Andrew and Tobey, and I just said, 'Thank you. Thank you for being here, thank you for taking the time to be a part of this incredible opportunity. It means the world to me.'"
He added, "And we all embraced. And we all started crying. I remember the writers, sort of seeing that, and being like, 'Yep. That's how we're going to end [Spider-Man: No Way Home]. That's brilliant.' And then the end of the film is us having this moment where I'm like, 'Thank you so much, I really appreciate it.' And then we have this beautiful hug."
Fans want to see the 3 Spider-Man actors reunite
Now that fans have gotten a taste of seeing Tom Holland, Andrew Garfield, and Tobey Maguire on the big screen, they want more. And since the multiverse is now in play after the Spider-Man: No Way Home ending, it seems like anything is possible in the MCU.
Holland has admitted that there have been conversations between Marvel and Sony regarding his future as Spider-Man. But Tobey Maguire has not commented on the speculation that he will play the web-slinging superhero again. And Andrew Garfield revealed that there's nothing in the works to reprise his role.
"No plans, that's the truth," Garfield told Variety. "Everyone's gonna call me a liar for the rest of my life. I'm the boy who cried wolf."
Spider-Man: No Way Home is now playing in theaters. And the movie will be available to purchase on Digital on March 22 and on 4K UHD and Blu-ray on April 12.
Source: Read Full Article