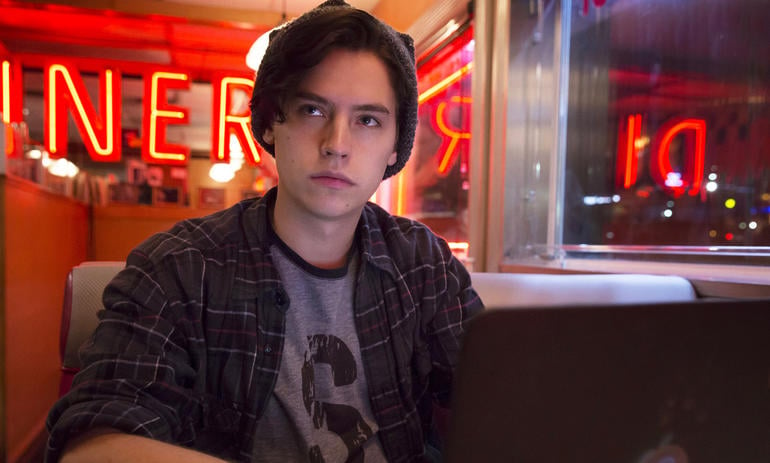 Cole Sprouse as Jughead Jones in Riverdale | The CW
Jughead Jones has captured the hearts of Riverdale fans since being introduced in season 1 as the self-proclaimed outsider, hell-bent on solving Jason Blossom's murder. Although cynical at times, Jughead can be very protective of the people close to him, as evidenced by his relationship with Betty. The off-and-on romance between Jughead and Betty, played by 22-year-old Lili Reinhart, quickly amassed a fan following of its own.
Cole Sprouse, who plays Jughead, already knew a thing or two about having a large fan base before he joined Riverdale, which is adapted from the beloved Archie comics. The former Disney heartthrob has been entertaining the masses for decades. You won't believe how young he was when he started acting.
Cole Sprouse's lookalike acting partner
Looking at some of Cole's earlier work, you may think you're seeing double. That's because Cole began his acting career alongside his identical twin brother, Dylan Sprouse!
The brothers were born on August 4, 1992, in Italy, where their American parents were teaching English. When the twins were 4 months old, the family moved to Long Beach, CA. Cole and his brother began acting four months later when they were just 8 months old. In Hollywood, labor laws strictly limit the amount of time a child can be on set, so twins are often used to film for long periods.
Cole Sprouse's notable roles
Cole and Dylan shared the role of Patrick Kelly on Grace Under Fire from 1993 to 1998. The brothers continued to share roles in films like 1999's Big Daddy in 1999 and Master of Disguise in 2002. In 2005, the brothers landed the roles of Zack (Dylan) and Cody (Cole) Martin in Disney's The Suite Life of Zack and Cody franchise, which included the spinoff series Suite Life on Deck and The Suite Life Movie, until 2011. The actors began taking individual roles as they got older.
Cole's first solo gig was Ross Gellar's son, Ben, on the long-running series Friends from 2000 to 2002. He will return to the big screen in 2019's tearjerker Five Feet Apart, in which he plays a cystic fibrosis patient who falls in love with a young woman who has the same disease.
Why should Cole Sprouse have one career when he can have three?
Cole and his brother enrolled at New York University together in 2011. He originally intended to study film and theater but decided to enroll in the Gallatin School of Individualized Study instead, where he majored in archaeology. The two brothers graduated from NYU in 2015 and Cole began working in the archaeological field, where he specialized in geographical information systems and satellite imaging. Cole's archaeological work took him around the globe, including digs in France and The Philippines.
As if being an actor and archaeologist isn't enough already, Cole is also a skilled photographer. After taking photography classes at NYU and launching a personal website, Cole continued to fine-tune his craft. He shot for major publications, such as Teen Vogue, W magazine, and The Sunday Times Style.
Cole also runs an Instagram account called @Camera_Duels, which is devoted to catching fans in the act of trying to sneak pictures of the actor on the sly. The quick-witted star explained to Jimmy Fallon during a January appearance on The Tonight Show that he created the account as a therapeutic outlet to deal with constantly being photographed by fans, which happens all the time. However, the account backfired for Cole when it inspired fans to begin making not-so-subtle attempts to photograph the star in hopes they would be featured on the account.
Jughead reunites with his mom and sister on season 3 of 'Riverdale'
This season, we finally get to meet Jughead's mother, Gladys, and sister, Jellybean. Actress Gina Gershon, who portrays Gladys, told E! News that she and her onscreen son bonded quickly during filming. "I mean, we'd never met, but we both grew up in the same town and then we both went to the same college," she said.
While preparing for the character Gladys, Gershon inadvertently reminded Cole of his own mom. "I didn't have a lot of time to prepare Gladys because this all happened quite quickly, and t I don't know why, but I kind of keyed into these star tattoos. I kept seeing these star tattoos, I was like, I don't know why, but I have to have those star tattoos. I happened to put them on my face, but when Cole saw me, he's like, 'That's weird, my mom's got the same tattoo,'" Gershon said.
You can catch new episodes of Riverdale when they air on the CW on Thursday nights. Seasons 1 and 2 are currently available on Netflix, with season 3 expected to be available in early 2019.
Source: Read Full Article