William Zabka and Ralph Macchio have become synonymous with The Karate Kid franchise. The two actors moved on to dozens of other roles after their first face-off in 1984, but they remained well-known for the karate movies. Then, in 2018, they reunited to play Johnny Lawrence and Daniel LaRusso once again in Cobra Kai, which just launched its fourth season on Netflix. Zabka and Macchio have proven time and again that they're a match for each other in martial arts — how do they compare in net worth?
Ralph Macchio net worth and career
Macchio became famous for his role as Daniel in The Karate Kid, but that wasn't his first role. According to IMDb, his career kicked off in 1980 with his role as Jeremy Andretti in the series Eight is Enough. Macchio then went on to play Johnny Cade in the 1983 film The Outsiders, which later helped him land a spot in The Karate Kid.
The young actor returned to the franchise in 1986 for The Karate Kid Part II and in 1989 for The Karate Kid Part III. He also starred in various other films throughout the '80s and '90s, including Distant Thunder (1988) and My Cousin Vinny (1992). Some of Macchio's later films included A Good Night to Die (2003) and Hitchcock (2012).
Macchio's career has also included other television roles. He starred as Archie Rodriguez in Ugly Betty in 2008. Later, the actor danced alongside Karina Smirnoff in season 12 of Dancing With the Stars. And, of course, there's his latest project, Cobra Kai: a spinoff of The Karate Kid that follows Daniel and Johnny as adults.
According to Celebrity Net Worth, Ralph Macchio has a net worth of $4 million. He reportedly earned $100,000 per episode of Cobra Kai in the first two seasons; that amount may have gotten bigger in the second half of the series.
William Zabka net worth and career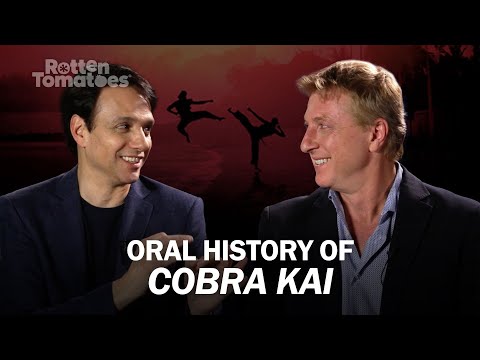 Zabka's career has followed a similar path. After getting his start in The Karate Kid, the actor went on to play Jack in National Lampoon's European Vacation (1985) and Chas in Back to School (1986), per IMDb. That same year, he reprised his role as Johnny in The Karate Kid Part II. However, Zabka did not appear in the third film.
In the following years, Zabka appeared in several films, including Shootfighter: Fight to the Death (1993), Shootfighter II (1996), and Hot Tub Time Machine (2010). He also played Scott McCall in the 1985 TV series The Equalizer and John Rawlins in 2015's To Appomattox. Additionally, Zabka appeared as himself in a few episodes of How I Met Your Mother in 2013 and 2014.
Today, Zabka stars in and co-produces Cobra Kai alongside Macchio.
According to Celebrity Net Worth, William Zabka has a net worth of $3 million. Like Macchio, he reportedly made $100,000 per episode in the first half of the series.
Ralph Macchio and William Zabka are close friends and 'Cobra Kai' co-stars
Macchio and Zabka have long played rivals on-screen, but their relationship isn't so hostile in real life. The two didn't keep in touch at first. However, they connected at the funeral for Pat Morita, who played Daniel's mentor, Mr. Miyagi, in The Karate Kid franchise. Macchio and Zabka have been pals ever since.
Speaking to PopCulture.com in 2019, Zabka said he and Macchio grew even closer as the idea for Cobra Kai came to life.
"It's been so great — Ralph and I have become good friends over the years, and from the ground-up, when we first got pitched this, we've been in close contact since," he explained.
Cobra Kai Seasons 1 through 4 are now streaming on Netflix.
Source: Read Full Article