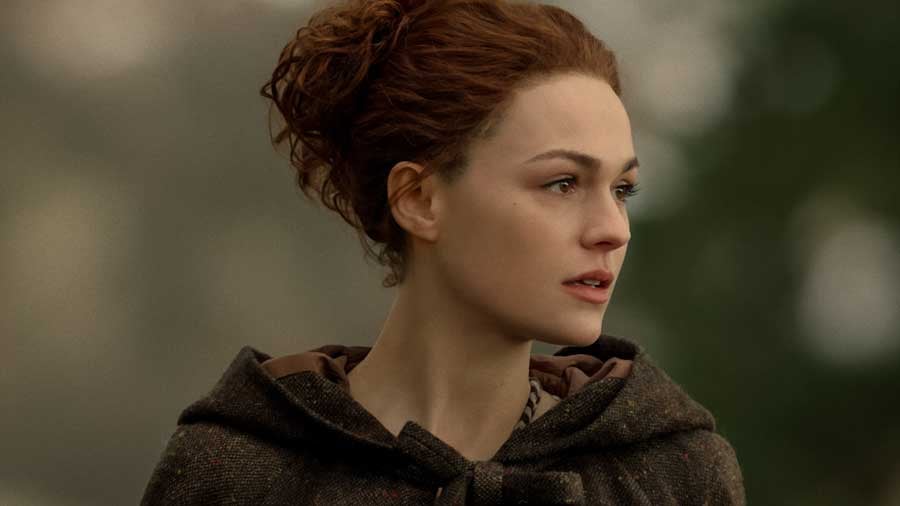 Warning: Spoilers for the "Wilmington" episode of Outlander, below.
It is no secret that over the years, Outlander has featured several instances of sexual violence against various characters, which is a sensitive subject for any television show to tackle. The latest episode, titled "Wilmington," broached the subject once again with one of the main characters, something that is sure to cause some backlash from viewers who might deem it an unnecessary plot point.
In "Wilmington," following a sweet night with Roger (Richard Rankin) — which starts out with a beautiful handfasting ceremony and consummation of their relationship — things end with Brianna (Sophie Skelton) in tears after learning Roger knew about her parents' obituary and purposely didn't tell her. She then walks dejectedly back to the pub where she and Lizzie (Caitlin O'Ryan) are staying.
Upon reaching the pub, Brianna spies the villainous Stephen Bonnet (Ed Speleers) gambling with her mother's silver wedding ring, which he stole when his men attacked Claire (Caitriona), Jamie (Sam Heughan) and their group on the barge to River Run. Brianna offers to buy it from Bonnet, but he instead wants sexual favors for it. She refuses to comply, and so he rapes her, later giving her the ring as "payment" because he's "an honest man," for a pirate. Bloodied and clearly traumatized, Bree takes the ring and walks away, stunned.
Source: Read Full Article