Kweku Adoboli came to the UK at the age of 12, and has lived his life here for the past 26 years, attending school and university. Yet on Wednesday night he was deported to Ghana, a country he has not lived in since he was four, and to which he has no connection. How did this happen?
Adoboli was jailed in 2012 for his part in losing billions for UBS, while working as a junior banker at the Swiss bank. Few individuals ever go to jail as a result of bank losses – yet Adoboli was convicted on two counts of fraud and sentenced to seven years. He served half his sentence.
In a recent interview he described his shock at what happened as he prepared to finish his sentence: "You don't expect at any point for someone to say, 'Well, actually, we are going to deport you.' You feel British, you think British. There is no part of you that thinks you are going to get deported."
The immigration rules are now weighted heavily in favour of deporting a person after a criminal sentence. If you are sentenced to more than four years' imprisonment, Home Office guidance says you will need to have "very compelling circumstances" for a deportation order not to be made. For Adoboli, spending the majority of his life in the UK was not deemed "compelling" enough.
Adoboli's situation has echoes elsewhere. The boxer Kelvin Bilal Fawaz, an amateur light middleweight champion of England, was detained and threatened with deportation to a country he didn't know, despite growing up in the UK – and despite only being charged with minor offences in his late teens.
"Anthony" is another example. He and his father fled from the Caribbean when he was eight, after his mother was killed in front of him in an act of gang warfare. He was abused and neglected, and taken into care, which also failed him. It was during the 2011 London riots – when magistrates were told they could ignore sentencing guidelines – that he was sentenced, handed a deportation order and detained.
"We are prisoners in a land we've been in for most of our lives," Anthony says. "This is my country. How can you tell me that it's not? I was in this country when the Queen Mother died, when we invaded Iraq, when the Twin Towers came down, when Obama came to power … I remember penny sweets, ticket inspectors on the backs of buses, red phone boxes, the Millennium Dome being built. What are they talking about when they say I'm not British? They expect you to wipe your history. How?"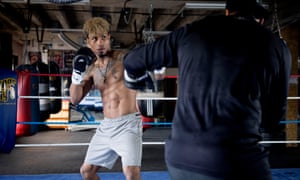 Many who arrived in the UK as children or young people live without any secure immigration status – even though they would be eligible – due to lack of support and information, unaffordable fees, the complexity of a constantly changing legal system, and lack of legal aid. People who arrive in the UK as children can become "deportable" adults, with no rights as British citizens.
This includes thousands of children who came here seeking asylum and were deported to war zones once they reached 18. In addition, the Home Office has been accused of "profiteering" by making almost £100m through charging children to register as British citizens – including thousands born here.
This July, a government-commissioned review of detention condemned the policy of removing people brought up in the UK. Labour MP David Lammy, among more than 100 MPs to support Adoboli, tweeted: "Deporting those who arrived in the UK as kids is inhumane and counterproductive. No one should be punished twice."
Yet clearly the UK does currently operate a two-tier justice system, where people with insecure immigration status are punished again with detention and deportation after serving their time. This does not just punish the individual, but also their families and friends who are left behind.
The home secretary, Sajid Javid, wrote to Adoboli's MP, rejecting his final appeal to stay, saying that "action" must be "taken against foreign nationals who abuse our hospitality by committing crime". What Javid's response makes clear is that, despite living here since childhood, people such as Adoboli are still considered "guests", forever reliant on "our hospitality".
• Luke Butterly works for Right to Remain, a UK-based human rights organisation challenging injustice in our asylum and immigration systems
Source: Read Full Article