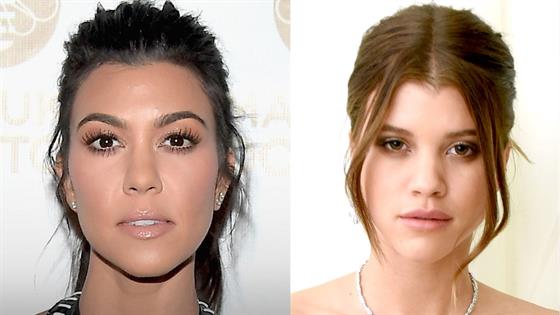 A holiday miracle? Well, it's at least a Kardashian-Disick family first, at least: Kourtney Kardashian is on a trip with ex Scott Disick and his girlfriend Sofia Richie.
The three are vacationing with Kourtney and Scott's kids Mason Disick, Penelope Disick and Reign Disick in Cabo San Lucas, Mexico, just before Christmas. The adults were photographed sunbathing together on lounge chairs at a resort and walking together on a beach.
It marked the first time Kourtney has been captured on camera with Sofia, who began dating her ex more than a year ago, and has vacationed with him and the kids separately before.
A source said the entire group arrived via private vet on Friday and are staying together at the same resort.
"The first day they all hung out together with the kids at the beach," the source said. "Kourtney, Sofia and Scott were all chatting and enjoying the day. Scott was in the middle of Sofia and Kourtney and they were lined up on chaise lounges. Scott got up to play with the kids and Kourtney and Sofia were chatting. They look like they are on very good terms and there wasn't any tension."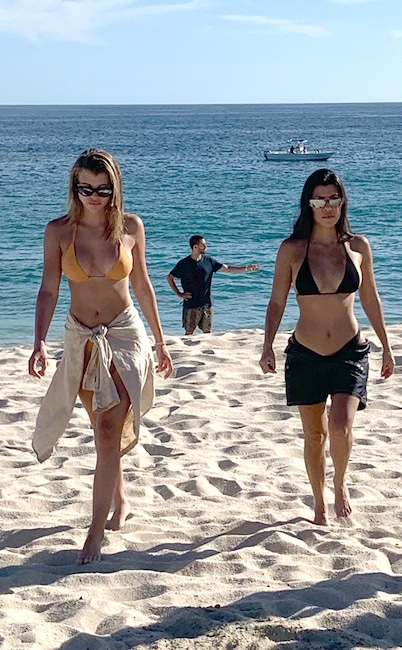 Splash News
Walk on the Sand

The women walk on the beach in front of Scott.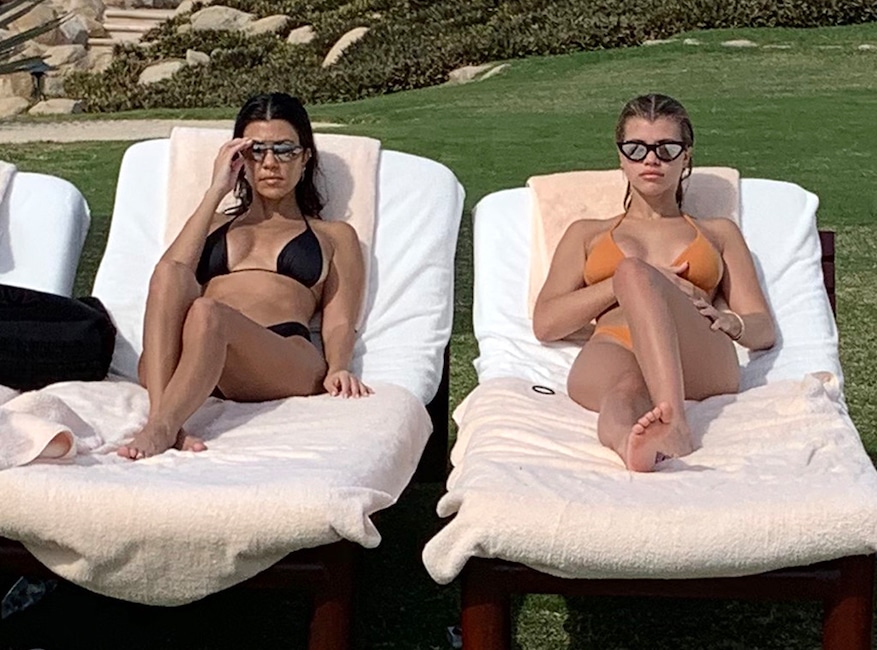 Splash News
Shades of Cool

The two sunbathe together.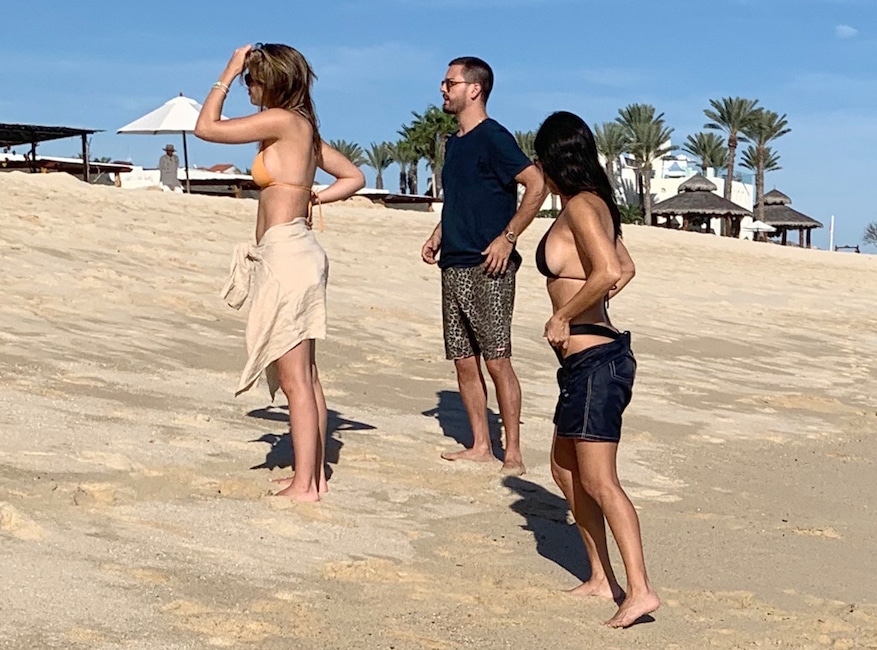 Splash News
Checking Out the Scenery

The three appear on a beach in Cabo San Lucas, Mexico.
Article continues below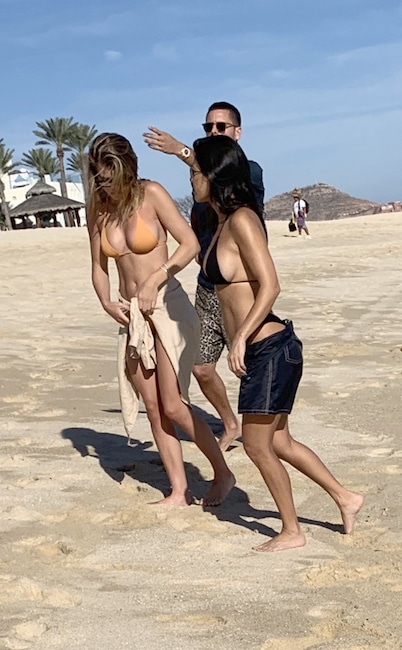 Splash News
Bikini Beauties

Scott walks on the beach with the main women in his life.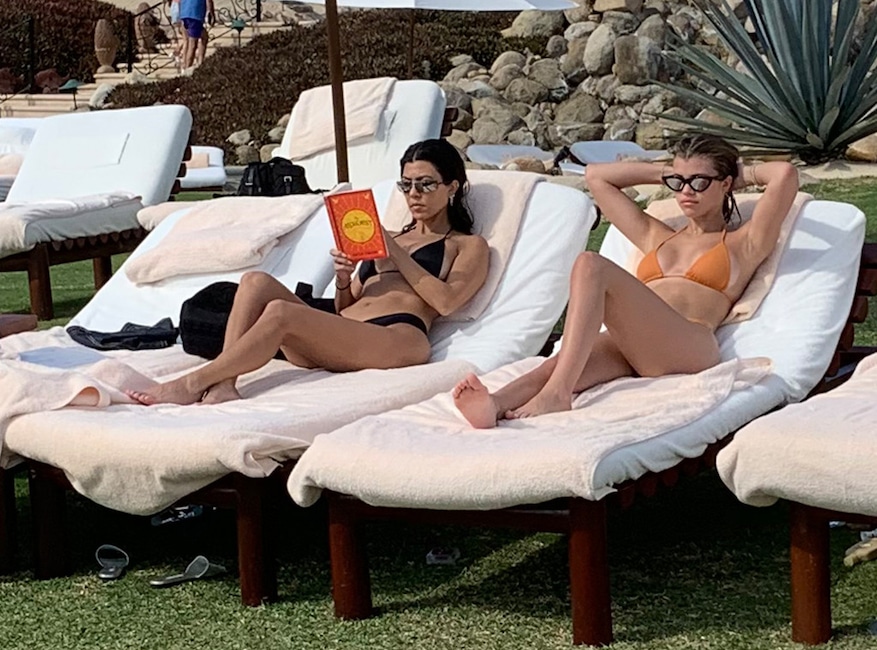 Splash News
Reading Time

The ladies soak up the sun while Kourtney gets some reading in.
"Kourtney called Sofia over to show her something on her phone and then they both laughed," the source continued. "Sofia ended up sitting next to Kourtney and they talked for a long time. They all swam together in the pool and went in the hot tub with the kids. It was a relaxed vibe and they all got along well."
The source said Kourtney also took the kids to shop for trinkets sold in stalls on the beach and that the hotel staff brought the children smoothies and popsicles.
"Kourtney was caring for the kids, but Scott and Sofia pitched in with an extra set of hands when they got ready to pack up and leave for the day," the source added. "They were all very friendly and it looks like things are going well for the family."
The adults and Mason were also spotted at the popular Cabo restaurant Edith's.
An eyewitness told E! News that everyone got along, with no drama, and that while there was not too much interaction between Kourtney and Sofia, everyone seemed to be having a nice time.
As of Sunday morning, neither Kourtney, Sofia nor Scott have shared photos from Cabo, although he posted on his Instagram page on Friday a photo of Mason sitting inside their private jet, in front of a birthday cake for him and his brother. Mason turned 9 and Reign turned 4 earlier this month.
View this post on Instagram
Birthday boy back at it again!!!
A post shared by Scott Disick (@letthelordbewithyou) on
Kourtney and Scott are committed to co-parenting their children and have occasionally vacationed together with them since their 2015 breakup.
While she and Sofia had never been photographed next to each other before this weekend, the two have interacted more publicly in recent weeks. In November, the two women had dinner together with Scott at the Nobu restaurant in Malibu, marking the first time they were all seen together in public.
Less than two weeks later, Kourtney, sister Kim Kardashian and friends joined Scott and Sofia at an art event in West Hollywood and also dined together at Craig's restaurant.
Source: Read Full Article