Kirby's got a need for speed. Nintendo has unveiled a brief gameplay teaser showcasing the fan-favorite Kirby driving mode, also known as Carby, in Kirby and the Forgotten Land. According to the clip, Kirby will be able to do a lot more than just drive around with this powerful new ability. Check out the teaser below.
Nintendo showcased Kirby's Mouthful Mode in a 'Kirby and the Forgotten Land' trailer
During the February Nintendo Direct earlier this month, Nintendo revealed that Kirby will have a never-before-seen ability called Mouthful Mode in the upcoming game. This feature allows Kirby to swallow objects like cars, vending machines, water balloons, and more. However, instead of digesting the items, he'll mold himself into their shapes.
The Mouthful Mode trailer showed off a few different uses for Mouthful Mode. By swallowing a car, Kirby can drive over rough terrains and move between areas more quickly. When he swallows a vending machine, he can shoot cans at enemies, or he can ground pound items as a traffic cone.
Some other items include a light bulb, a ring, and a scissor lift. These new and creative abilities are designed to help Kirby find his way around the complex spaces of Kirby and the Forgotten Land.
Mouthful Mode comes as a supplementary tool, as Kirby will also have his classic wide variety of copy abilities. Like previous Kirby games, Kirby and the Forgotten Land sees Kirby mimic the abilities of his enemies, such as a hammer and a tornado.
Another new gameplay teaser gives a closer look at Carby
Now, fans can see Carby in action with a new Kirby and the Forgotten Land gameplay clip. Shared by Nintendo U.K., as seen above, the teaser shows Kirby wrapped around the same blue, rusty car from the Mouthful Mode trailer. However, he also uses a red car, so it seems Kirby will have a few different options for his ride.
Apparently, Carby can activate a turbo mode that allows him to zoom through obstacles like a cracked wall or muddy terrain. He can also use ramps to gain some air for higher destinations. All in all, it looks like Carby is surprisingly powerful, and he'll likely come in handy for many players.
'Kirby and the Forgotten Land' hits Nintendo Switch in March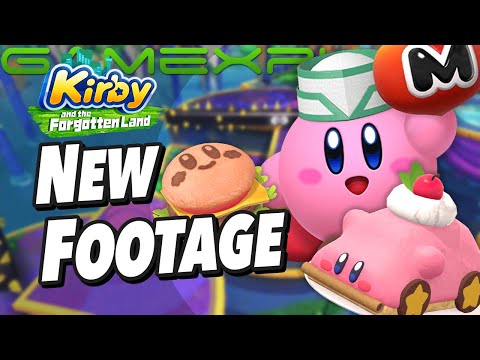 Fans still have another month to go until Kirby and the Forgotten Land launches. Kirby's first 3D, open-world adventure will follow him on a journey through an abanded city on an island. He must rescue the city's Waddle Dees, who have been captured by a mysterious group called the Beast Pack. With every Waddle Dee Kirby saves, he'll help rebuild Waddle Dee Town — a thriving community with shops, mini-games, and more.
Kirby and the Forgotten Land arrives on Nintendo Switch on March 25. Stay tuned to Showbiz Cheat Sheet for more updates ahead of the game's release.
Source: Read Full Article