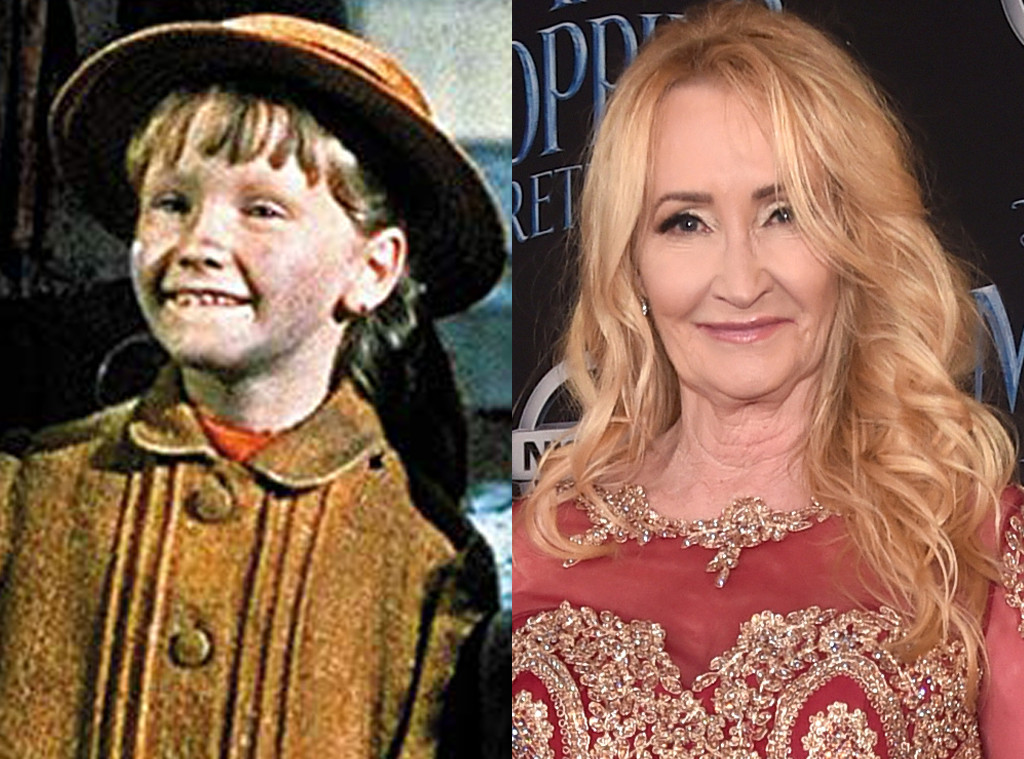 Walt Disney Productions; Alberto E. Rodriguez/Getty Images for Disney
It's been 54 years since Mary Poppins was released, and now Karen Dotrice has returned for a cameo in the film's sequel, Mary Poppins Returns.
Dotrice starred as Jane Banks in the 1964 movie, alongside Julie Andrews. In Mary Poppins Returns, Emily Blunt stars as the title character, and fans will be delighted when they see Dotrice pop up in the new film. So what was it like returning to the world of Mary Poppins after all of these years?
"Now that she's back it feels like she was here all along. She was in our hearts all along, that's for sure," Dotrice tells E! News. "I think her timing is immaculate, the world has never needed her more and so she's done it practically perfectly."
Dotrice also shares with us whether or not she thought there would ever be a sequel, explaining, "People get a little precious about our film. The nostalgia becomes a little precious, they sort of think, Oh you can't beat this, which is lovely, but look at A Star is Born – a fantastic sequel. Sequels can be made and I think this one, having seen it, it is unbelievable."
"They haven't attempted to do another version of ours, it's a separate and different one and it is spectacular," Dotrice continues. "It's a 21st century version of ours and it's long overdue. It would be very sad if that story wasn't told again for a modern audience. I don't think our one can go on forever, it would just get more and more outdated. It's nice to be a classic but I think the younger generation needs something as souped up as the new one is. This will appeal to younger people much more than our old version."
So how did her cameo come about?
"Well, it had been talked about for a bit but the great thing about the Disney family is precisely that, you are a family," Dotrice shares with E! News. "Once they've embraced you, you're in there forever and they've been so lovely. It's been 54 years! I've been over there a million times and I'm always included in things."
"I've been talking to [producer] Sean Bailey and all these people for years and they said, 'If we do one would you consider?' But I'm getting older, and older, and older (laughs), I'm getting old enough to be the banker myself!" Dotrice says. "It was an honor. It's always being talked about but I'm just so thrilled they did this while Dick [Van Dyke] is still around and as well as Richard Sherman to consult with [composer] Marc Shaiman and talk about the music together."
"The timing is immaculate and that Julie [Andrews] is around to give Emily Blunt her blessing," Dotrice tells E! News. "It all just seems so lovely and tender and dear and God knows, Walt Disney would be giving this his blessing. And even, even, even P.L. Travers would be happy because this is the closest to her book so I think even she would give us a wink from up there."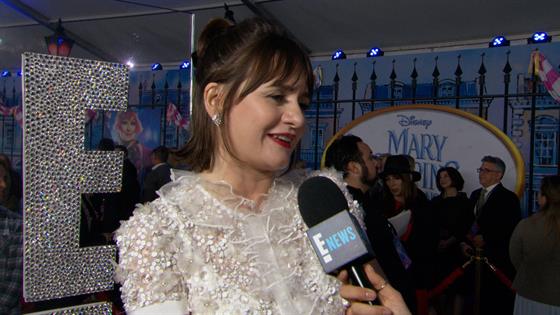 In Mary Poppins Returns, Emily Mortimer takes on the role of Jane Banks, so did she ask Dotrice for advice on the character?
"She didn't need to do that," Dotrice says. "But the first day I went on set at Shepperton Studios in London, first of all it was in February so the first thing we did was cuddle, mainly because we're nice and secondly because it was so bloody cold we were just actually looking for body warmth. She saw me sort of walking toward makeup and she's just the world's loveliest human being, she said, 'Karen Dotrice, the real Jane Banks.' And came hurtling toward me and gave me the biggest hug in the whole wide world."
"And everybody was so welcoming, I can't even tell you," Dotrice shares. "They gave me a round of applause just for showing up and [director] Rob Marshall was just the dearest man on the planet. The crew were all so lovely. I felt like an icon, everyone was asking me all these questions, it was just so dear. It was really fun because it was quite a posh set and Cherry Tree Lane looked incredible, I just couldn't stop crying! It was like being home or like going back to your old family home that they sold years before and it looked better than you ever remembered it looking. It was just so dear."
Dotrice adds, "It was the friendliest, most lovely and welcoming set you could be on. At the time I was just wishing them so much luck, they didn't need it."
Recalling her time on the set of the 1964 film, Dotrice says she has "very happy memories."
Mary Poppins Returns is in theaters now.
Don't miss E! News every weeknight at 7, only on E!
Source: Read Full Article