In honor of the 2018 CMA Awards, ABC's Jimmy Kimmel Live! presented the fourth edition of "Mean Tweets – Country Music Edition" last night. Host Jimmy Kimmel went all out for this version, as he asked Jake Owen, Kacey Musgraves, Thomas Rhett, Midland, Dierks Bentley, Lauren Alaina, Brothers Osborne, Jon Pardi, Cole Swindell, Luke Combs, Michael Ray, Scotty McCreery, Ashley McBryde, Old Dominion, Rascal Flatts and Dan +Shay to be in the video.
For whatever reason, the themed tweets seemed to be more inventive than in previous installments. Take, for example, what @GrzliFantum wrote: "Jake Owen can lick a fat pimple covered d–k. And so can all you fake f–king 'country' people with your boots and flannels." @ReginaldSpears was equally creative with his tweet, telling his 3,923 Twitter followers, "I'd rather leave my pecker hanging out of my church pants than listen to an Old Dominion album."
Nearly all of the stars got a kick out of what they read.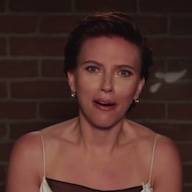 Photos
Celebrity Mean Tweets From Jimmy Kimmel Live!
After @austy 23 wrote, "Luke Combs looks like the human manifestation of cornbread," the singer-songwriter let out a hearty laugh before he confessed, "I like that one! That one's good."
Even Musgraves, who just won Album of the Year for Golden Hour, wasn't spared from the criticism, as @96HannahBurns wrote, "PUT SOME FREAKING CLOTHES ON KASEY MUSGRAVES. That outfit is not country." She actually agreed, admitting, "Yeah, it's kind of not."
Watch the video to see the rest of "Mean Tweets – Country Music Edition No. 4."
Source: Read Full Article