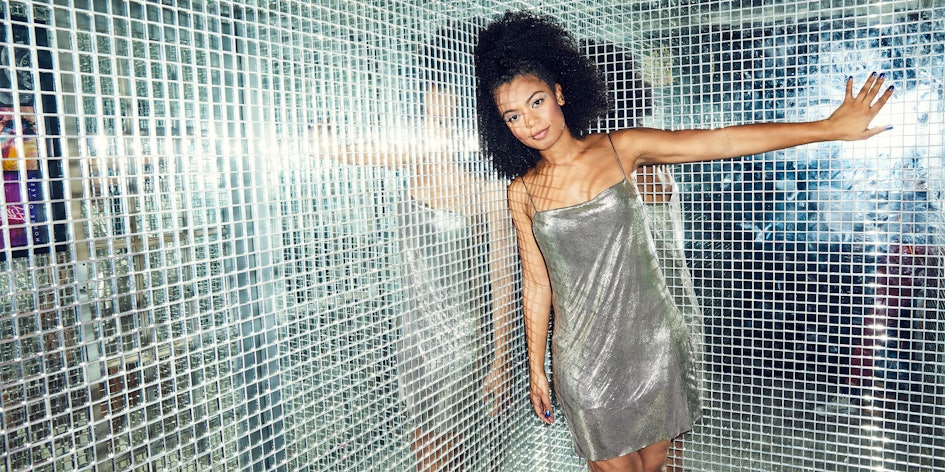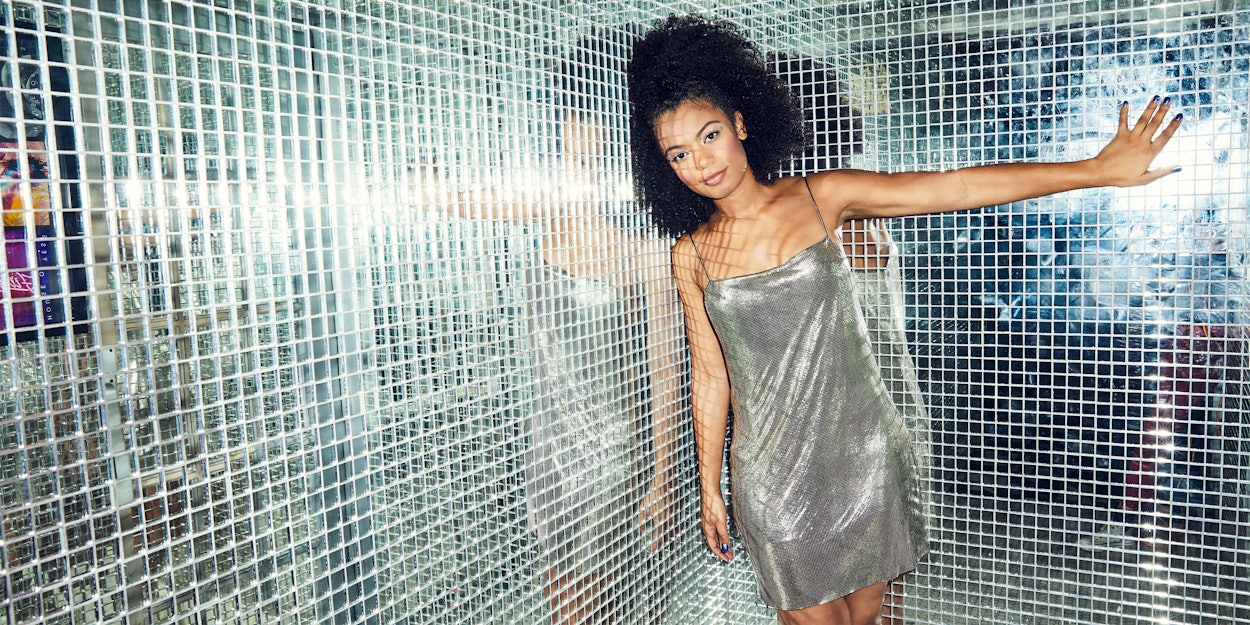 When Jaz Sinclair arrives on a chilly October morning for what she knows will be a four-hour cover shoot, she could easily hunker down in hair and makeup, retreat into her phone, and hide in plain sight. Perhaps prompted by fear of that, someone has already made sure there's high-energy, please-let-the-celebrity-be-in-a-good-mood music playing in the background. This proves unnecessary for two reasons. First of all, you don't get the sense that Sinclair does bad moods. Secondly, she's already asked if she can queue up her own playlist. She's got a soundtrack in mind for the day, you see, and as she takes over the aux cord at House of Yes, the carnivalesque Brooklyn ~nightlife destination~ where the shoot is going down, she doesn't seem at all anxious that her mix won't be a crowd-pleaser. Because why wouldn't it be?
Sinclair will DJ throughout the morning, it turns out, but for now, she kicks things off with Ariana Grande's Sweetener. She dances the whole time she's getting ready and right into one of her many looks for the shoot — a red leather Alexander Wang dress and elbow-length gloves with spider webs all over them — at which point she fully breaks into song. By the time she starts posing, while belting out Rihanna's "B*tch Better Have My Money," one thing has become clear: Jaz Sinclair is magic.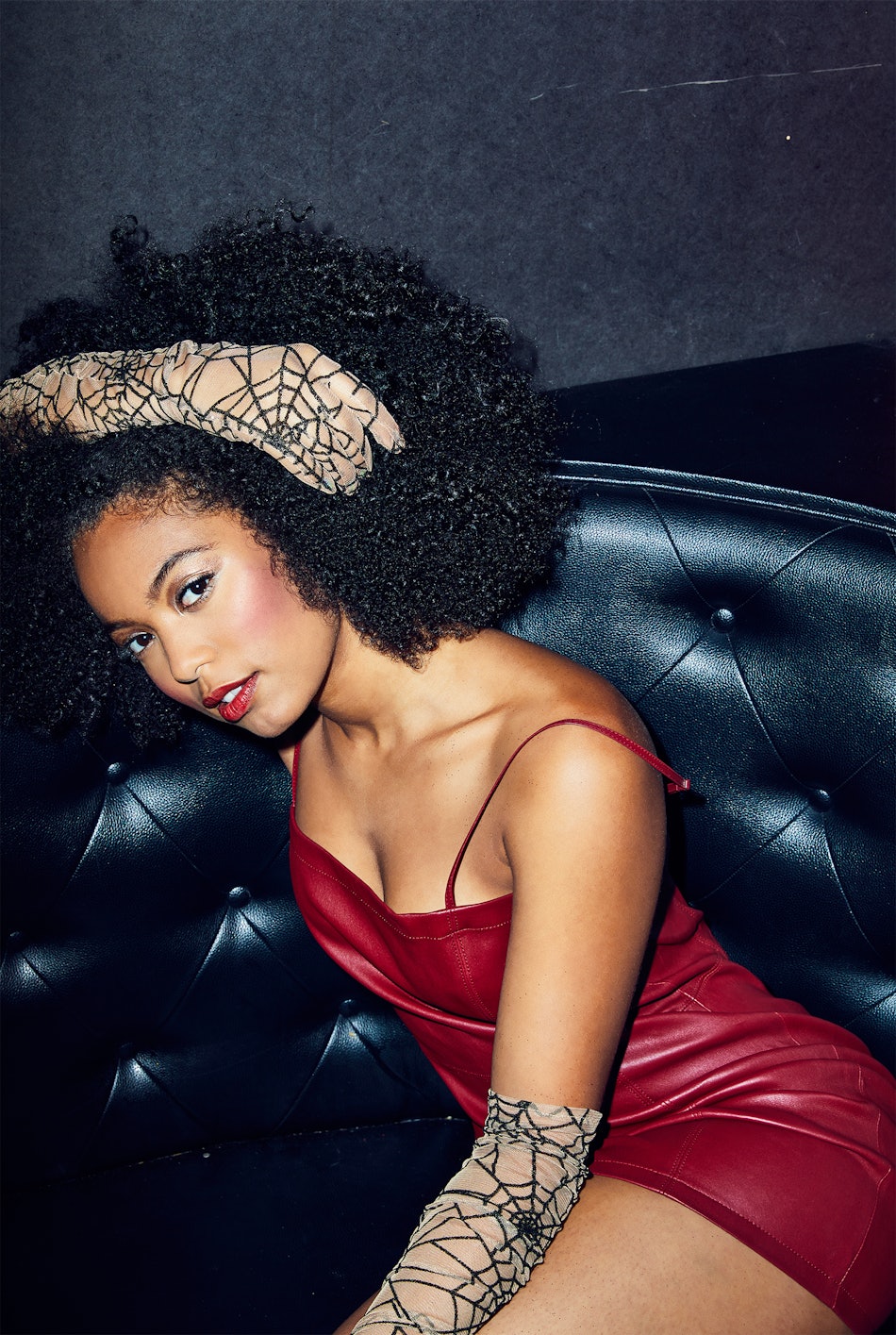 Dress: T by Alexander Wang (Bloomingdale's) | Gloves: La Crasia (Wing + Weft)
I know this already, since I sat down with her the day before the shoot. Sinclair has a lot of exciting things to talk to me about. When we meet, her new Netflix show, Chilling Adventures of Sabrina (based on the comic book of the same name), is three weeks away from premiering, and her character, Rosalind Walker — Sabrina's strong-willed, human best friend — is turning out to be her big-break role after the decade the 24-year-old starlet has spent carving out a space for herself in Hollywood. Sinclair, whose idea of a relaxing day is staying in bed with a Harry Potter book and a vegan pizza, admits that Roz's human status in Chilling Adventures was a tiny bit of a bummer at first.
"That was my biggest thing," she tells me, laughing. "I love witches so much, I'm not about to be in this magical-ass world and be a Muggle. I really, really, really wanted some power. So I got there day one and was just like, 'But Roz is psychic, right? Roz has visions, right?'"
It was like she'd had her own vision. She found out a few episodes later that the writers did, in fact, have psychic plans for Roz and had from the start. Although her character is going blind from myopic atrophy, as her eyesight fades, her supernatural gift grows stronger. That psychic ability, called "the cunning," is passed down through the female side of the Walker family and makes Roz an integral player in the show's winding plot. So you could say that Sinclair predicted her own supernatural storyline, or at least her character's. But when it comes to her own future, Sinclair doesn't so much predict as she manifests.
"I just think our lives are our story that we tell, and we have more say in what that story looks like than we think," she tells me. "And, for me, a big part of self-care is telling a story that I like and watching my life reflect that."
That's not some fluffy quote from the latest self-help bestseller. I actually don't get the sense that Sinclair reads all that many self-help books. She's too busy helping herself.
Sinclair knew from a young age that she wanted to be an actress. As a kid, she would watch movies with her grandpa and look on in wonder as the "not particularly emotional" man cried at a film's climax. Fascinated by how a movie scene could elicit such an intense response, she became interested in acting. She'd watch people in grocery stores and find herself mimicking their movements later on. "It always fascinated me, all the intricacies of humans," she says.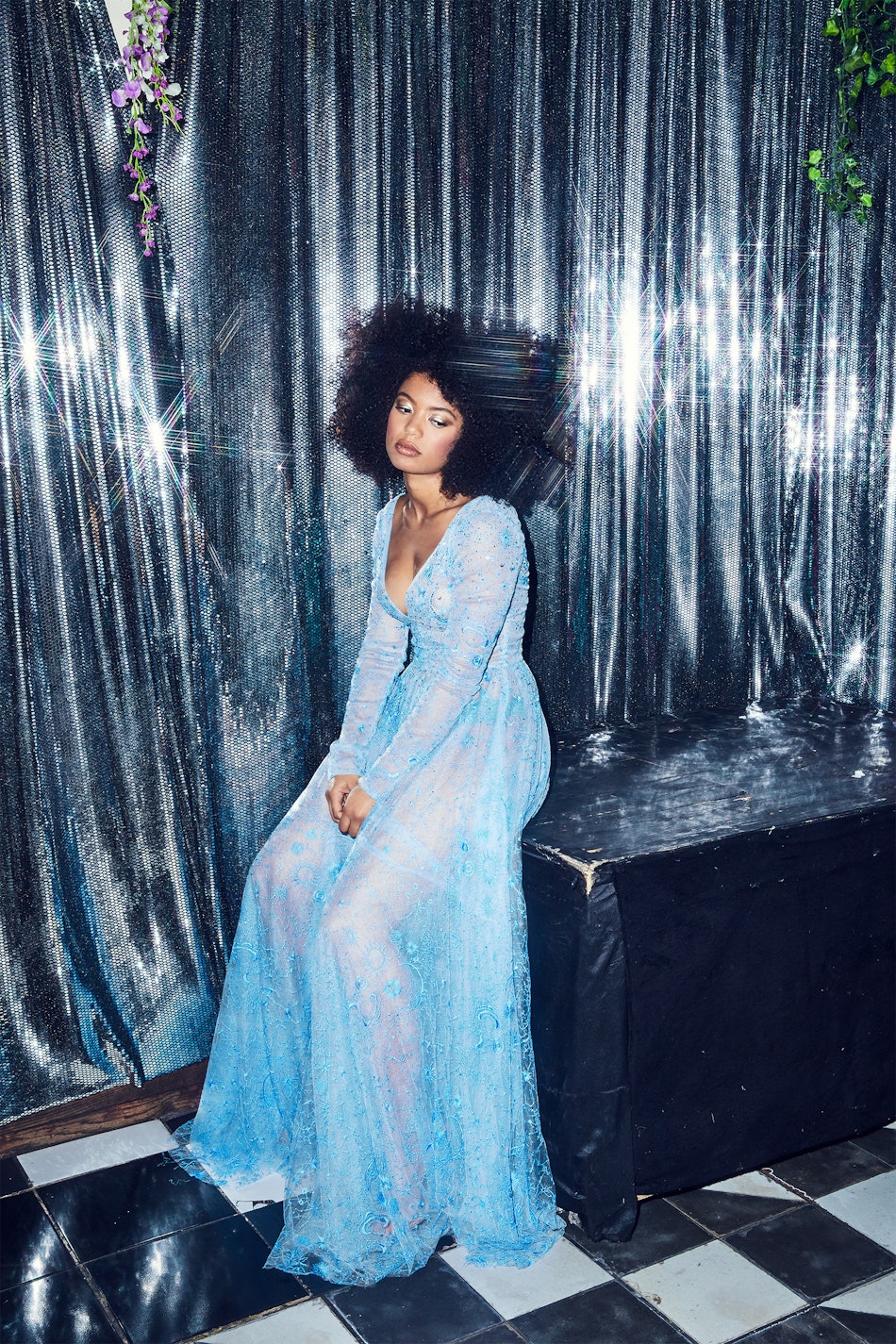 Dress: Tadashi Shoji
The actor's talent for showcasing what makes humans tick really shines through in the complex roles she chooses to bring to life on screen. Her first major role was in Paper Towns (the movie adaptation of John Green's best-selling novel of the same name) playing Angela, the girlfriend of Radar, one of the main characters. She intimidates his friends in the beginning because she doesn't hang out with them, and Radar seems kind of scared of her, but when his friends get to know her on a spontaneous road trip, they realize they misjudged her and she's actually an amazing person.
After that, Sinclair did a major 180, starring in When the Bough Breaks as a psychotic surrogate mother fixated on winning the heart of the baby's father — even if that meant getting murderous. Now, you can add Roz Walker to Sinclair's growing résumé of complicated characters.
One of the main factors that drew her to the role was how much she has in common with Roz — a staunch feminist who kicks off the series by starting a club for young women called WICCA (Women's Intersectional Cultural and Creative Association) that addresses issues they're facing at Baxter High. Their first mission? A campaign to bring back books senselessly banned from their school library.
"Playing a character that I can stand behind and believes things that I believe just makes the whole prospect more exciting," Sinclair explains. "And I just love the idea of high school students starting clubs for women, because in my high school we didn't have stuff like that. … It's honestly the most exciting thing to me, to just imagine kids in high school right now supporting each other like that."
Although Chilling Adventures hasn't even premiered, Sinclair is already in the middle of filming the show's second season — a sign that Netflix has complete confidence in its success. Fifteen episodes in, Roz's tenacity is just one thing that's rubbed off on Sinclair in a major way. "Roz is kind of shameless in standing up for what she believes in, and the way that Roz just stands in her own skin… kind of gives me permission to do the same as Jaz," she explains.
A simple scroll through Sinclair's Instagram reveals she's just as passionate about what she believes in as her TV counterpart. Of course, her feed is filled with glamorous shots from high-profile movie premieres, selfies from hang seshes with her celebrity friends, and shamelessly goofy snapshots of solo dance sessions (aptly captioned, "When in doubt. Dance it out."). But sprinkled throughout are thoughtful messages about the power of sisterhood and body positivity.
"This body is perfect. And not based on some mysterious formula of body parts that our society has concocted in order to simplify and objectify women. This body is perfect because it's mine," Sinclair captioned a photo of herself from December 2016 lounging in a pair of jeans and a sports bra. Her abs are not flat in the photo because it's not normal to have flat abs when you sit in that position and also because most women don't have flat abs.
In the caption for another post, of Sisterhood, an abstract oil painting by Shelby McQuilking, Sinclair wrote, "Today I celebrate sisterhood in my life. There is no greater force than women coming together and lifting each other up. I feel so blessed."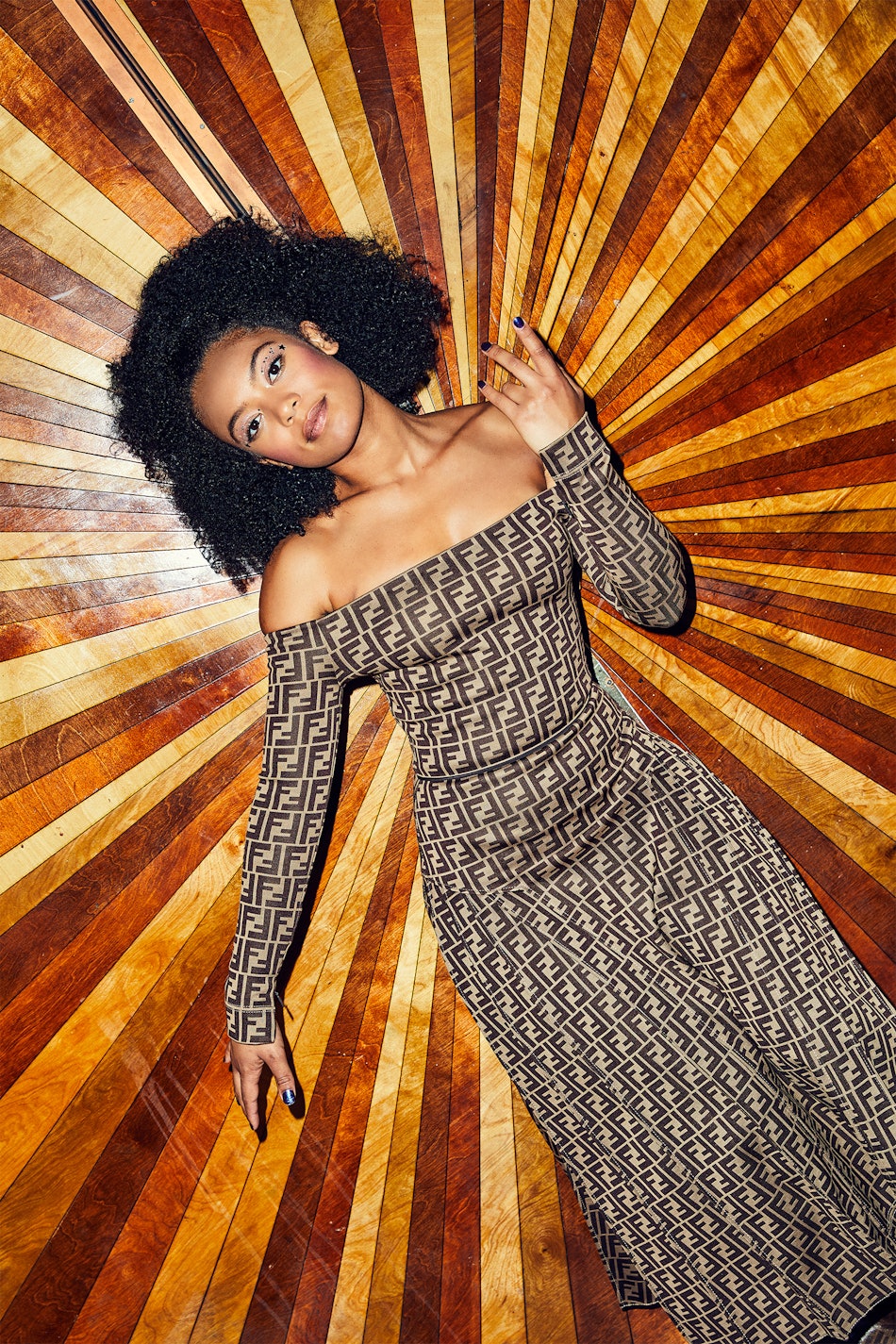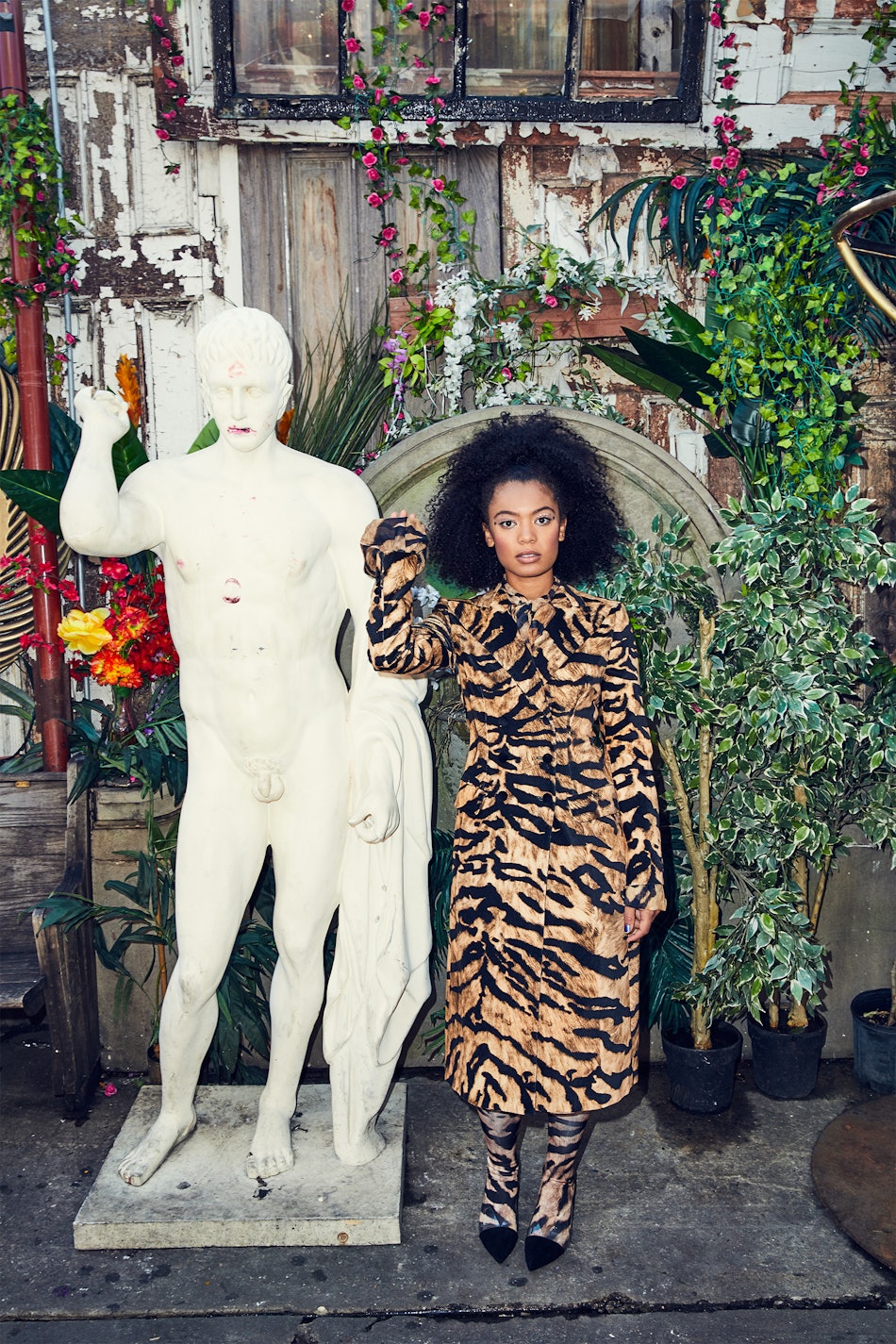 Dress (left): Fendi; Coat: Dolce & Gabbana | Top: Dolce & Gabbana | Tights: Dolce & Gabbana | Shoes: Zara
There's a reason encouraging her followers to love their bodies, as they are is so important to Sinclair. At 5 feet, 5 inches tall and with a 28-inch waist, she arguably comes closer than many to matching society's very narrow ideal of a "perfect" body, but Hollywood especially is mercilessly exacting when it comes to women's bodies.
"It's not always easy not looking like a model," she tells me. "My body fluctuates because I'm a human being — because human beings' bodies fluctuate."
As a result, Sinclair has had to develop a thick skin as she navigates the audition process. "We've been looking at the same body type for always, and that's not my body type," she explains matter-of-factly. She is not white or waifish, and while we're seeing much more diversity of faces, bodies, and stories on screen these days, there are still fewer roles for anyone who doesn't fit that profile.
Though Sinclair has never been told directly that she wasn't right for a role because of her race, her gorgeous curly hair, or her body, she gets the message in one way or another. When I ask her directly if she's ever been rejected for a role because of her looks, she pauses for a long moment. "How much do I talk about this?" she asks herself aloud, then sighs like she is suddenly very tired.
She tells me that she often finds herself auditioning for roles where casting directors claim they're looking to cast a non-white actress as the lead in a project, only to find out in the end that a white actress booked the gig because producers just couldn't find what they were looking for.
"Oh man, that one irritates me," Sinclair says, leaning forward in her seat in that way one does when they just cannot. "Because I know that there's so much talent of all different ethnicities. It's like, 'Oh, y'all saw all the Hispanic people, all the Asian people, all the black people, and you didn't find anything?' I don't believe you. That's just not what you wanted. To claim that you didn't find what you were looking for means that, actually, what you were looking for all along is what you have always been looking for. Just be honest about that from the beginning."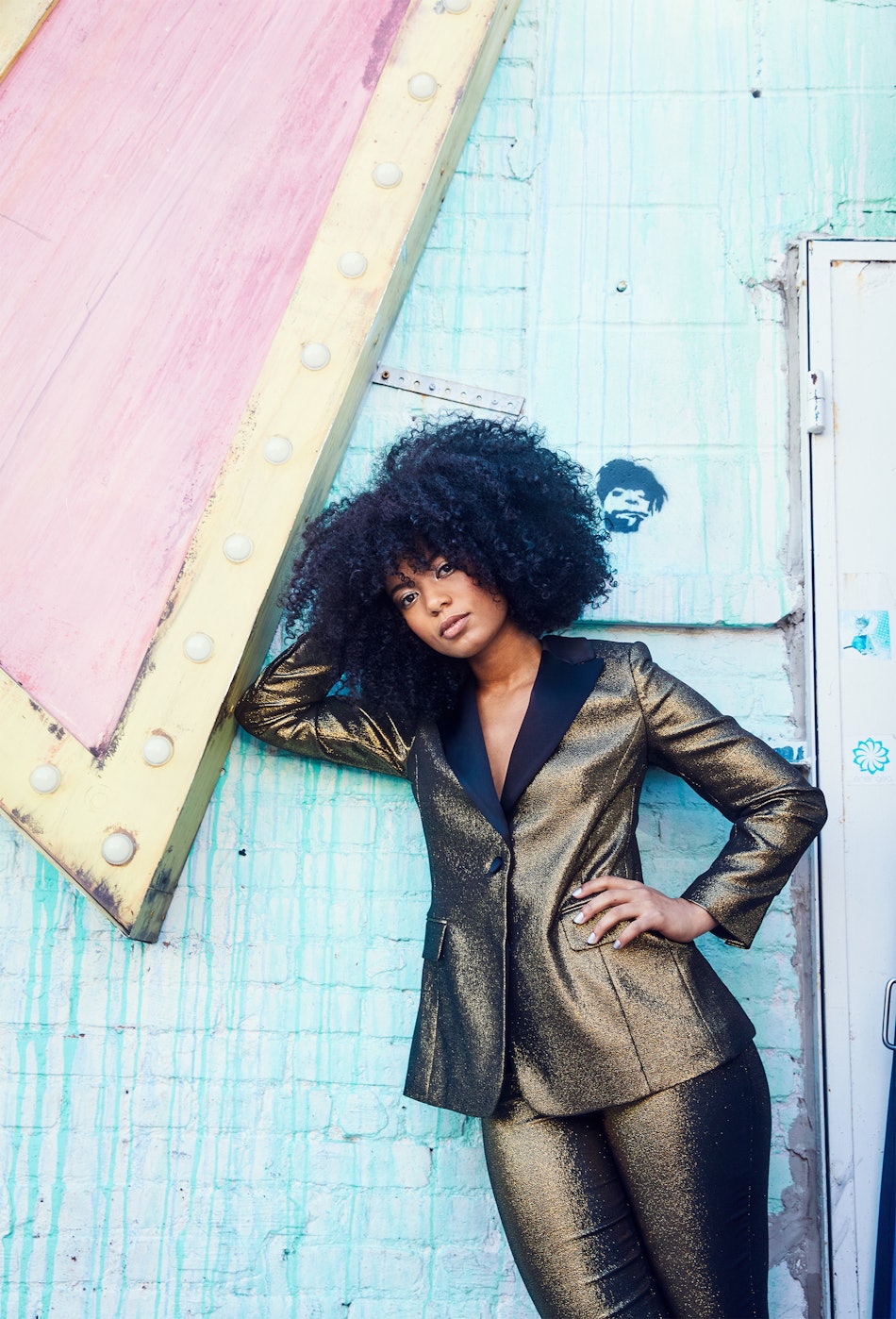 Blazer: Alice + Olivia (Bloomingdale's) | Pants: Alice + Olivia (Bloomingdale's)
But at the end of the day, Sinclair doesn't really have time to lose sleep over why she wasn't right for a role. When I ask her if she's ever felt like she needs to prove people wrong, she thinks long and hard before answering.
"I honestly just don't spend too much time thinking about what other people think of me if it's not a good thing," she says.
And that, there, is definitely something to aspire to.
Sinclair's perseverance and positive outlook on the audition circuit paid off. Eventually, she ended up in a room with the casting directors for Chilling Adventures of Sabrina. The folks behind the Netflix show didn't just talk about diversifying their starring talent — they put their money where their mouths were. The cast's diverse makeup is one of the most refreshing aspects of the darker version of the Sabrina the Teenage Witch you probably know and love. While the characters in the original Chilling Adventures comic are mainly white, including Roz, Netflix cast actors and actresses of color in key roles, which Sinclair believes gives the show a level of authenticity that many other shows don't have.
"When I watch a show, and it's only six white dudes that are the leads, and I'm just supposed to be interested and relate somehow, that's just not that interesting to me," she says. "And so I think having people that look like you goes a long way for making you feel represented. I'm really excited to be on a show that does that."
For Sinclair, it's the inclusive nature of Chilling Adventures — from diverse casting to storylines about bullying, gender identity, and sexism — that has really set it apart from other projects. "Being in the industry that I'm in, I'm excited to get to participate in the widening of perspectives of what is beautiful," she says.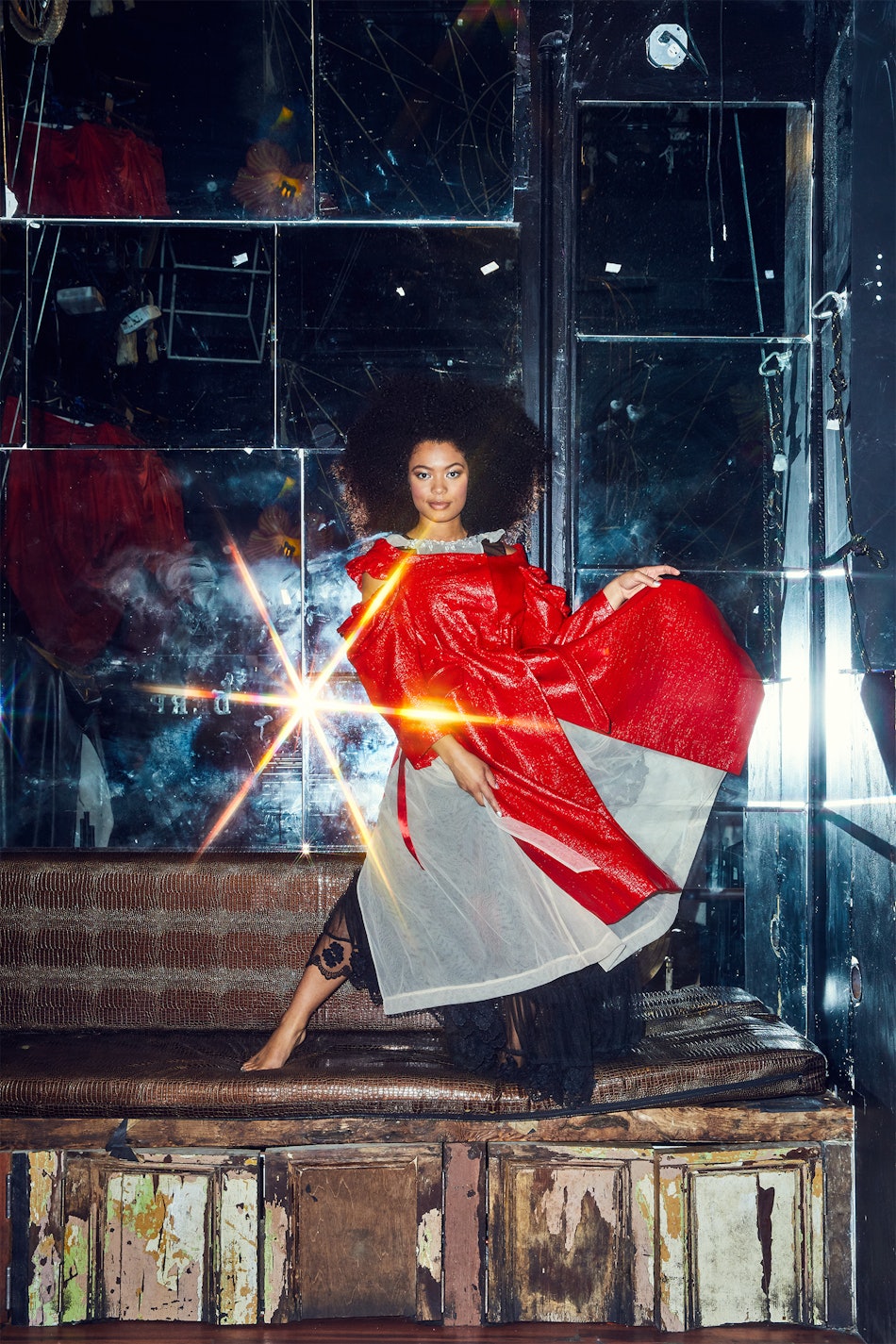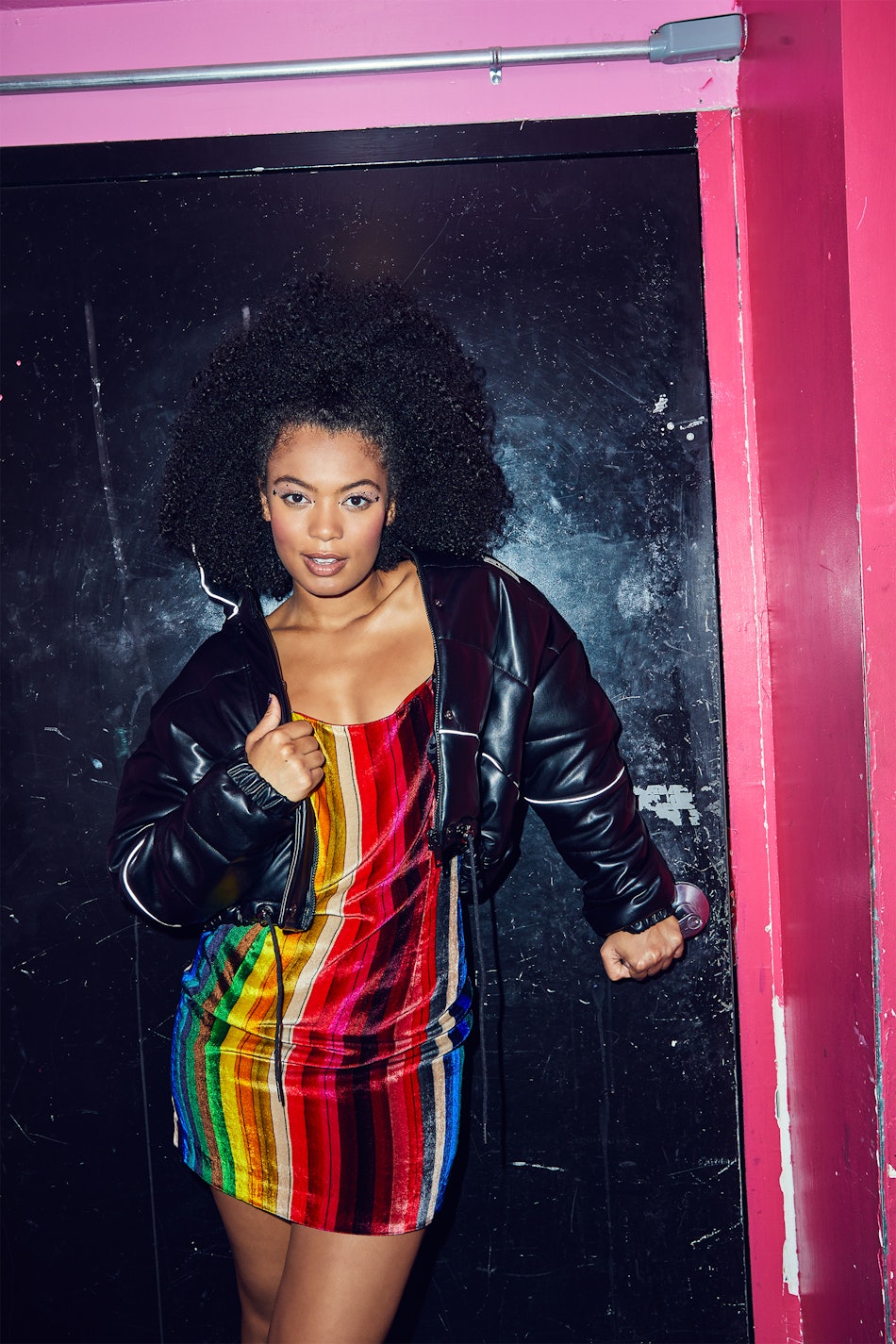 Coat (left): Simone Rocha | Sheer dresses (left): Simone Rocha | Jacket (right): I.AM.GIA | Dress (right): Milly (Bloomingdale's)
The show has been an amazing experience off-screen, too, she says. The casts of popular TV shows are always insisting that they're besties with their co-stars, but I believe Sinclair 100 percent when she tells me she's genuinely found friends in Kiernan Shipka, Ross Lynch, Lachlan Watson, and Chance Perdomo (who play Sabrina Spellman, Harvey Kinkle, Susie Putnam, and Ambrose Spellman, respectively).
"Dude, I have so much fun," Sinclair gushes about her castmates. "We carpool all the time, listen to tunes on the way in. The cast hangs out all the time. Honestly, it is just the most lovely group of people… and that's honestly my favorite part of this whole experience. These relationships really are so special and I just feel lucky."
She knows that vibing so much with your castmates is a rare thing. "It could have been that I was on this amazing show in the middle of nowhere with people I didn't like," she says. "But we have each other and we've got each other's backs, for real, and that feels really special to me."
Sinclair prides herself on being a really good friend and says that surrounding herself with genuine, awesome people is a major aspect of how she takes care herself. "My female friendships are some of the most important relationships in my life," she says. "The potential for depth, female-to-female in a friendship, is just so huge and so impactful and I just feel like as women, when we lean into each other, we get to thrive so much more."
All of which made the onscreen bond between Roz Walker and Sabrina Spellman a major selling point for the role. "I feel like in the past, in films and TV, female friendship isn't something that has been honored. It's either been, like, a frenemy situation or just not good friends," she says. "So, good female friendship is something that I want to see more of in movies and TV, so that's one of my favorite aspects — that Roz is a really good friend."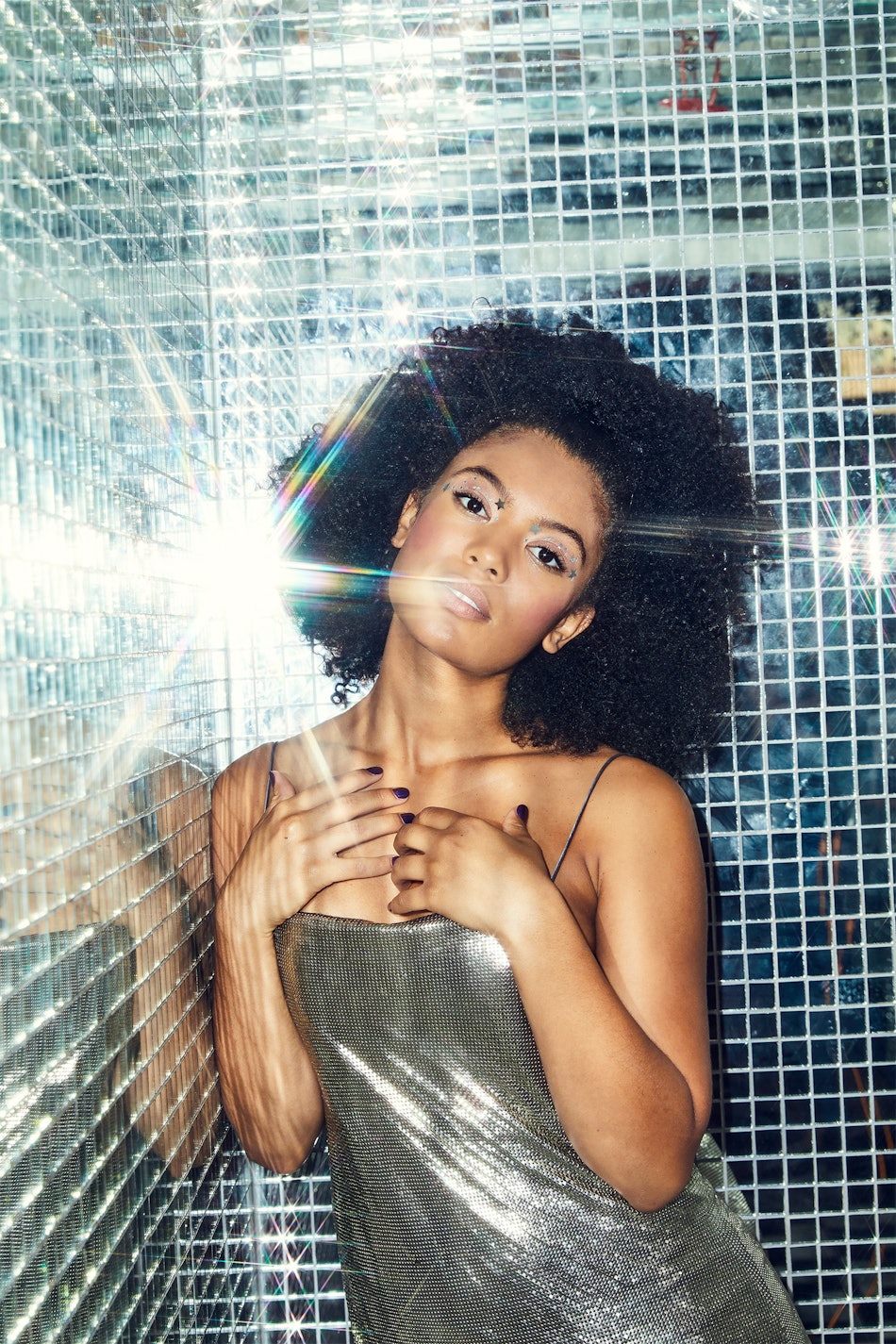 Dress: Alice + Olivia (Bloomingdale's)
When I hop on the phone with Sinclair days after the show premieres, she's back in Canada enjoying some time off from filming the second half of Season 2. I imagine she's in the middle of her ideal relaxing day — sitting on her patio with her favorite animal tarot cards splayed out in front of her as she sips on a cup of "sexy" coffee (that's what she calls her favorite coffee spiked with ghee, cocoa powder, maca powder, a little bit of cinnamon, and some creamer — you're welcome).
Sinclair sounds beyond thrilled about all the amazing support Chilling Adventures received just days after its premiere. And while she makes it clear that she will not be issuing any spoilers, she does talk about the season finale — and if you feel unsettled by what went down onscreen, you're not alone. In fact, she thinks that's exactly what the writers were going for.
"I remember talking with Ross [Lynch] after reading the finale script and talking about how we all had this unsettled feeling and we couldn't figure out why," she says. "We realized that it was because there was this sense of not knowing what was going to happen." (Fans would describe this as the understatement of the season. "OMG IM CRYING I JUST FINISHED THE CHILLING ADVENTURES OF SABRINA AND THE ENDING IS SUCH A PLOT TWIST WTF," one tweeted after watching the season finale.)
But she does promise that Season 2 is going to be even more magical than the first. Roz will continue to grapple with the prospect of going blind as her cunning grows. And, for that, Sinclair is most excited. She tells me eagerly, "I really hope they expand on her cunning, and I hope they let her get witchier and hang out more with the witches."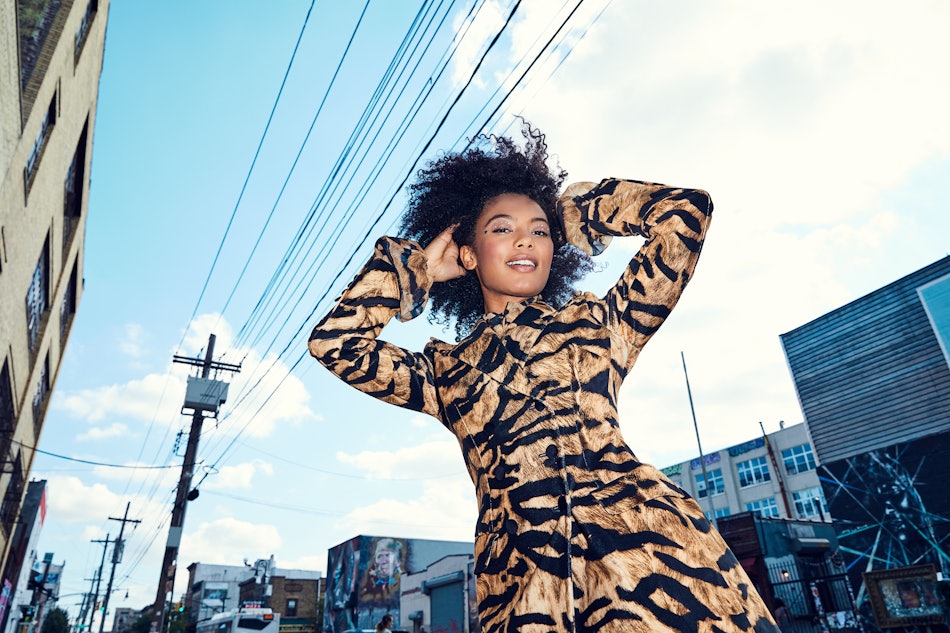 Coat: Dolce & Gabbana | Top: Dolce & Gabbana
It's still tempting to believe that Sinclair has a case of the cunning herself. Not only did she predict her own character's secret magical ability, but she predicted something else much more powerful. Discussing the impact of Chilling Adventures of Sabrina, I ask what the most fulfilling response she's gotten from a fan so far has been. "Someone sent me a message and they were like, 'Hey, I'm from Brazil and we're starting a WICCA club at our school!' which was so exciting. I was like, 'Yes, do that!' I didn't think it would happen that fast. F*ck yeah, ladies. Do it!"
I think back on my first conversation with Sinclair, when she'd expressed her hope that Chilling Adventures' important WICCA plot line would galvanize young women watching. It's almost as if she manifested a real-life high school WICCA club into existence.
And now I have the chills, because Sinclair told her own story, and we're watching it become her reality. But that's not cunning. That's just a woman who knows what she wants realizing she can make it happen.
Main image: Dress: Alice + Olivia (Bloomingdale's)
Photographer: Meredith Jenks
Stylist: Annebet Duvall
Hair: Anthony Joseph Hernandez using Oribe
Makeup: Stephanie Peterson for Glossier at Art Department
Manicure: Elizabeth Garcia using Essie
Location: House of Yes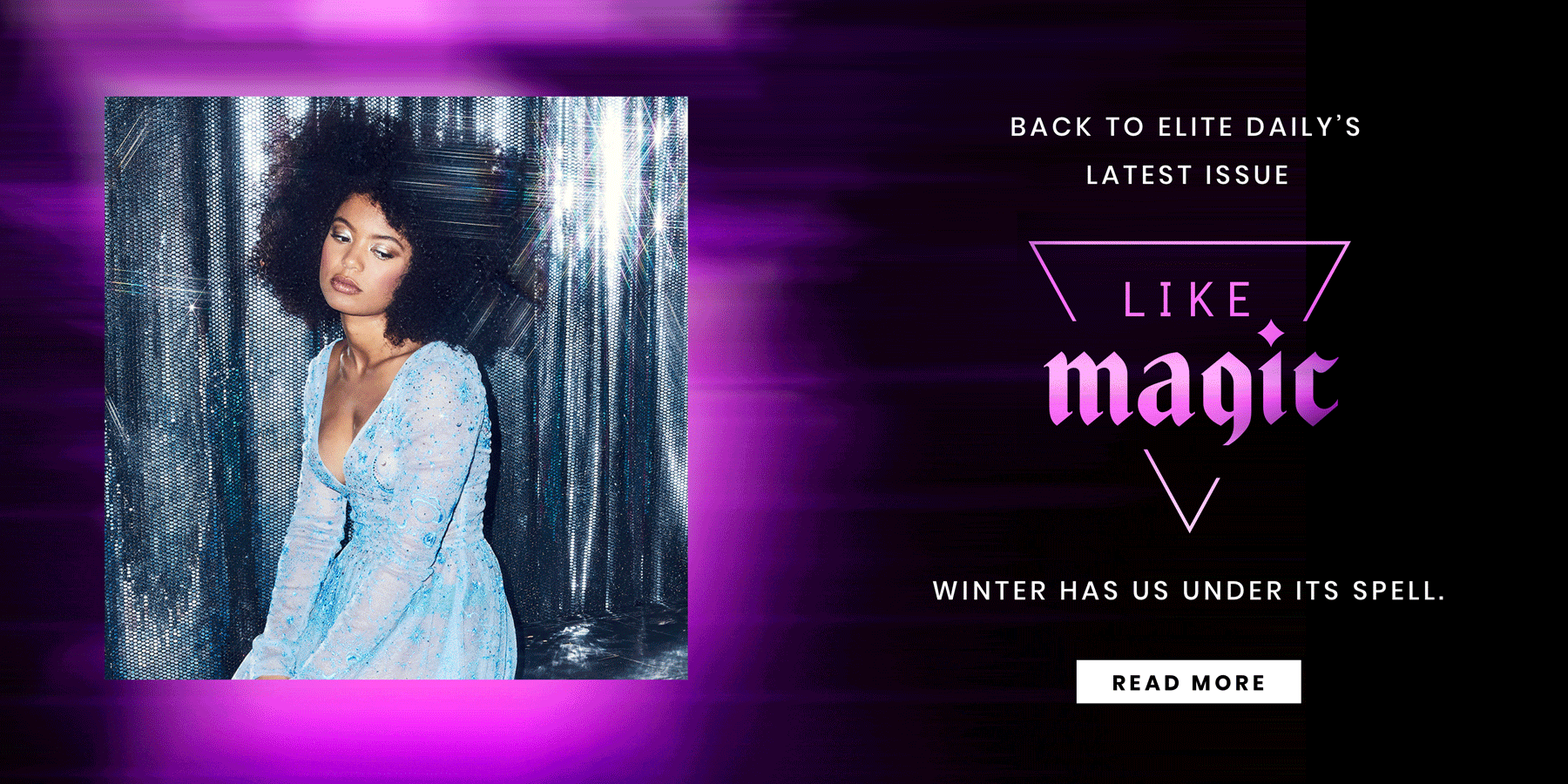 Source: Read Full Article