Key points
Wallabies great Matt Burke sells Newport house.
Developer Andy Nahas cops loss on city pad.
Coca-Cola boss Peter West sells $12 million home.
Property listings
ABC chair Ita Buttrose has had a busy week, and not just because she's facing a reshuffle of the public broadcaster's board. Behind the scenes, the queen of Australian media started the week by listing her Southern Highlands home and ends it having already found a buyer.
A guide of $1.4 million must have been on the money because the home went under offer mid-week for close to the asking price.
The Mittagong house opposite Frensham School last traded in 2010 for $510,000.Credit:Domain
Under-bidders who missed out aren't surprised. It is, after all, an immaculately maintained four-bedroom house with formal and informal living areas, on a level block of 756 square metres that is close to town and set privately behind a high hedge.
Buttrose, AO, OBE, purchased the property in 2010 for $510,000, the year before her life and extraordinary career was depicted in the telemovie Paper Giants: The Birth of Cleo that proved a hit at the time for ABC TV.
The former Australian of the Year and ground-breaking editor of Cleo magazine in the early 1970s for the late Kerry Packer still retains an apartment in Sydney.
Ita Buttrose was appointed chair of the ABC in 2019.Credit:Louie Douvis
The blink-and-you-miss-it sale follows this week's resignation of Fiona Balfour from the ABC board, as well as the upcoming departure of fellow director Joseph Gersh in May, and all while ABC employees decide whom to appoint as their staff-elected director following the resignation of panelist Kirstin Ferguson.
Ainsworth's historic win
Still with ABC identities, former 7.30 and Stateline presenter Quentin Dempster and his wife Elizabeth sold their Millers Point terrace for $5.7 million to former policy advisor to prime minister Julia Gillard-turn-management consultant Greg Ainsworth, of the billionaire pokie family.
The Victorian Italianate terrace was sold on the eve of its auction late last year by McGrath's Andrew Stewart and Richard Shalhoub, and the recent settlement revealed the purchase by the grandson of billionaire Len Ainsworth.
Quentin Dempster is the former presenter of the ABC's 7.30.Credit:Wolter Peeters
It is one of three houses in a row known as Winsbury Terrace, and last traded in a dilapidated state in 2010 for $1.5 million. It was on a government leasehold with a $175,000 conservation management bond thrown into the deal.
Testing times
The mystery $42.2 million buyer of the historic Lavender Bay mansion Idlemere that recently smashed all house price records from the Harbour Bridge to Palm Beach has emerged as Lynda Van Der Weegen. Who?
Admittedly, it took a bit of digging through title and corporate records to find out where Van Der Weegan heralds from and, more pertinently, what sort of business funds such a house given it was purchased with no mortgage.
Turns out, there's money to be made in the COVID testing industry.
The historic waterfront house in Lavender Bay is the state's most expensive house sold outside the eastern suburbs. Credit:Domain
Van Der Weegen's husband is Dr Chris Douglas, medico founder of pathology practice Histopath Diagnostic Specialists (HDS), which has been in operation for 25 years but expanded dramatically in recent years thanks to its major role in the state government's COVID-19 testing regime.
For context, pre-pandemic the practice had a staff of 70. That has blown out to more than 1000 today.
For their money the couple secured a Victorian manor set on a double block of 1400 square metres with 30 metres of waterfront, a private beach, boat shed, jetty, self-contained guest quarters in a boat house and a front-row view of the Harbour Bridge.
It was sold by Alison Coopes on behalf of property veteran and Sydney Swans board member Greg Paramor, AO and his wife Kerry, who had commissioned a major renovation since they purchased it in 2001 for $7.25 million.
Dr Douglas and Van Der Weegen clearly have a penchant for heritage homes.
Their current home in Homebush is the historic property known as Stockman Manor that was built in 1896 for paper merchant John Bateup and is set on 1800 square metres with a circular driveway, swimming pool and tennis court. It was bought by the couple in 2008 for $2.62 million from specialist trauma surgeon Michael Sugrue.
Meanwhile, as regular readers will know, HDS co-owners Dr Steven Mann and Dr Elizabeth Mann have also been up-grading the home real estate. The couple recently purchased a house in Warrawee for a suburb high of $16.3 million.
Doubling up on the waterfront
What could be better than a holiday house on Pittwater's Scotland Island?
Marnie Lewis-Millar is the co-owner and director of Lewis Land Group.Credit:
That would be two houses for Marnie Lewis-Millar, who with her sister Shay Lewis-Thorp heads up the Lewis Property Group founded by their father, the late property tycoon Bernard Lewis.
Lewis-Millar first bought her waterfront weekender on the secluded bush island in 2021 for $5 million, and has now added the house next door on Pitt Point that was designed by acclaimed architect Ken Woolley for developer and long-time collaborator Brian Pettit for $4.25 million.
The Pitt Point house was designed by acclaimed architect Ken Woolley for developer and long-time collaborator Brian Pettit.Credit:Domain
The Scotland Island houses are owned by her investment company, Yellow House, taking its portfolio of acquisitions in recent years to more than $32 million, including a block of 16 apartments in Coogee last August.
Coke adds house
The Mosman home of local Coca-Cola boss Peter West and his wife Caroline has sold after a brief sales campaign and a $12 million guide.
The Marston Architects-designed house was sold for $12 million by Caroline West, wife of Coca-Cola boss Peter West.Credit:Domain
The Balmoral slopes house was sold by The Agency's Nic Yates, who declined to reveal the sale figure.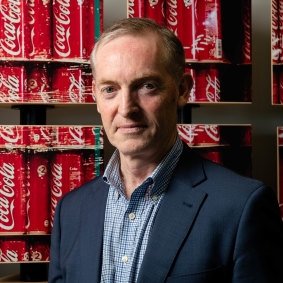 Coca-Cola Europacific Partners' Peter West.Credit:Janie Barrett
West was elevated to the vice-president and general manager of Coca-Cola Europacific Partners in Australia, Pacific and Indonesia after the beverage giant bought local bottler Coca-Cola Amatil in 2021 for $9.8 billion.
The Marston Architects-designed house with an 11-metre swimming pool last traded in 2018 for $8.6 million when sold by Dee Johnson, a former non-executive director on the board of the Dying with Dignity charity.
One for the art aficionados
A converted factory in Waverton has lured more than just would-be buyers to the open inspections of Stone McMahons Point's Annika Bongiorno.
The converted warehouse last traded in 1978 for $63,500.Credit:Domain
Among the more than 200 groups who have already inspected it are a good swag of art aficionados who know the property better as the long-time studio and home to the late abstract artist Alun Leach-Jones and his widow, sculptor Nola Jones.
The couple purchased the converted factory in 1978, paying $63,500 and used the lower levels as their respective studios while living above it.
Abstract artist Alun Leach-Jones died in 2017.Credit:Steve Christo
Previously, the property was home to the pie and sausage factory of Alfred "Rissole King" Schoer in the 1920s, and in the 1930s housed the Maxco Industries electric light factory.
The British-born Leach-Jones died in 2017, and Jones has listed it with Bongiorno with a $2.25 million guide ahead of a March 4 auction.
Wallabies great scores
Wallabies great and TV sports presenter Matt Burke and his wife Kate sold their Newport home this week for an undisclosed amount after it was offered with a $4.85 million guide.
Ten sports presenter Matt Burke.
The five-bedroom, three-bathroom "empty nest" with a swimming pool was set to go to auction this week, but ended up in private negotiations between two parties through LJ Hooker Palm Beach's Peter Robinson.
Given plans by the couple to downsize locally, the house first hit the market last year with initial $5 million hopes.
There had been a major renovation by architect Iain Halliday, of BKH, since they bought the house in 2013 for $1,677,000.
The Newport home of Matt and Kate Burke was redesigned in 2014 by architect Iain Halliday.
Riding the highs and lows
Andy Nahas, of the Coronation Property development family that for a brief time was the employer of former deputy premier John Barilaro last year, has felt the property market downturn on the home real estate front, selling his city pad overlooking Hyde Park for a loss.
The three-bedroom spread was purchased off-the-plan by Nahas in 2017 for $5.65 million, who settled into his home in 2021 soon after the King & Phillip building was completed. It was listed in July last year with initial hopes of $6.5 million, but they were revised down to $5 million before it sold for $5.05 million.
Nahas did better on his former Bellevue Hill home owned by wife Carly Sahyoun. That was purchased for $11 million in 2020 from freight boss Arthur Tzaneros, renovated, and sold last year for $21.5 million.
Most Viewed in Property
Source: Read Full Article