As the final chapter of the political thriller House of Cards unfurls itself in the context of tectonic shifts in the real world of global politics, there has been an uneasy reassessment of the question about art and reality.
"Is life imitating art or is it the other way around with this administration?" says Robin Wright, who plays Claire Underwood (now Madam President) in the critically acclaimed series.
"We used to be the crazy show, the shocking show," Wright says. "That is not true any more. So it's a different animal.
"The paradigm did shift with the template of the show because it's very Shakespearean, it's very Machiavellian," Wright says. "You've got the backdrop of [Claire's] Lady Macbeth to Francis Underwood as Richard III and how that plays out.
Robin Wright plays president Claire Underwood in the final season of House of Cards.Credit:David Giesbrecht/Netflix
"But when [Claire] says, at the conclusion of season five, 'it's my turn', we're going to experience a different operational tactic," Wright says. "And she learned from the best how to do that. So you're going to see how she utilises it in her own style."
The creation of House of Cards in 2013 – a US remake of a 1990 British TV thriller – was a turning point in popular culture. The show, Netflix's firstborn child, fundamentally altered television both in narrative terms and also in the way the business is transacted. As well as her starring role, Wright was one of the series' executive producers and directed nine of the 65 episodes that have aired so far.
As its final chapter begins, the landscape is still shifting around it, for a variety of reasons.
The fifth season finale, on which the power nexus between Francis (Kevin Spacey) and Claire shifted so dramatically was filmed in January 2017, some eight months before a sexual harassment scandal engulfed Spacey, forcing a creative decision to remove him from the series.
Wright in Wonder Woman.Credit:Alex Bailey/AP
That moment confirmed the ascendancy of Claire to the centre of the show's narrative, and Wright, the 52-year-old star of Forrest Gump, The Girl with the Dragon Tattoo and Wonder Woman, to number one on the show's call sheet.
Spacey is a closed subject during our interview – at the request of Wright's publicist – but when she spoke to the US Today program in July, Wright said: "We were all surprised, of course, and ultimately saddened", describing their relationship as "respectful, professional". "That's the only thing I feel that I have the right to talk about," Wright told the program.
Wright attends a House of Cards event in New York this month.Credit:christopher smith
Within the framework of the story Claire Underwood's ascendancy was already well under way in a manner that seems, in hindsight, almost prescient.
In the final episodes of season five, Claire, already the vice-president, rises to the presidency after Francis resigns, part of a power play built on the idea that it doesn't matter who occupies the presidency, but who "owns" the White House.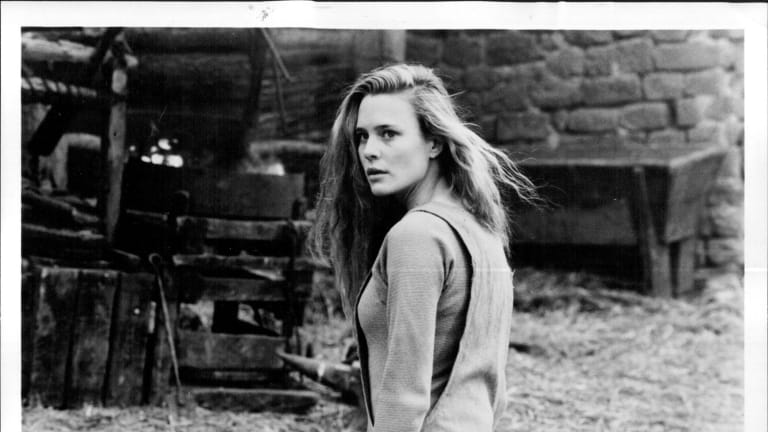 Wright in The Princess Bride.Credit:Photographer Unknown
We used to be the crazy show, the shocking show.
In physical terms, Wright attributes much of the establishment of Claire's personal power to her physicality, the manner in which she moved and spoke, but equally the manner in which Wright's stylist, Kemal Harris, dressed her.
"So much of embodying the character as an actor, for me, is the physical, the way she stands, the way she walks, the way she's poised," Wright says. "And the clothes were so important, which is why I brought on my stylist to design for Claire Underwood.
House of Cards co-stars, from left, Michael Kelly, Wright and Patricia Clarkson at the season premiere in Los Angeles in October.Credit:CHRIS PIZZELLO
"Every year it was a great conversation, a creative conversation of what are we going to do this year? How are we going to emulate in the clothes who she's becoming as she's ascending? And then last season it was about military: a lot of buttons and the half collar, buttons [on the shoulder to] make it look like epaulets, very [like] … a general."
From very early in her career, the Dallas-born actress has made careful choices about the women she portrayed on screen.
Wright faces her demons in the final season of House of Cards.Credit:David Giesbrecht/Netflix
Even in her earliest and still very much loved film role, the farmer's-daughter-turned-fairytale-action-heroine Buttercup in the wry, delightful The Princess Bride (1987), she played a woman – fantasy touches aside – who wanted to choose how and whom she loved, and whom she married.
And while the universes of The Princess Bride and House of Cards are worlds apart, the comparison makes Wright smile. "It's the freedom of the heart," she says. "We're all individuals, and we have whatever our moral ethical code is, and we live true to that."
As Claire Underwood, Wright faces internal enemies in House of Cards season 6. Credit:David Giesbrecht/Netflix
Since then her roles have tilted from the gently rebellious Jenny Curran in Forrest Gump to the magnificently militant General Antiope in Wonder Woman.
In House of Cards, much as it was in The Princess Bride, Wright says there is great joy in playing a character formed from so many layers.
Wright's wardrobe takes on a military look in House of Cards Season 6.Credit:David Giesbrecht/Netflix
"And there is just as much fun playing a character that's disenfranchised and corrupt," Wright says, laughing. "It's much of the same feeling because you're actually doing something active."
There is no question the role of Claire Underwood has been a gift.
"In doing a long-form movie, which is what it is, you get so much more time to see the development of that character, see all the minutiae, and the changes and evolution that one human being goes through," Wright says.
"The seasonal changes, when you grow as a person, and what that experience influences you to do, negative or positive. It's endless, the opportunities are endless … for character development with this new format [of storytelling]."
By the end of the final season, Wright predicts, Claire Underwood will be exactly where she intended to be.
"I think it's always been in her blood," Wright says. "She chose Francis Underwood over another man for a very specific reason, which was, that is the road to power. I'm going to get on that bandwagon. And she learned from the best, how to do that.
"The fun thing about the way the arc shifted is they were a union, they had an agreement," she says. "The agreement was broken by him in season five [when] he crossed her, he used her for his own benefit. That's when she says game over, it's my turn. That's the exploration of season six."
Presidential power, she notes, is not so difficult to grasp. "For the House of Cards template, power is the Machiavelli way, it's by whatever means," Wright says.
"In life, as a businesswoman, or producer of the show, power is being strong and direct, and holding your ground when you know it's going to be for the betterment of the piece, architecturally, [of] what you're building," she says.
And then she adds a remark which could apply as much to Spacey's removal as it would to Claire's ascendancy at Frank's expense: "If something's going to infect it and dismantle it, that needs to go away," she says.
In the real world, Wright acknowledges a dramatic shift in gender politics in the wake of #MeToo, caught in the cyclone of an unusually combative American political landscape and midterm elections in which a record number of women are running for public office.
"It's going to take more time but what I feel has happened recently is with all of the amplified voices, and the conversations, and the articles, and the forefront of the news stories, [there is] a demand to have a position equally," Wright says.
"What I mean by that is women aren't saying, we're better than, and we should be in place of. It's not about that. It's, let us be a part of the playing field within that competition. You have to earn it, but let the best person win, not let the best man win. You know what I mean?
"And that glass ceiling has been cracked, which is great; now we just need to break the habit of what we've been living in for centuries," she says.
As a mother – Wright has two children with former husband Sean Penn, a daughter, actress Dylan Penn, and a son, Hopper Penn – says that change will come generationally.
"That's what it is, it's a new form of education for young women and young men," Wright says. "This is a new rule we're going to adhere to. Instead of, oh, women are always in the back seat or women get paid less … and feminism means equality, it doesn't mean women are better than men.
"It's [a case of] let us have an equal playing ground," she says. "Give us the opportunity to prove ourselves. And that hasn't been so for so long, because it's been a man's world. And I'm hoping that that pool just starts to expand, and we get to fuel more talent coming in. Female directors, actors, CEOs, you know?"
At first glance, Claire Underwood could be the embodiment of the phrase "the future is female": independent, brilliant and situated at the nexus of power in a manner that neither celebrates nor leans on the fact that she is a woman.
In the House of Cards narrative she is the most powerful woman in the world simply because she is the best qualified for the task.
At the same time she cuts a terrifying figure. If the future is indeed female, are women like Claire Underwood – with her lack of morals and ethics – the kind of women who should sit on the throne?
Wright says Claire does not represent anything new. "I don't think anybody is in that position without having to step on heads to ascend themselves." Wright is comfortable with comparisons between Shakespeare's Lady Macbeth and Claire Underwood.
"She's always been the character that is a utilitarian type: you do whatever it takes to get the job done. And if you have been nominated to do that job, you better do whatever it takes to get it done. And she does that."
Which brings us back to the question that lingers at the heart of our conversation: is all art political?
Wright immediately thinks of her recent visit to the Musee d'Orsay in Paris, looking at Monet's Water Lilies series, and says art is about sharing. But it can also be powerfully political.
"You're looking at Monet, the lilies, you're surrounded by that work of art, that expression … is that a manipulation? No, it's sharing," Wright says. "So that's an interesting question, can we share and still be in a power mode? Yes, I think we can, but it's such a delicate line."
House of Cards is on Netflix from November 2.
Source: Read Full Article