There's a new member of the Duff-Koma family! On Sunday, Hilary Duff shared a family photo with baby Banks, and the adorable picture will make your heart melt. Duff posted the funny photo on Instagram, which shows her holding newborn daughter Banks and sticking her tongue out. Meanwhile, her son Luca is also making a silly face while her boyfriend Matthew Koma looks on. The family is posing in front of a pink door with a wreath, and are all wearing their best autumn outfits. The baby appears to be sound asleep, and Duff gave the photo a hilarious caption, writing: "Banks … you gotta try harder".
The newest addition to the family may not be on the same page yet when it comes to photos, but it's clear Duff and Koma are so excited to be parents. According to E! News, Duff gave birth to her baby girl on October 25th, and her full name is Banks Violet Bair. The star has a six-year old son named Luca Comrie, but this will be her first daughter. It's also her first child with Koma, and the musician is a first-time dad as well. Duff often shares snippets of family life on social media, and posted plenty of sweet and real updates throughout the pregnancy and during the first few weeks after Banks was born.
In addition to the family photo, Duff also shared a video of her son holding the newborn on her Instagram story. In June, the Younger actor told James Corden that her son already had names picked out for the baby during an appearance on The Late Late Show With James Corden. "Luca thinks Cofant Croissant is the coolest name," she said. "It's pretty strong, right?" The star also shared that her son was initially ambivalent about having a sibling, and told friends at school his sister would be part "red butt monkey". However, it's clear Luca has taken to being a big brother, even if the family decided to pass on his choice of name.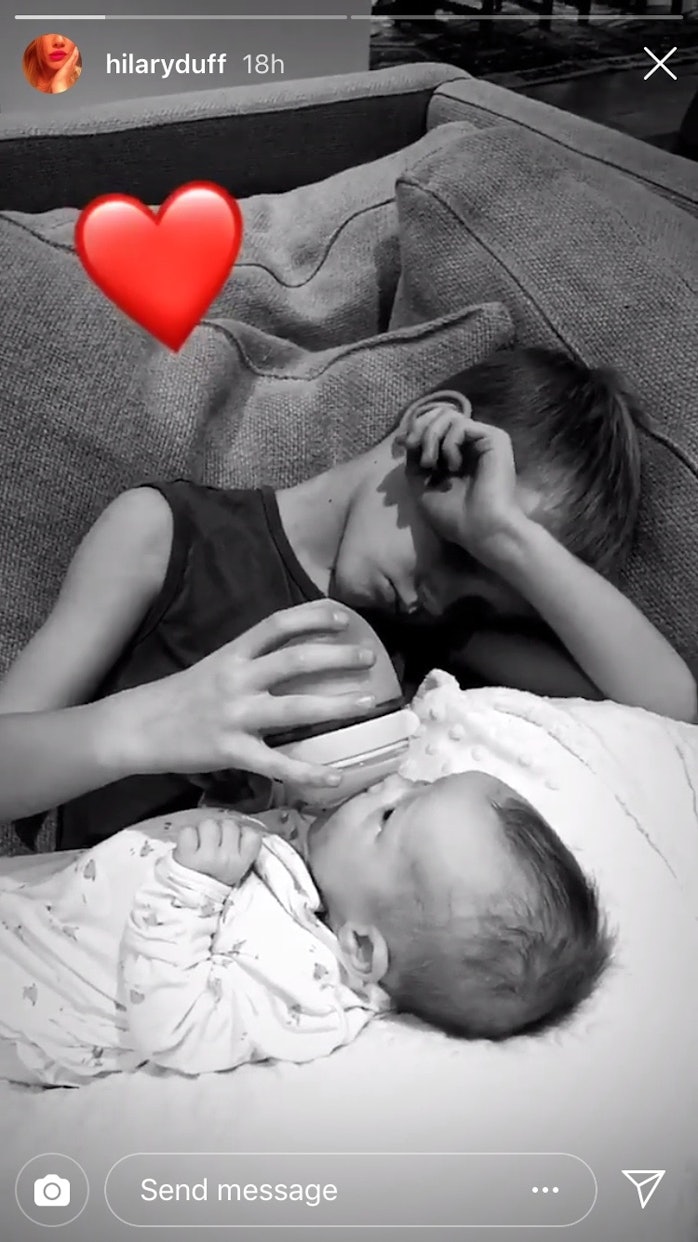 Duff's post over the weekend are not the first baby updates that she has shared online. In June, the star announced the pregnancy on Instagram. She shared a photo posing with Koma, writing: "Guess what guys! Matthew Koma and I made a little princess of our own and we couldn't be more excited!!!!!!" The star also revealed that she had given birth on Instagram with a photo cradling the baby with Koma. The photo was captioned: "Banks Violet Bair. This little bit has fully stolen our hearts! She joined our world at home on Thursday afternoon and is absolute magic" with a heart emoji.
The Younger star was open about the difficulties of pregnancy on social media as well. In July, she shared a selfie and wrote about how challenging the pregnancy had been. "The boobs are big the belly is big the body is big. Man.. pregnancy is hard," she wrote. "Giving love to all mamas who make it look effortless…this journey is hard as hell and also incredibly special." Many people appreciated that the star got real about her experience, and shared that the post inspired them in the comments.
When it comes to social media, Duff has been sharing plenty of sweet family updates as of late. The funny posts from the weekend are no exception, and her posts show that she's having the best time welcoming her newborn daughter to the world with her family. There's a good chance that fans can look forward to more adorable pictures in the future, even if Banks isn't quite old enough yet to get the silly face memo.
Source: Read Full Article