True crime stories prove that real-life is almost always weirder and wackier than anything a writer's room can come up with. Take Bravo's new series Dirty John, based off the Los Angeles Times podcast of the same name, which follows con man John Meehan as he seduces and marries his next mark — a Newport Beach-based mother and interior designer Debra Newell. But Newell's daughters didn't trust this new guy in her life, and they ended up being right. The tale takes a lot of twists and turns and John Meehan ended up dying by the end of the relationship. It's the kind of story one just couldn't make up.
According to the Los Angeles Times, Meehan and Newell first met online in 2014, and Meehan swept Newell off her feet. He said he was an anesthesiologist who had worked with Doctors Without Borders in Iraq, and soon, they were inseparable. "He was the total package. A doctor. Very intelligent. A family man," Newell told Megyn Kelly on her eponymous show. This was all much to the chagrin of Newell's daughters, Jacquelyn and Terra, who felt something was up with Meehan from the moment they met the man. Meehan maintained that Newell's daughters were just jealous, the podcast reports, but eventually, Debra also realized that Meehan may not be the man she thought he was.
They married, separated, got back together, and then separated again. According to the Los Angeles Times, Meehan's background included extortion, stalking, and harassment, and so Newell's lawyer encouraged her to tread lightly in regards of her soon-to-be ex-husband.
On August 20, 2016, according to the Los Angeles Times, Meehan, equipped with a backpack, duct tape, cable ties, injectable testosterone, kitchen knives, and a passport — what police call a "kidnap kit" — attacked Terra in the elevated parking lot of her apartment complex, and he fell on her, trying to stab her. Terra was able to kick the knife from his hand. She grabbed it and stabbed Meehan 13 times. Police and emergency personnel arrived soon after and were able to revive Meehan's pulse, but he died four days later in the hospital at age 57 on August 24, 2016. As reported in the original podcast, Terra attributed her fierce love of The Walking Dead with her ability to fight back against Meehan's brutal attack. "I guess that was my zombie kill," Terra said. "You need to kill their brain. That's what I did."
In an interview on The Tonight Show With Jimmy Fallon, Eric Bana, who plays Meehan on the Bravo show, said that the "creepy" factor of Meehan was almost too much to bear. "I've been getting a lot of feedback that I'm really, really, really, really, really, really creepy on the show and I gotta tell ya, I wasn't going for creepy, so it's a little disconcerting," he said. Bana added that playing Meehan was "amazing" because of his way of making people do whatever he wanted. "People can manipulate and do that kind of mental abuse, [and be] very, very adept at that, and that's part of their arsenal," Bana said.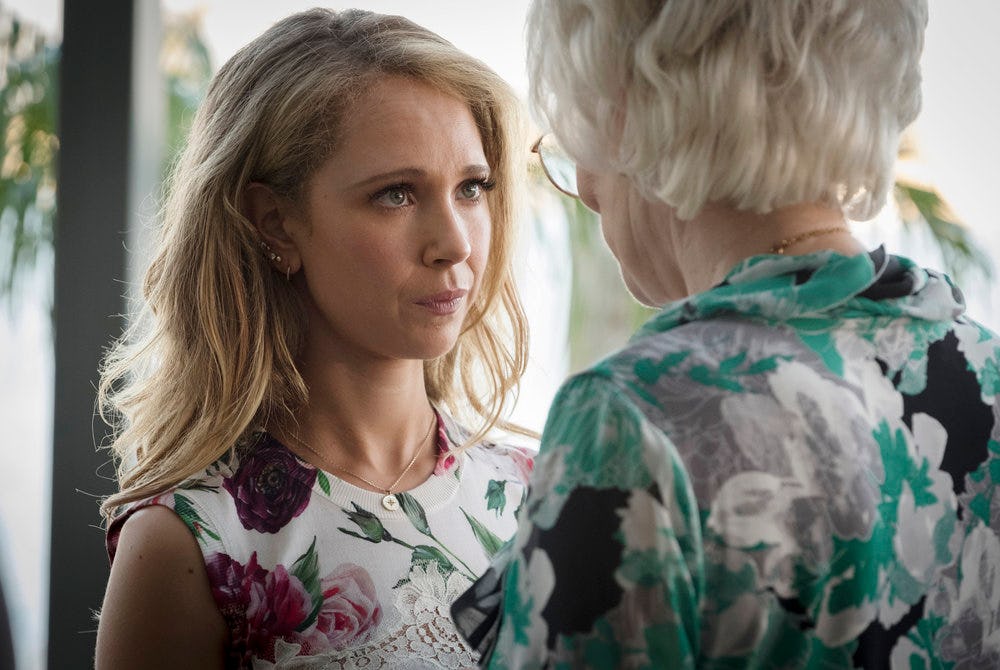 According to Rolling Stone, Christopher Goffard, the Los Angeles Times reporter who started the Dirty John podcast, has been contacted by more of Meehan's victims. "They all say, 'I dated that guy for years and it was the worst experience of my life.' I've got e-mails that he sent [to another woman] where he says, basically, 'ruining your life will be my masterpiece.' Think about that – that's a guy who takes pleasure in a certain craft," Goffard said.
Ultimately, Meehan was responsible for his own demise — he underestimated Terra, who fought back against unimaginable circumstances, and Terra freed Newell from Meehan's tight grasp.
Source: Read Full Article