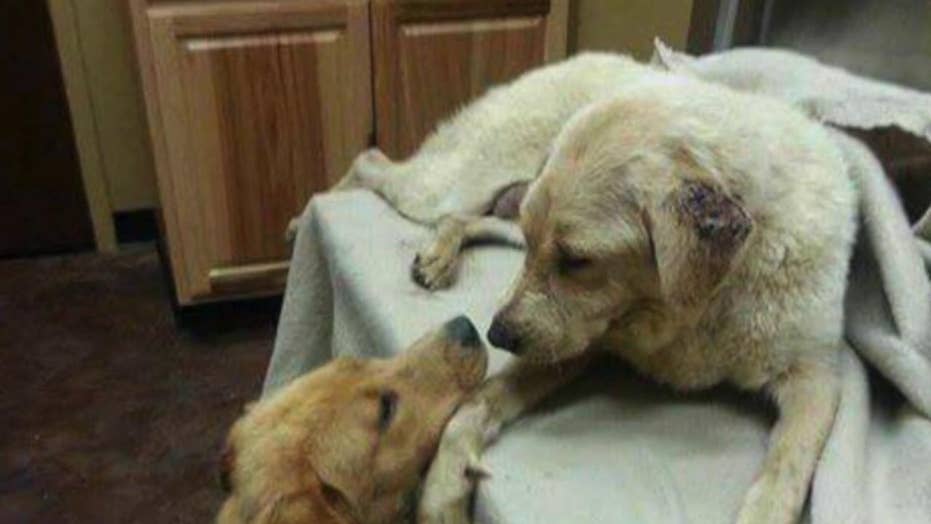 Dog with failing kidneys receives miracle donation
A Missouri family will be able to spend more time with their beloved pet after receiving a donation from one of her pets.
A dog in St. Louis recently received a lifesaving gift from one of her puppies.
A few years ago, Star and her litter of 13 puppies were found in a box in southern Missouri. The mom was dehydrated and malnourished, local news station Fox 2 reported.
When Star and her puppies were taken to Murphy Animal Hospital in High Ridge, veterinarians there determined she was in advanced kidney failure — a near-death experience Star somehow managed to survive. She was then adopted by the owner of the animal hospital, Shannon Flegle, and many of her puppies went to homes in the St. Louis area.
THIS PENNSYLVANIA UNIVERSITY IS GETTING A PET-FRIENDLY DORM
But over the summer, Star began to vomit and refused to eat. The dog's condition continued to worsen, and tests later showed Star's kidneys were again in failure.
In order to save Star's life, veterinarians determined the dog would need a kidney transplant — which could only be performed if the dog could find the perfect match, much like in humans.
That's when Elsa, one of Star's puppies found in the box a few years ago, came to the rescue.
"It just really seemed like she picked us at the time," Jenny Murray, Elsa's owner, told the news station.
After consulting with her husband and children, the family decided to see if Elsa would be a match for Star.
TENNESSEE MAN SAVES PUPPY ALLEGEDLY ATTACKED BY HAWK: 'HE ALMOST BLED OUT'
"This is Elsa's chance to save her mom, and they're like, 'Oh so she's a hero!'" Murray told Fox 2 of her children's reaction.
Elsa was a match and the two dogs underwent a successful surgery, which was performed by a veterinarian in Wisconsin, in October.
Both pups are on the mend and are "expected to live normal lives" going forward, Fox 2 reported.
Source: Read Full Article