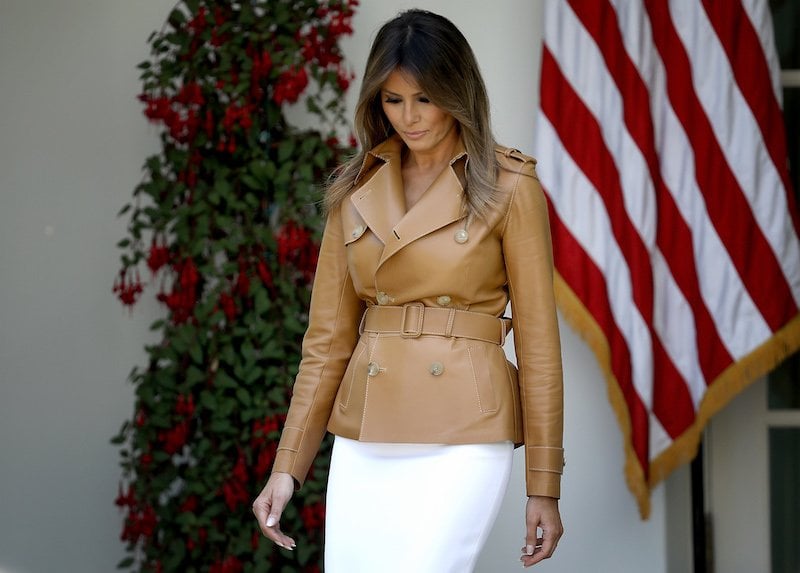 How many friends does Melania Trump have? | McNamee/Getty Images)
A lot of mystery still surrounds First Lady Melania Trump. While many admire her for her fashion and charitable causes, she's still one of the most private first ladies in many years.
This doesn't mean we haven't written about things we do know about Melania. What's still speculative, though, is exactly who she hangs out with the most. We don't even know exactly how much quality time she spends with her husband, Donald Trump. So what kind of close friends does she have in or outside the White House?
Melania Trump has a separate schedule and priorities from her husband
As The Washington Post reported back in May, Melania's life is far different from President Trump's. While they clearly travel together once in a while, Melania is usually doing other things to uphold her agenda. Part of this involves her considerable focus raising their son, Barron.
Working on children's causes are near and dear to her heart, and this is her own personal path away from the White House bustle.
A lot of rumors have popped up about how close she and the President really are. Is Donald really Melania's best friend when they're behind closed doors? The Washington Post report above notes her old-world European upbringing is one reason they aren't always seen holding hands in public.
Overall, they apparently see little of one another during their free time. Then again, others say the President relies on her for advice during their time together.
Melania's old friends from her modeling days
When Melania lived in Slovenia, she had many school friends. She developed further close relationships there and when moving to the U.S. to work as a model. One close friendship she had was with Petra Sedej, one of her fellow high school students. They hung out together in Slovenia when Melania was discovered by photographer Stane Jerko in 1987.
After moving to the U.S to start a lucrative modeling career in 1996, she had a huge coterie of friends. During her time modeling, she reportedly designed and sewed clothes for her closest confidantes.
Once she met Donald Trump, everything changed, as it has for everybody who moved into his orbit.
Hanging out with billionaires and one close friend
Marrying Donald Trump meant Melania was soon spending time at galas and cocktail parties to schmooze with the billionaire class. Nobody can say this is the best place to meet close friends, especially when many of those people were closer to Donald than Melania.
If it seems she's had a lonely existence living this life, she's still managed to nurture some close friendships. Even if they only see one another once in a while, a friendship is a friendship.
A most notable one is Melania's friendship with the wife of the U.K. ambassador, Woody Johnson. Her name is Suzanne Johnson, formerly known as Suzanne Ircha.
Both have a lot in common: They both married rich men and have children the same age. Suzanne had to move from New York to the U.K. for her husband's new role. Melania and Suzanne only see one another occasionally when the Trumps go to London.
Melania's closest friend may be her sister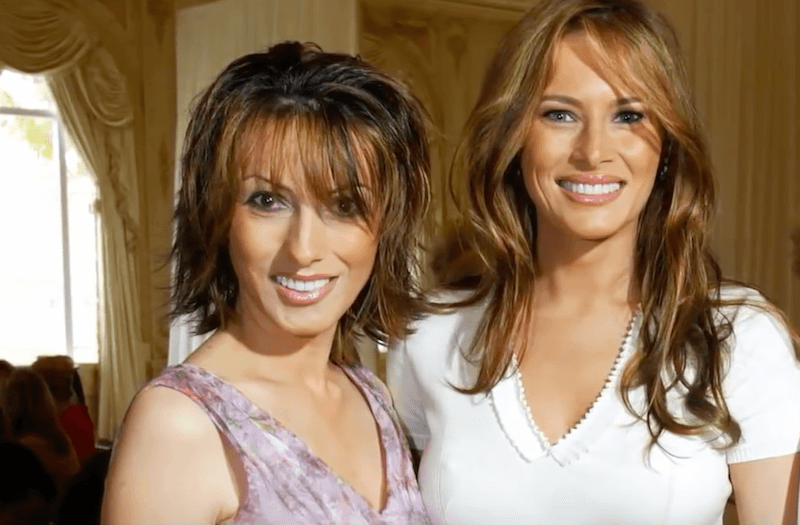 Melania Trump and her sister, Ines Knauss | Celebrities TV via YouTube
No doubt Melania confides with their son Barron, with hopefully both supporting one another when things become tough. However, Melania has an older sister named Ines Knauss whom she reportedly turns to for strong family support.
Knauss lives in New York City, not far from the luxury apartment where Melania lives with Barron when away from the White House.
Despite the two being very close, the media has seldom done stories about Knauss. One good reason is Melania doesn't want her blood family examined under the microscope by the media.
We understand that, and we should respect her desire for privacy when it comes to confiding in people she can truly trust.
Source: Read Full Article