The Glee star and Swift were often photographed together back in 2011-2012 with many fans shipping the duo — and even believed Taylor's song 22 was about Agron
Okay Swifties, Dianna Agron has finally reacted that fan-theory about her and Taylor Swift's relationship.
In an interview with Rolling Stone, the 37-year-old "Glee" alum opened up about inspiring the "Anti-Hero" singer's music in the past. When she was asked about being the alleged inspiration behind Swift's 2012 hit song "22," Agron admitted she was given credit where it was not due.
"Me? Oh, if only!" the actress laughed.
At the time, the "Clock" star was listed in the liner notes for the track in the Grammy winner's album "Red."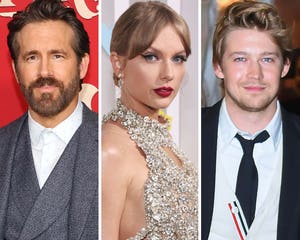 Ryan Reynolds Unfollows Joe Alwyn After Taylor Swift and Blake Lively Dinner, According to Swifties
"That's more because of a friendship than being the inspiration for the song," Agron said, explaining that her credit was given as an act of kindness. "But I would not be the person to ask about that. I cannot claim that!"
Between 2011 and 2012, Dianna and Taylor were public about their close relationship and many fans and publications "shipped" the two stars.
"That is so interesting," she said of their romance rumors. "I … I mean, there have been many stories about my dating life that are so wildly untrue."
Agron quipped, "That's funny."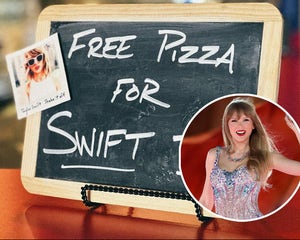 New Orleans Restaurant Offers Year of Free Pizza for Taylor Swift Tickets
Elsewhere in the interview, the "Shiva Baby" star also got real about her time on her hit show "Glee" and how she navigated the fame as a young woman in Hollywood. Dianna was only 22 when the series aired on Fox and she recalled how her character Quinn Fabray, the queen bee and head cheerleader of William Mckinley High School, led to sexualization at a young age.
She explained, "I think it was a sliding scale of appropriate to terribly inappropriate, and especially if you're playing a character who people find to be attractive, or you are a young person who people find to be fit in a box that they would like to put you in, which is 'young and sexy.'"
"That was the hardest thing for me to reconcile with," Argon continued. "I was a pretty nerdy kid and not much has changed, so I didn't ever really feel comfortable dolling up or expressing my sexuality in that way, because I didn't even fully understand how I felt about my own sexuality."
Sharing that she "came of age" on the series, she confessed, "There were things that happened where I had to learn how to use my voice to advocate for myself, and I wish people would have had more of an awareness to support me or ask my permission."
Source: Read Full Article