It looks like Regina George might be getting the last word when saying "thank u, next" to Aaron Samuels after all. Arianators have been on high alert for the "Thank U, Next" music video's highly-anticipated release since Thanksgiving, thanks to the songstress's flurry of Mean Girls and Legally Blonde-inspired social media posts over the past couple days. ICYMI, Ariana Grande has been channeling her inner "Plastics" on Instagram with platinum locks, a bonafide Burn Book, and now a cameo from Aaron Samuels himself, and TBH, Ariana Grande and Jonathan Bennett's Mean Girls Instagram shared on Saturday, Nov. 24 might be the most grool preview yet.
On Saturday, Grande appeared to give fans a sneak preview of the cast behind her music video with a few familiar faces: Grande herself, Dynasty's Elizabeth Gillies as Cady Heron, and Jonathan Bennett, who famously played Aaron Samuels opposite Lindsay Lohan and Rachel McAdams in the 2004 cult classic. *Cue the fangirling.* Elite Daily reached out to Grande's team to confirm the photos are from the "thank u, next" video shoot, but did not hear back at the time of publication.
The songstress put the Mean Girls fandom on watch mode when she shared not one, but two photos of the group, and an Instagram photo on Bennett's own account seemed to confirm that he could be making an appearance in the upcoming "thank u, next" music video.
"Aaron [loves] Regina," he wrote with a heart emoji. "Thank U, Next."
Grande quickly returned the Instagram love with a Mean Girls quote. "That's CRAZY……why would I break up with u? Ur so hot," she wrote.
Bennett teased, "So you agree?? You think I'm really hot?"
Gillies also shared a selfie with the actor, writing, "Even though I wasn't allowed to like Aaron… I was still allowed to look at him."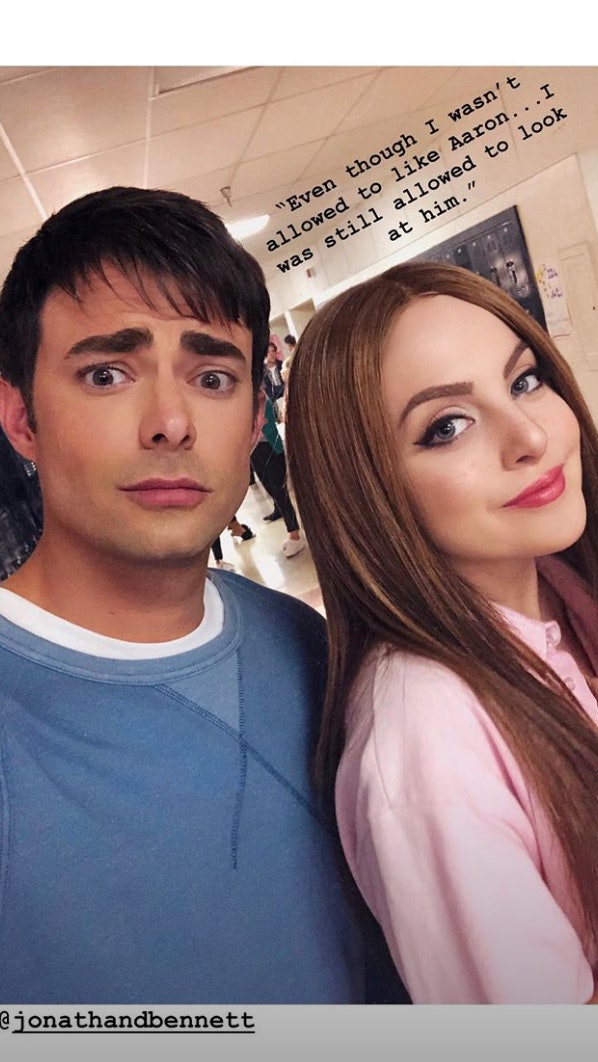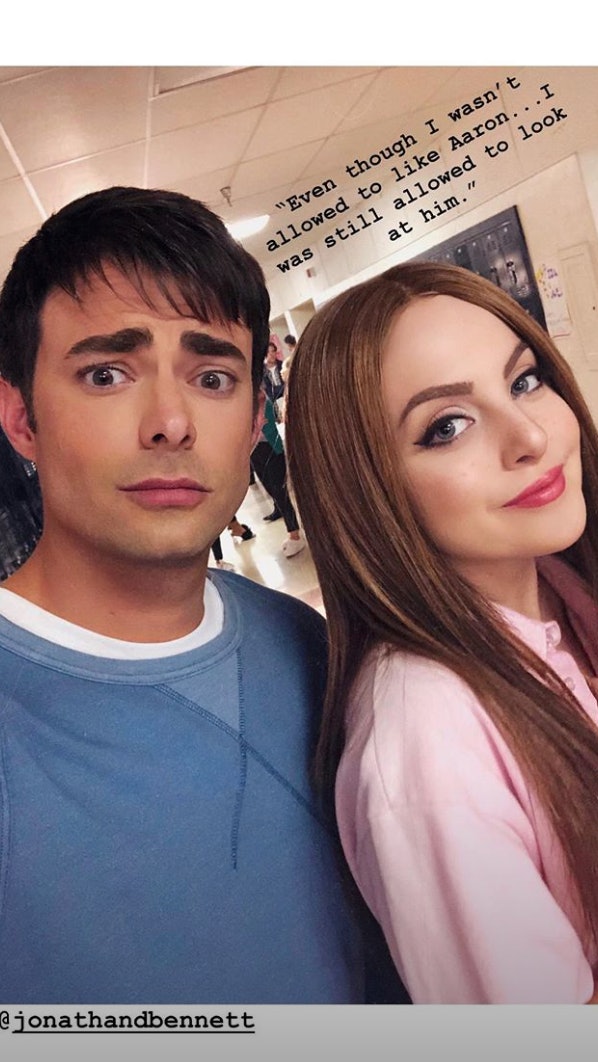 The latest posts seem to be further proof that the "God Is A Woman" hitmaker's upcoming music video is inspired by early 2000s rom-coms such as Mean Girls and Legally Blonde, although Grande has yet to definitively confirm that.
Elizabeth Gillies and Jonathan Bennett aren't the only talents expected to make a cameo in the singer's highly-anticipated — and apparently, star-studded — music video accompaniment to "Thank U, Next." On Tuesday, Nov. 20, Grande shared a photo with Jennifer Coolidge, aka Elle Woods' bestie Paulette from 2001's Legally Blonde.
"New best friend," she wrote. "Thank u, next."
Grande definitely knows how to up the ante ahead of the drop of new music and music videos, and fans are so ready for this visual feast filled with everyone's favorite romantic comedies.
Supermodel Gigi Hadid took to one of the Mean Girls group pics to comment, "Has she told us when yet," while sister Bella commented, "Yes pls give ur fans what we need."
While the star teased on Friday, Nov. 23 that the clip will be "coming soon," she's yet to confirm an exact date. Elite Daily reached out to Grande's team to inquire about the release date for the "thank u, next" music video, but did not hear back by the time of publication.
I'll be staying tuned on the drop date, but one thing's for certain: This rom-com mash-up is going to be seriously fetch.
Source: Read Full Article