While there's no rule out there that women have to mark the occasion of their engagement with a pretty piece of jewelry, it's a time-honored tradition that a lot of people love. An engagement ring can remind you of how much love you have in your life every time you look down at your finger. If you aren't super into the classic diamond look — it's certainly not for everybody — there are colorful engagement rings that serve as stunning alternatives.
These unique gemstone rings are sure to wow. Some are decorated with classic diamonds next to them, and some stand entirely on their own with the colorful gems. These rings are for those who like something a little different, want to avoid diamonds for ethical reasons, or prefer to wear jewelry that can cost less than diamond ring.
Are you obsessed with Kate Middleton's sophisticated style? Consider a sapphire, like the Princess Diana heirloom that Prince William proposed with. Lady Gaga fans might be inspired by her pink diamond ring. Colored stones are hot!
Read on for beautiful colored engagement rings from a variety of independent jewelers at a variety of price points.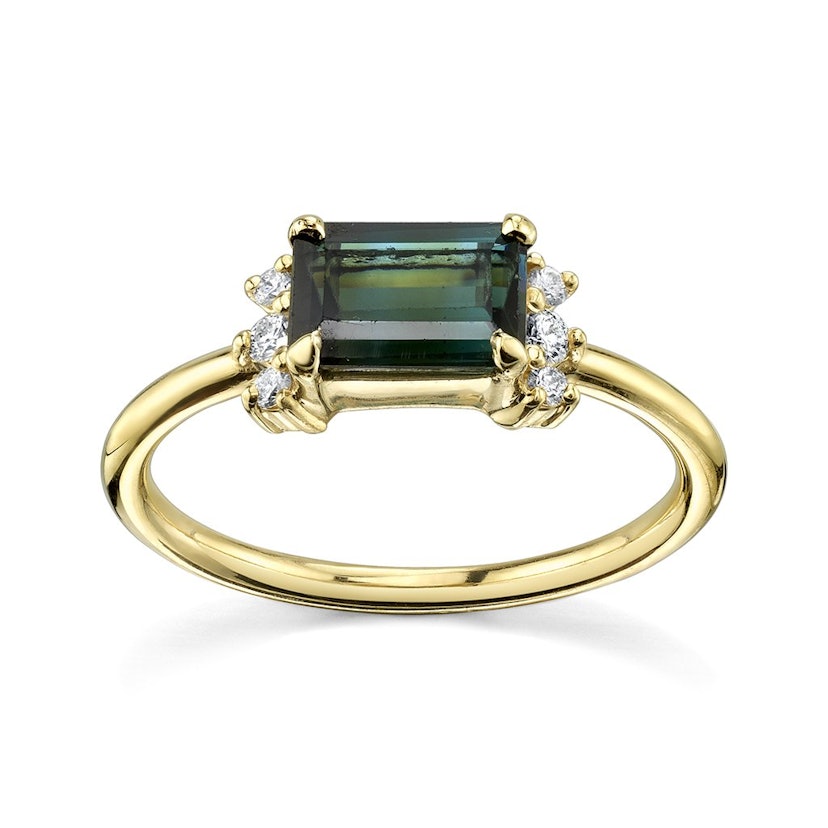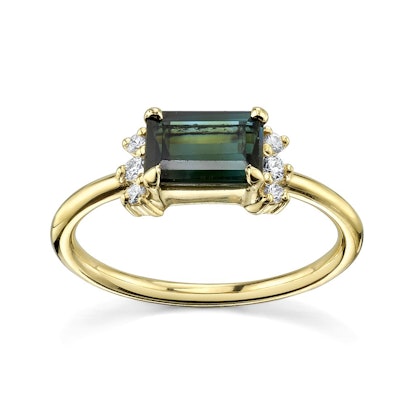 Looking West Tourmaline Ring
$1,850
Marrow Fine
This tourmaline, emerald-cut stone is set in the east-west direction (horizontally) and flanked by delicate diamonds. This standout ring is a true stunner.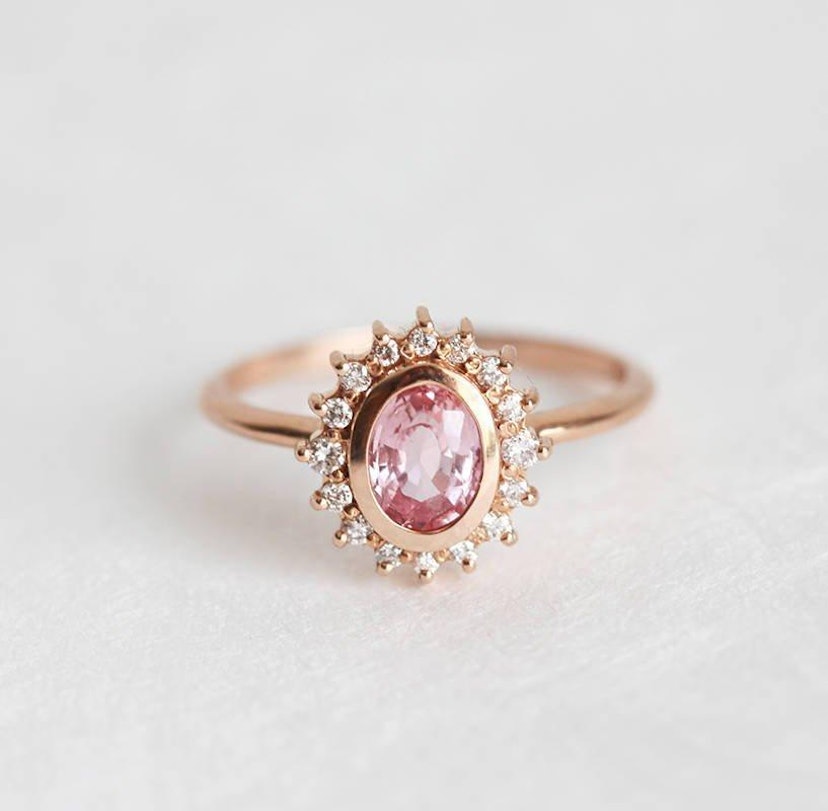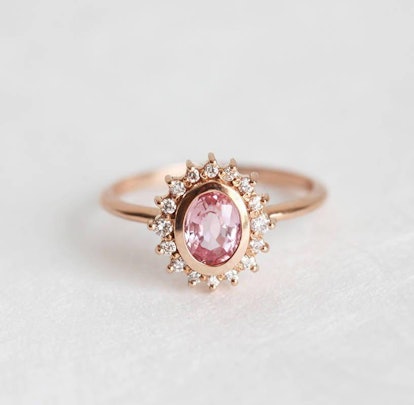 Sapphire Ring Diamond Ring
$1,750
Capucinne Fine Jewelry
Rose gold everything, am I right? This pink sapphire, oval-cut ring is girly and delicate, with a vintage-inspired touch. The diamond halo and rose gold band give this a sweet look.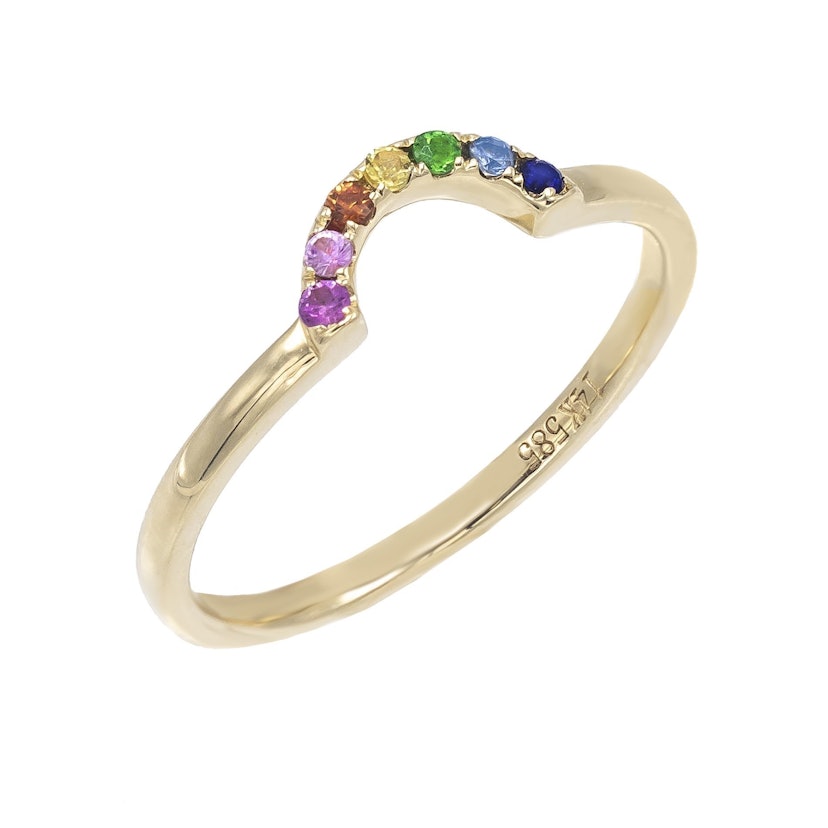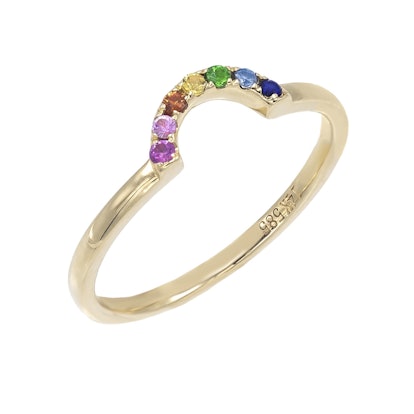 Rainbow Stack Ring 14KT
$235
Adina's Jewels
Get all of the colors at once with this rainbow-studded beauty. This funky ring is perfect if you aren't into chunky solitaire stones and can't choose just one color of the rainbow to wear for the rest of your life. Just get 'em all!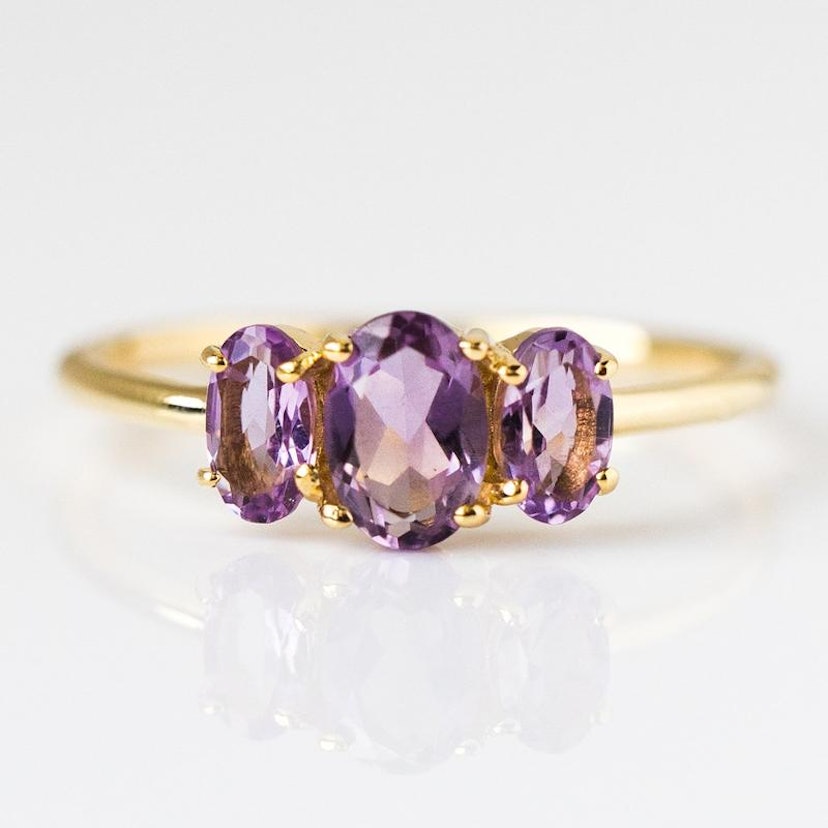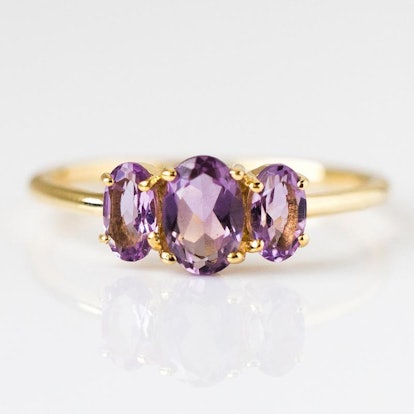 Amethyst Bijou Ring
$107
Leah Alexandra, Local Eclectic
Since purple is the color of royalty, a true queen would be well-suited for this three-stone amethyst ring on a gold band. Designer Leah Alexandra brings a gorgeous engagement ring to an affordable price bracket.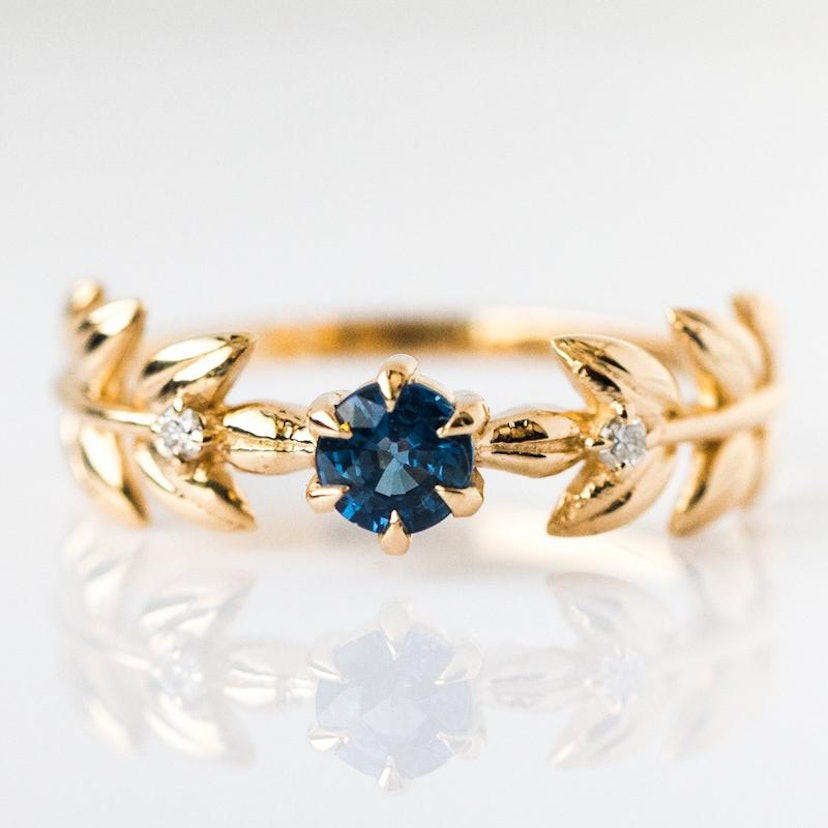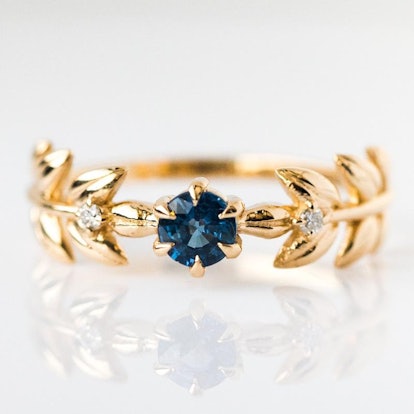 Royal Baby Blue Sapphire Goddess Ring
$655
Nora Sermez, Local Eclectic
If you're into florals, the laurel-inspired band makes for an unforgettable choice. The gold setting holds a sapphire and two diamonds.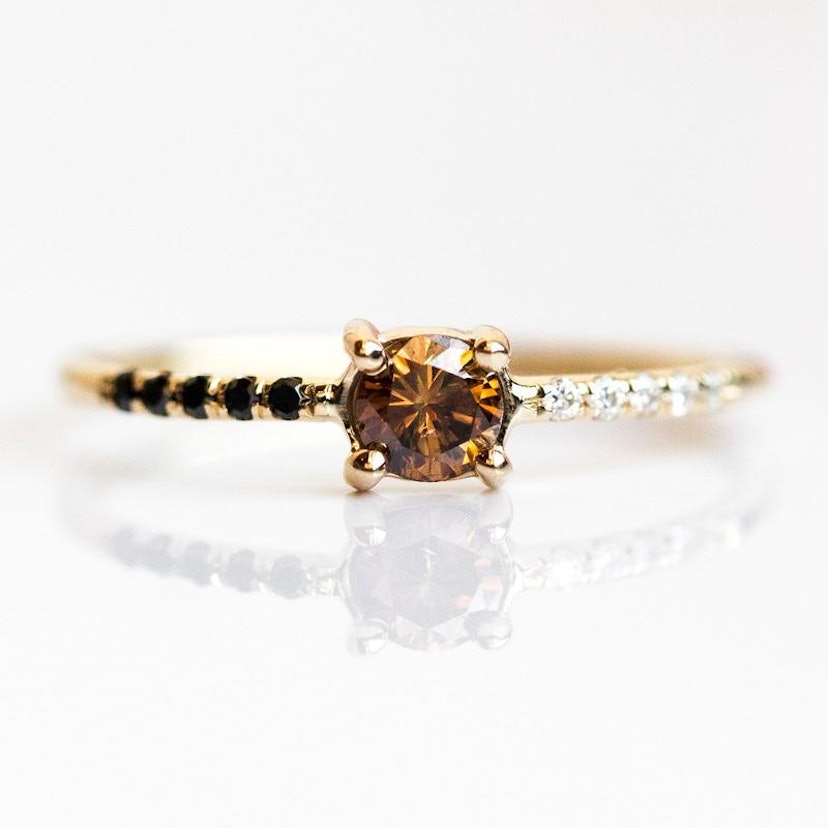 Honey Ring in Yellow Gold
$820
Liesel Love, Local Eclectic
Delicate and dainty, this honey ring is totally unique. The center red diamond looks like honey, hence the name, and is flanked by both white and black diamonds.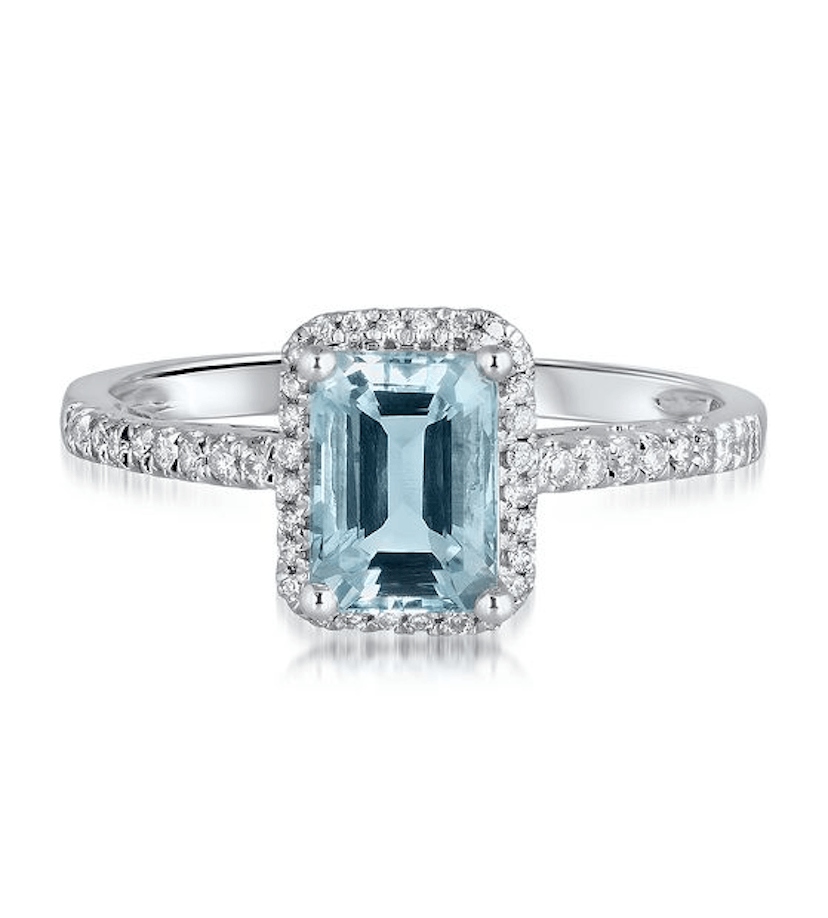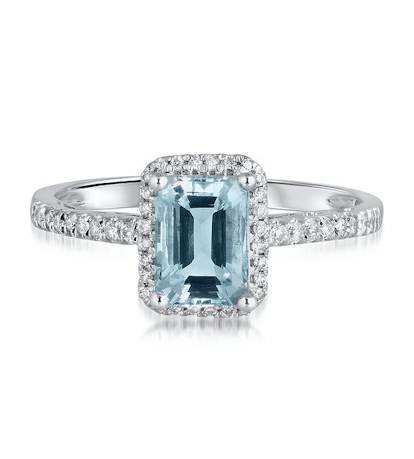 Aquamarine Diamond Ring
$699.99
Helzberg Diamonds
This elegant aquamarine is set in white gold, surrounded by a diamond halo, and features a glittering pavé band. The color is one-of-a-kind!
While diamond rings might seem like the norm, there's no reason you have to settle for (or splurge on) one if it isn't your style. A lot of people find jewelry to be incredibly meaningful, and if you feel that way, too, it's worth the investment to find an engagement ring that feels uniquely you to mark this exciting milestone. Whether you pick a piece featuring your birth stone, your favorite color, or a ring from a designer you truly adore, you can't go wrong with any of these stunning works of wearable art.
Source: Read Full Article