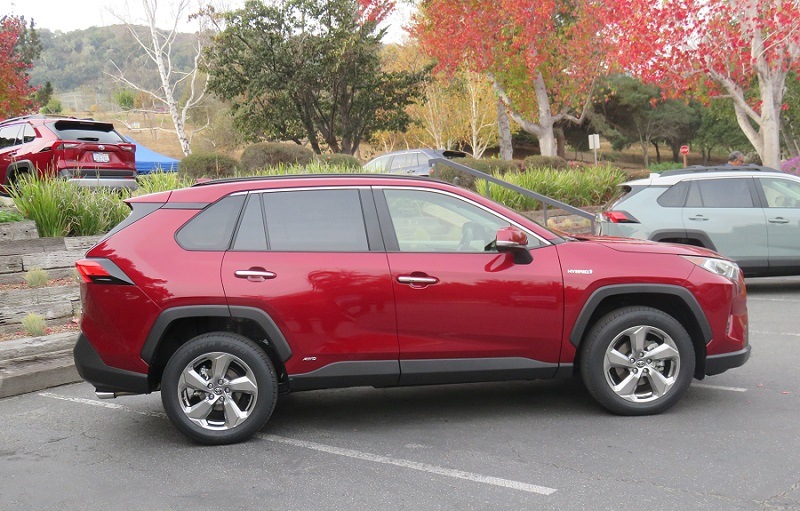 2019 Toyota RAV4 Hybrid | Eric Schaal/The Cheat Sheet
When you run through the specs of the redesigned 2019 Toyota RAV4, it's clear the new model represents a legitimate upgrade over the outgoing one. Power numbers are up, fuel economy is significantly improved, and there's plenty to like about the styling, too.
Yet the RAV4 Hybrid showed even more marked improvements than its gas-powered sibling. For starters, this model jumped 7 mpg in both highway and city driving. Meanwhile, the hybrid also gained more power for 2019.
These upgrades barely come with a price increase. With all that in mind, we accepted Toyota's invitation to drive the redesigned RAV4 Hybrid in the second week of November. Here's what we learned from our first encounter with the redesigned model.
1. The segment leader in fuel economy
While there's only a handful of hybrid SUVs on the market — and most are by Toyota and Lexus — Nissan's Rogue Hybrid topped the segment at 34 mpg with front-wheel drive. The new RAV4 Hybrid raises the bar much higher with a combined 39 mpg for 2019.
That includes a 41 mpg rating from the EPA for city driving while allowing for all-wheel drive. The only comparison we can think of is the much-less-powerful Kia Niro.
2. Standard all-wheel drive and 219 horses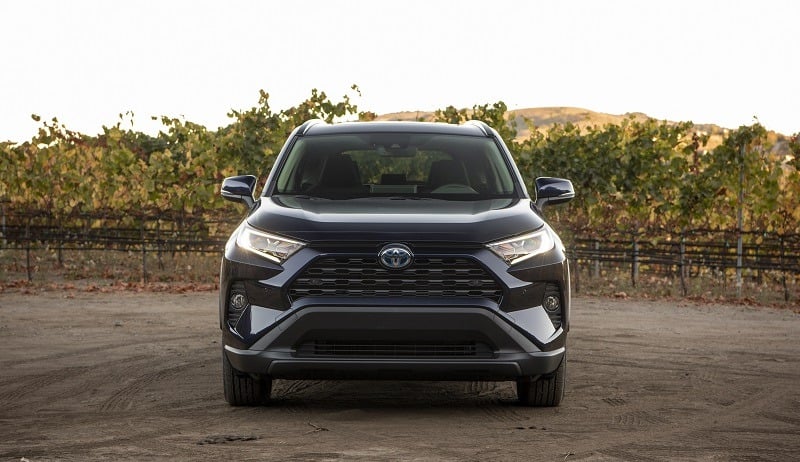 2019 Toyota RAV4 Hybrid | Toyota
While the gas-powered RAV4 jumped over 200 horsepower for 2019, the hybrid edition pushed past that model with a total output of 219 horses.  It mates to an electronically controlled continuously variable transmission.
On-demand all-wheel drive comes standard in each of the four hybrid trims (LE, XLE, XSE, and Limited). In our time with the RAV4 Hybrid, we had enough power to sprint onto Northern California highways, charge up a hill of soft earth, and otherwise get around without issue.
3. Worthy on the trail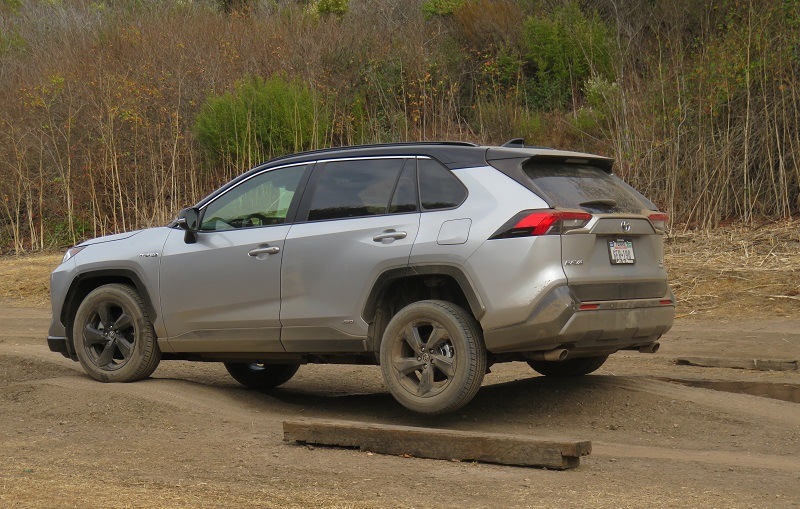 2019 Toyota RAV4 Hybrid | Eric Schaal/The Cheat Sheet
A big selling point for the RAV4 Adventure and Limited trims is those models' dynamic torque vectoring all-wheel drive system. It sends power to each wheel as appropriate and works with the Multi-Terrain Select system to adjust for certain conditions.
Still, the RAV4 Hybrid was no slouch on the trail. Its on-demand system also adjusted to wheels leaving the ground and other off-road challenges. Most buyers might not need this capability, but it will be there in case of a snowstorm or other low-traction situation.
4. More fun to drive than the standard RAV
The fastest car is usually the most fun to drive, and that was one reason we enjoyed the hybrid model over the gas-powered alternative. Overall, though, acceleration felt smoother and more assured in the RAV4 Hybrid.
Its all-wheel-drive system works effortlessly in the background while you drive. (If you want to see how power is being distributed to each wheel, you can watch it on the instrument gauge.)
5. Minimal hybrid premium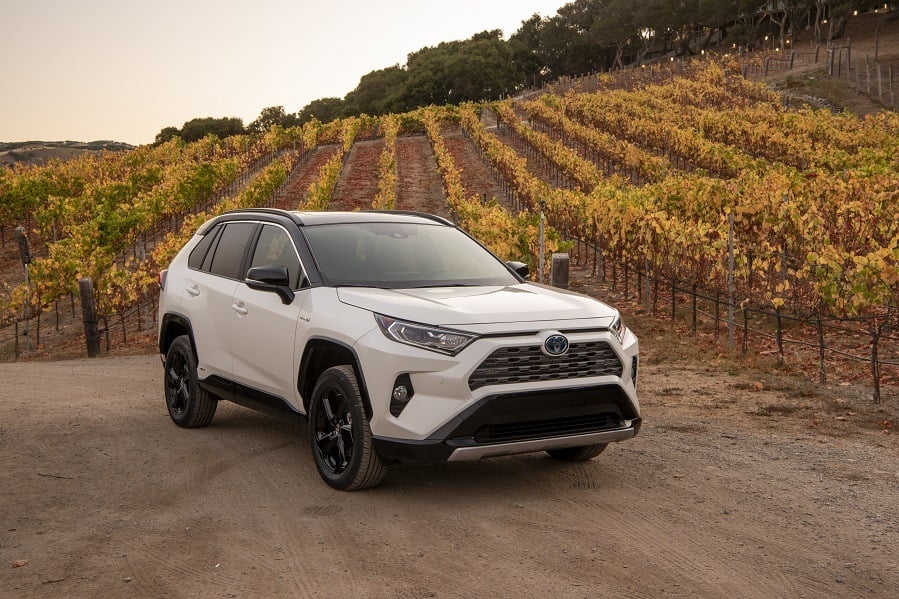 2019 RAV4 Hybrid | Toyota
We've seen Toyota narrow the electric powertrain premium for hybrids and its plug-in Prius in recent years. That trend continues with the 2019 RAV4 Hybrid, which starts at $27,700 for the base LE. Compared to the all-wheel-drive gas LE ($26,900), hybrid buyers only pay an $800 premium for an added 10 mpg and more power.
That same spread holds for the XLE ($29,500), XSE ($33,700), and Limited ($35,700). All come with Toyota Safety Sense standard. Every model above the LE also has blind-spot monitoring.
Toyota said it will try to increase the percentage of hybrids it sells to RAV4 customers from 11% to 25% with the redesigned model. We'd say it made all the right moves to make it happen.
Check out The Cheat Sheet on Facebook!
Source: Read Full Article