"Anyone with half a brain knows not to f— with a drag queen," Madonna said in a statement.
Over the past several months, many states across the U.S. have been subject to a wave of anti-LGBTQ legislature — and celebrities aren't simply letting it slide. As members of the LGBTQ community are being targeted by conservative politicians and their proposed legislation, major stars are speaking out to show their support for all those affected.
In particular, many celebs have stood in solidarity with drag queens, who have found themselves at the forefront of the battle for equal rights. Recent legislation that has been passed or forwarded in states like Tennessee, Kentucky and Montana have affected drag performances, proposing to ban them in public places and labeling them as adult-only shows. These drag bans are said to be an infringement on the First Amendment and will take away performers' freedom to creatively express themselves and their gender identity.
While the future of drag shows is still unclear, these stars are showing their support for all drag performers…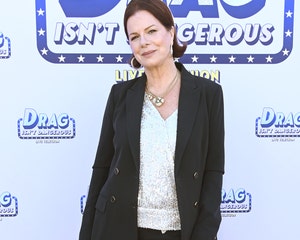 Marcia Gay Harden Reveals All Three of Her Kids Are Queer
1. Kevin Bacon & Kyra Sedgwick
Kevin Bacon and his wife Kyra Sedgwick recently showed their support for the drag community on TikTok, posting a video dancing to Taylor Swift's song "Karma." In the video, the couple could be seen wearing matching t-shirts that read "drag is an art and drag is a right." Then, in the caption, they urged fans to show their support too.
"Drag Bans are bad karma. Right now, drag performers and the LGBTQIA+ community need our help," Kevin wrote in the caption, before urging his fans to support the ACLU's Drag Defense Fund and adding the hashtag #DragIsARight.
2. RuPaul
In early March, drag icon RuPaul took to Instagram to share his thoughts on the legislation, calling it a "classic distraction technique" that attempts to take the focus away from issues that are actually important. He went on to call politicians "bullies" who were "incompetent at solving real issues" and instead declaring a false war on drag performers to divert Americans from real problems.
"A classic distraction technique, distracting us away from the real issues that they were voted into office to focus on: jobs, healthcare, keeping our children safe from harm at their own school," he said, later adding, "They look for easy targets so they can give the impression of being effective. They think our love, our light, our laughter and our joy are signs of weakness. But they're wrong because that is our strength."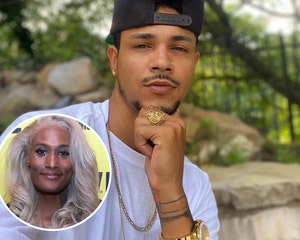 B5 Member Dustin Michael Reveals He's Dating a Transgender Woman
3. Ariana Grande
Following Tennessee's drag ban, Ariana shared her thoughts on Instagram, pointing out that hateful groups like the KKK were still allowed to hold events while drag shows were being taken away. Ariana's brother Frankie also shared a passionate nine-part message about the ban, calling it a "BLATANT VIOLATION of the first amendment's free speech clause" and a "concerted effort by Republicans to criminalize, harass, and endanger LGBTQ+ people."
"Tennessee just banned Drag Shows. However Nazi's [sic] and the KKK can still hold protests and meetings there. Take a long moment and let that sink in very deeply," Ariana wrote.
4. Hayley Kiyoko
Hayley Kiyoko recently shared that ahead of her concert in Nashville, Tennessee, she was warned that if she brought any drag queens on stage during her all-ages show, they could all face legal action. In a video posted to Instagram, Hayley admitted that the situation was "f—ed up" and she was "devastated" about what was going on. In the moments before she took the stage, the drag queens bravely decided to join her on stage anyway, despite the risks.
"I never want to put anyone in a position to be at risk or in danger in any way. But also where is the line of being silenced? How do we navigate these absurd threats and laws against our community? I find pride in making sure my concerts are safe places for ALL. How can I do that if we aren't allowed to be ourselves, especially at a predominantly queer concert? We deserve to have a safe space to be ourselves while we navigate the evil that is threatening our own existence," Hayley wrote.
She later added, "We will not be silenced. We will find ways to continue to be our authentic selves, no matter what. We will not give up. No matter how hard they make it."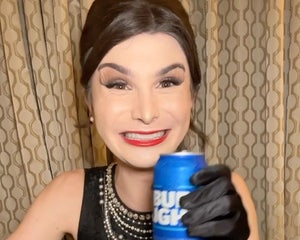 Dylan Mulvaney Breaks Silence After Conservative Backlash Over Bud Light Partnership
5. Lizzo
During a recent concert in Tennessee, Lizzo took the stage with a group of drag queens. Although some fans had suggested she completely cancel the show in the state, she explained that she wanted her performance to make a statement.
"Why would I not come to the people who need to hear this message the most? Why would I not create a safe space in Tennessee where we can celebrate drag entertainers and celebrate our differences?" she said on stage. "What people in Tennessee are doing is giving hope, so thank you so much for standing up for your rights, protecting each other and holding the people accountable who should be protecting us."
She later shared a video of the performance, thanking the drag queens for "showing their pride."
6. Madonna
Madonna's upcoming tour may be coming to Tennessee, but that doesn't mean she agrees with any of their anti-drag legislation. In fact, she plans on bringing Bob the Drag Queen as her opening act for the show. In a statement, the singer denounced Tennessee's plans to restrict drag performances.
"The oppression of the LGBTQ+ is not only unacceptable and inhumane, it's creating an unsafe environment; it makes America a dangerous place for our most vulnerable citizens, especially trans women of color," she said in a statement. "Also, these so-called laws to protect our children are unfounded and pathetic. Anyone with half a brain knows not to f—with a drag queen. Bob and I will see you from the stage in Nashville where we will celebrate the beauty that is the queer community."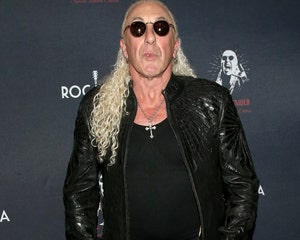 Dee Snider Dropped From SF Pride Lineup After Supporting Paul Stanley's 'Transphobic Statement'
7. Kelsea Ballerini
Kelsea Ballerini made a major statement in support of drag queens when she brought a group of performers on stage with her at the CMT Awards in April. While she faced backlash from fans, many who hailed from states where the drag bans were proposed, she says she has no regrets about her decision.
"I love performance, and I love self-expression, and I love inclusivity," she told Entertainment Tonight following the performance.
8. Maren Morris
Maren Morris stood in solidarity with drag queens while attending Nashville's Love Rising event in March, which benefited the Tennessee Equality Project, Inclusion Tennessee, Out Memphis, and the Tennessee Pride Chamber. Maren even joined drag queen Alexia Noelle Paris on stage to proudly declare that she had introduced her three-year-old son to some of the other performers.
"Yes, I introduced my son to some drag queens today," Maren said at the event. "So, Tennessee, f—ing arrest me."
On Instagram, she later wrote, "Love rose up. Thank you Nashville, the gorgeous Queens and the LGBTQ+ community for showing up last night…A lot of healing happened and it won't be forgotten."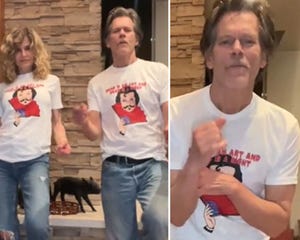 Kevin Bacon & Kyra Sedgwick Call Anti-Drag Bans 'Bad Karma' While Dancing to Taylor Swift In Viral Video
9. Melissa McCarthy
While supporting the drag community, Melissa McCarthy made a good point about drag in entertainment. She shared a graphic featuring photos from films like "Mrs. Doubtfire" and "Tootsie," where men dressed as women on screen, with the caption, "You've been entertained by drag your whole life. Don't pretend it's a problem now." Melissa showed her agreement in the caption, simply writing, "This."
10. LeBron James
LeBron James spoke out on behalf of the drag community following an interview between Jon Stewart and Senator Nathan Dahm. In the discussion, Nathan shared his logic that banning drag shows was to protect children — and Jon pointed out that the senator refuses to ban firearms, even though it's the number one killer of children. LeBron shared the video, posting his agreement with Jon's statements. See his tweet, below.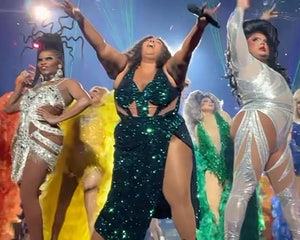 Lizzo Challenges Tennessee Law by Inviting Drag Performers on Stage
11. ​​Reba McEntire
​​Reba McEntire shared her support for drag queens during a recent interview with the Los Angeles Times. While speaking with the outlet, Reba said she was "disappointed," but not surprised by the actions of politicians surrounding the drag community.
"I wish they would spend that much time and energy and money on feeding the homeless children in those two counties…I mean, we've got a real problem in this country, and to be worrying about men wanting to dress up as women?" Reba said, later adding, "God bless 'em to wear those high heels — I feel for 'em. But let's center our attention on something that really needs attention."
12. Shania Twain
Shania Twain has long been a supporter of the drag community, even appearing as a guest judge on "RuPaul's Drag Race." Following the news of Tennessee's anti-drag legislation, Shania opened up about the courage and talent it takes to be a drag performer.
"I'm very inspired by it," Shania said in an interview with GLAAD. "I think we need this inspiration. We need drag queens to share their talent with us."
13. George Lopez
George Lopez made his views about drag performers clear during an appearance on "The View." When Ron DeSantis was briefly mentioned during the show, George showed opposition to the politician's views on drag.
"If you're an enemy of drag, you're an enemy of mine," George said during the appearance.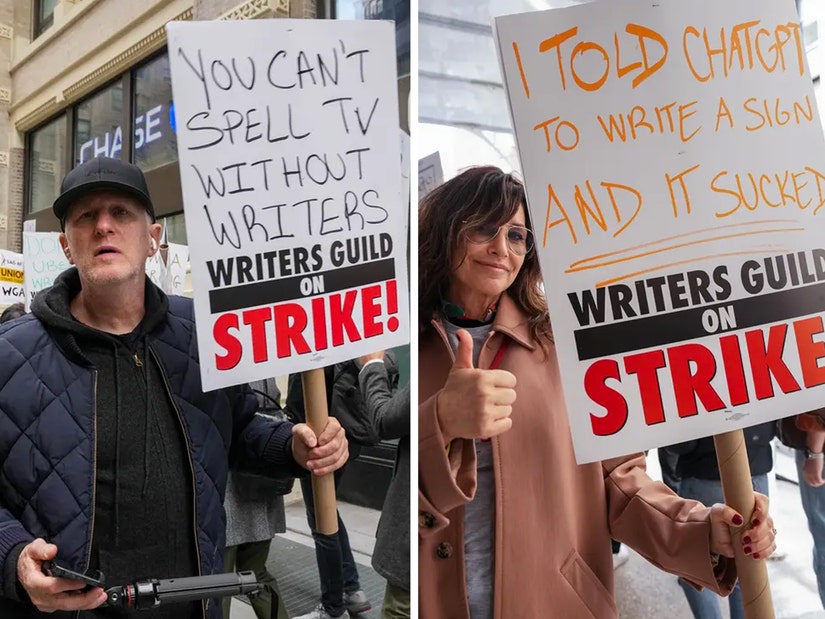 Source: Read Full Article