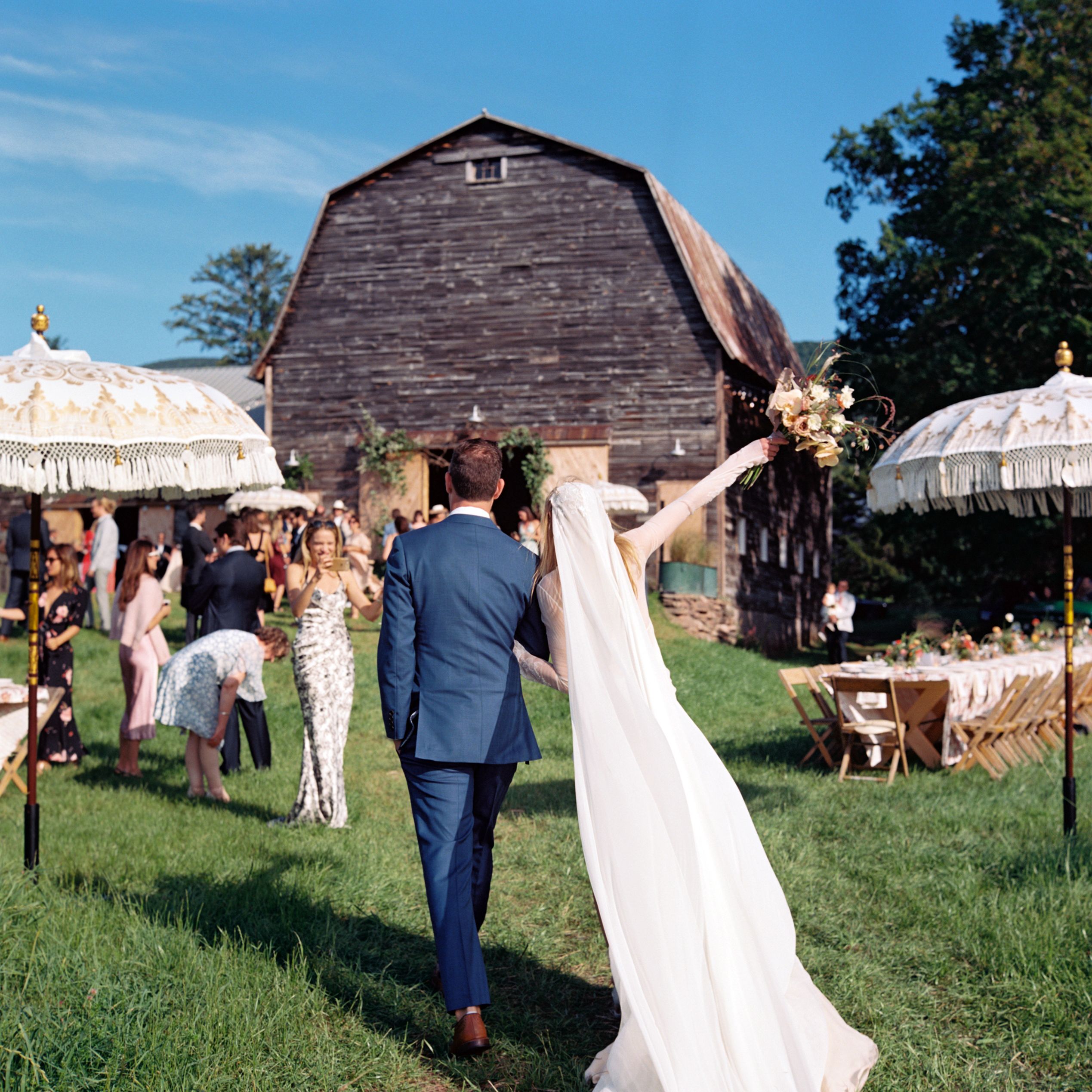 2. FLOWER CROWNS
These once-favored hair accessories are no longer the sweet, feminine extras we once loved them for. Instead, they hearken back to hazy days at Burning Man, and they're best left there. If you're obsessed, reinvent the wheel and create a headpiece that will look more unique than a basic wreath, use them on your flower girls rather than subjecting your bridesmaids to them, or for a novel idea—skip them altogether; they are not mandatory. Donning a flower crown doesn't look effortless; most of the time it looks like you tried really hard to look like a forest nymph.
Instead, think more Frida Kahlo than Coachella for more of a statement hair flower moment, or delicately weave them into your hair in place of where any other hair adornments would typically be. Stick to petite blooms and a smaller scale overall rather than an oversized wreath, and try to incorporate minimal doses of color, choosing tones that complement your hair tone and texture.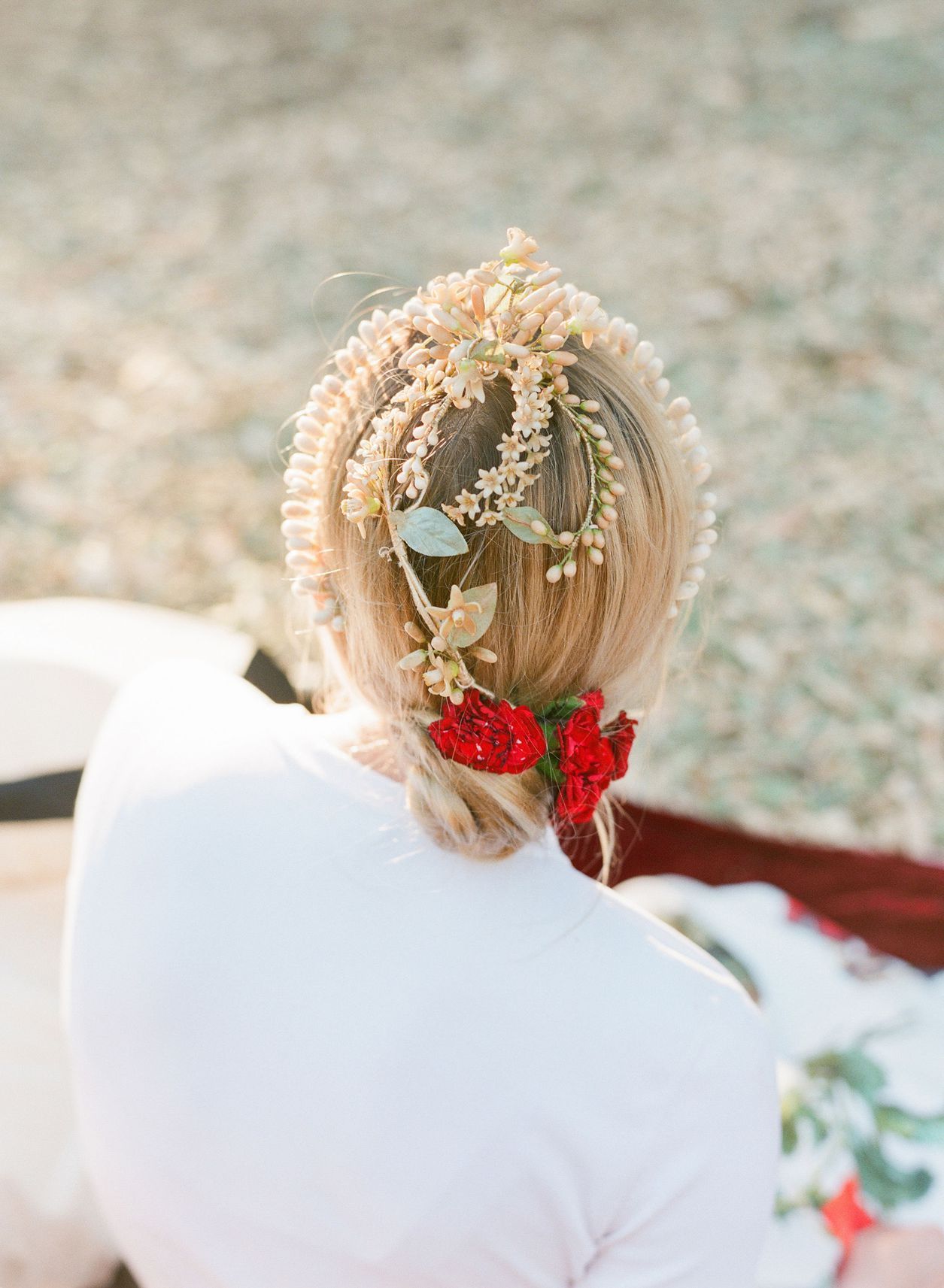 3. LARGE BRIDAL PARTIES
You will spend your entire wedding day surrounded by your closest family and friends, and odds are they already know how much they mean to you. Trust us, not only would your friends rather wear looks they choose themselves, but your guests would rather not sit through a ceremony that drags on thanks to 10+ couples walking down the aisle before the bride. Your wedding photos will benefit from a variation in your friends' styling, rather than having 7+ women all dressed alike at your side.
Instead, ask your closest 1-2 friends, or your sister(s), to stand by your side in a look that complements the feel and color palette of your wedding. Then, ask your closest friends to be on hand for a group photograph. In that larger shot, set your MOH or family apart by seating them or putting them in ivory so that they stand out with you.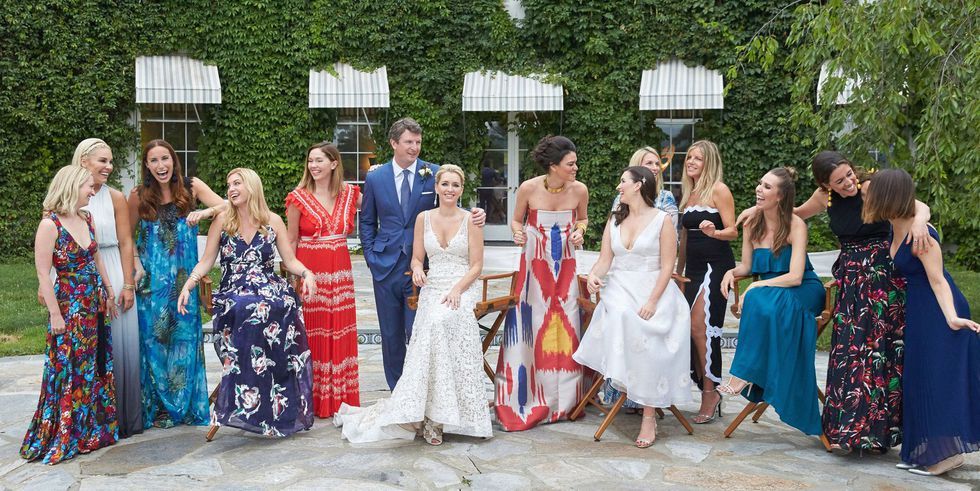 4. BULBOUS FLOWERS & OVERSIZED BOUQUETS
No shock here, but flowers should look like flowers—not like orbs or furniture. While some of the work designers can achieve with floral installations is a wonder to behold, keep in mind that overly done decor takes away from the intimacy and authenticity of your event.
Rather than carry a flower ball down the aisle, opt for a not-as-tightly-packed bouquet, and stick to arrangements that incorporate hints of movement to showcase each bloom, rather than stuffing double the amount of flowers (and therefore, double the money) into a single vessel. Flower-heavy does not have to mean flower-packed. When flowers are tightly placed into tablescapes, decor or bouquets, they simply lose their luster and look like a large-scale texture rather than a collection of blooms. Carrying a smaller clutch of flowers arranged naturally won't overwhelm your dress–or your maid of honor when she has to hold it along with hers for the ceremony.
If flower rich is your goal, try an array of arrangements in varying sizes for your tablescapes, and diversify your color palette to create depth and dimension in your decor. Ceremony arches, markers and installations are best kept looking somewhat organic and natural in feel, as is your bouquet–no matter whether your aesthetic is more soft and feminine, glamorous, and over-the-top or dark and moody. Asymmetry and movement is a good thing.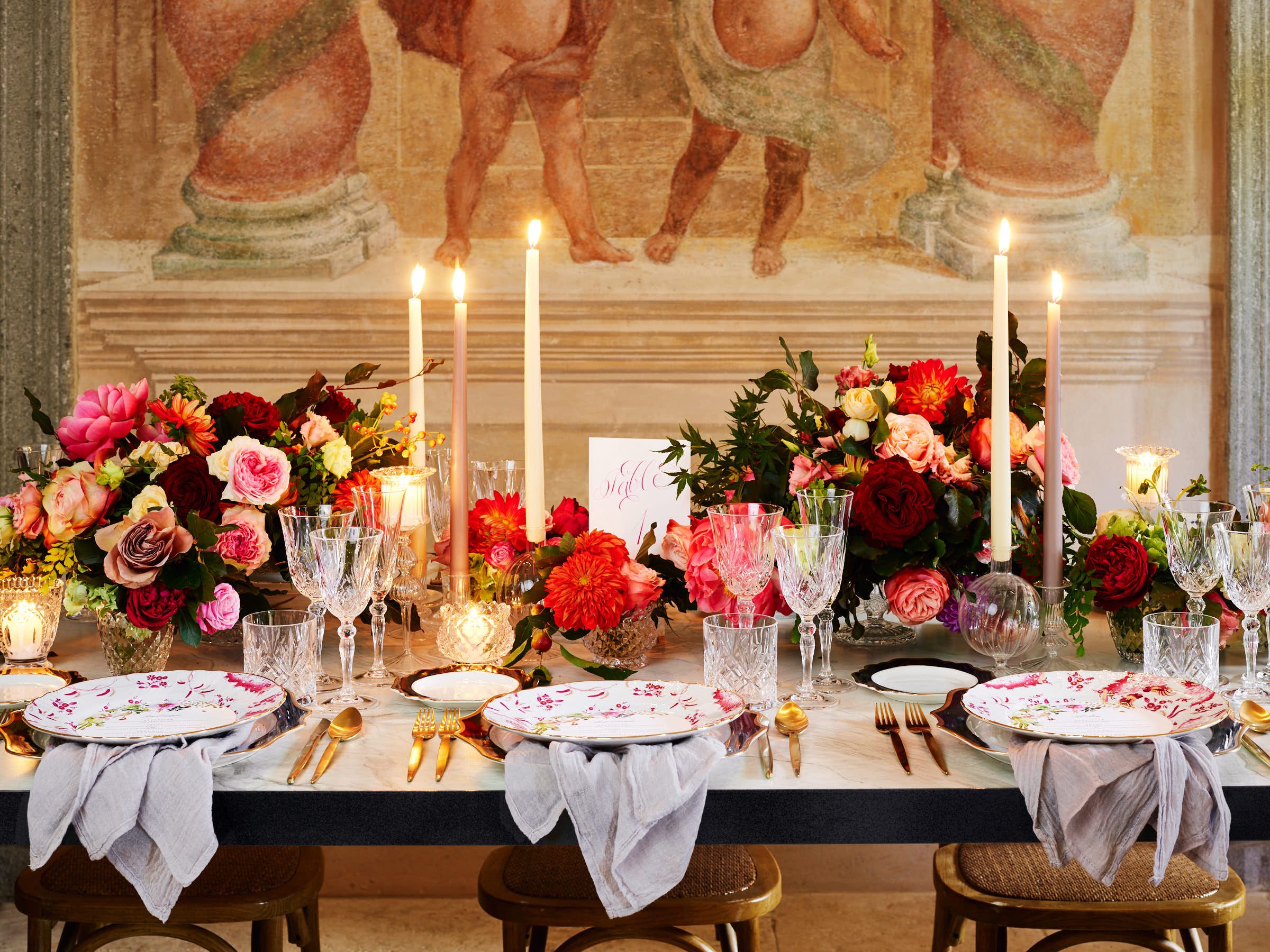 5. BLUSH & ROSE GOLD
Ask any wedding planner worth their salt, and they'll tell you that "blush" is pretty much a curse word at this point. They've simply heard it one too many times, and have exhausted their ideas for pale pink-meets-neutral toned celebrations. It's not that they can't do them, but deep down they're secretly wishing your wedding had more dimension and visual interest.
If you're into blush–we get it, it's gorgeous–include it in a wider color palette. Our favorite way to use it at the moment is in a more unexpected way, by layering it in with jewel tones, greenery and mustards for a rich yet moody feel. Choose a shade with more of a patina; true blush can appear far too feminine and saccharine in the wrong lighting.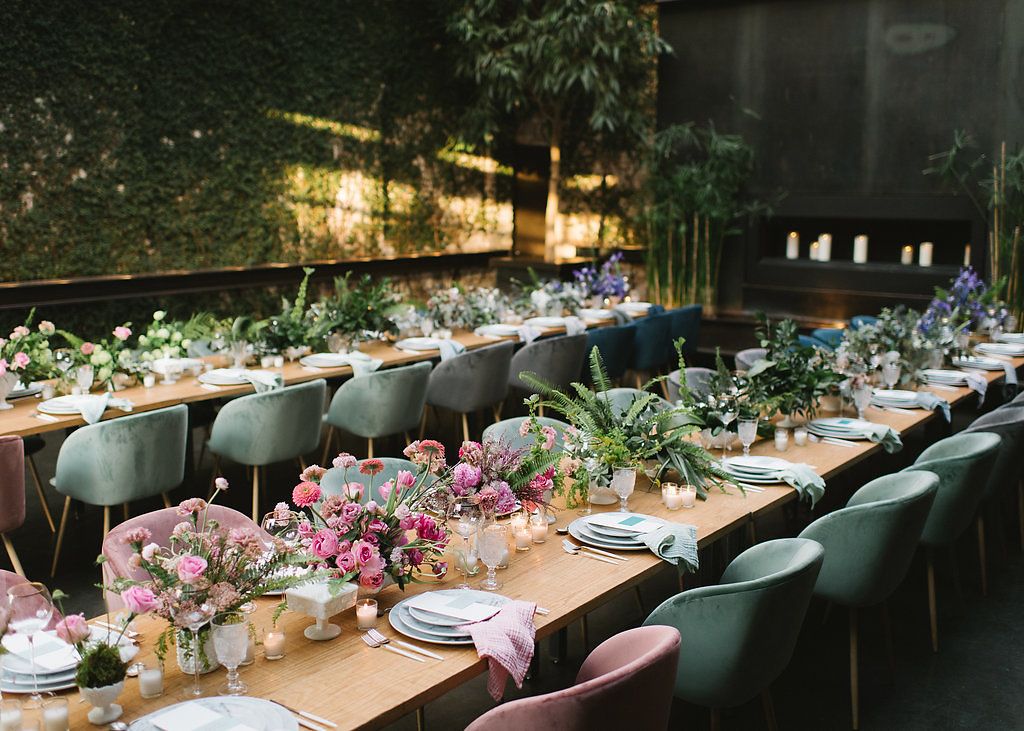 6. FAUX CALLIGRAPHY
You want your wedding invitation, table numbers, escort cards and more to be nothing short of elegant, but you may not want to spend on actual calligraphy. Nothing says "we didn't want to spend money on calligraphy" like faux calligraphy.
Mix and match fonts and pair your invitation with painterly motifs that give the look and feel of a calligraphed invitation, without using a font that aims to imitate it. Script fonts work just as nicely and don't give off that same wannabe feel, while incorporating a serif font that feels strong and chic contrasts well with more artful, romantic and hand-crafted stationery suites.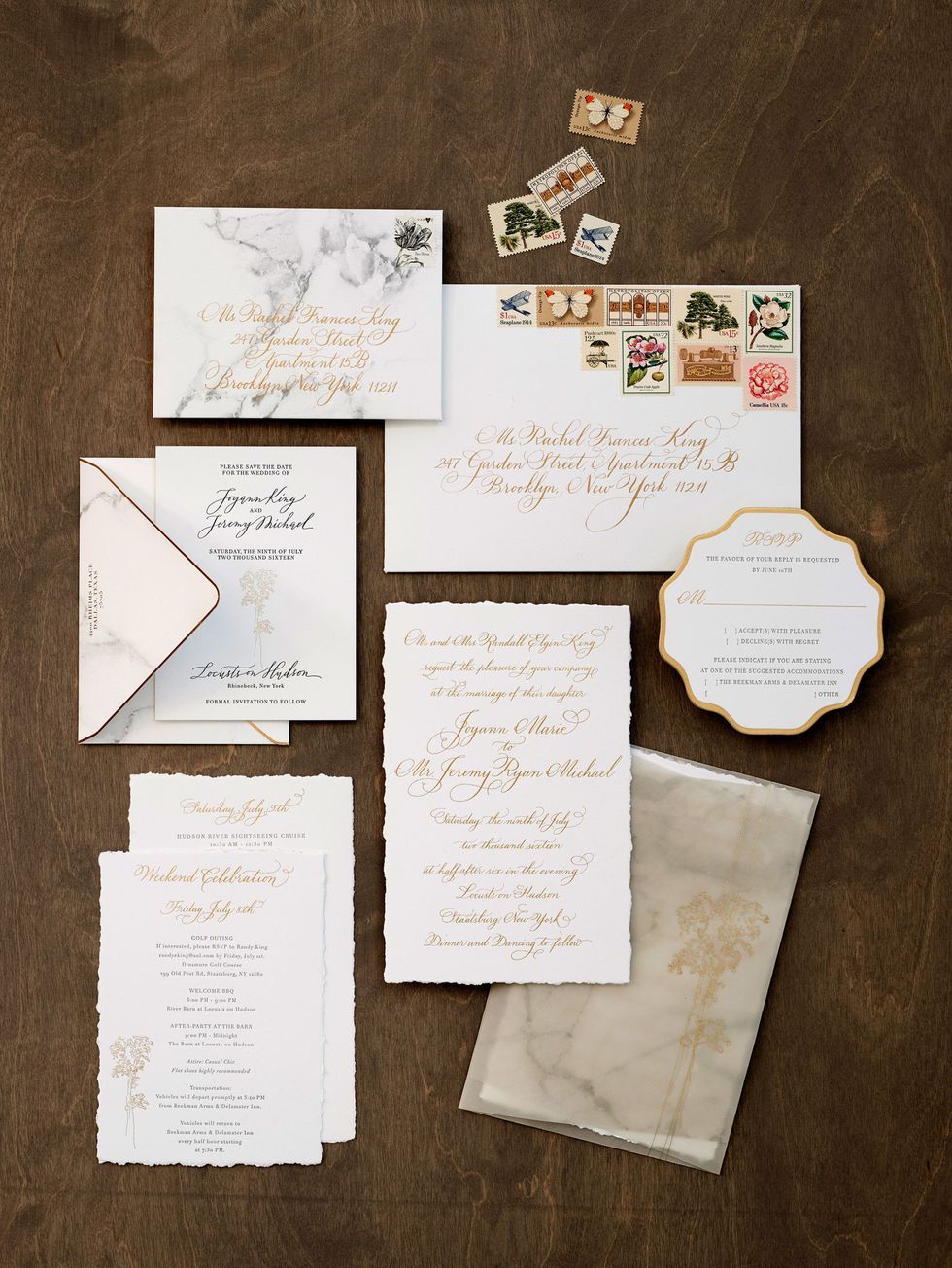 7. THE ROYAL WEDDING OBSESSION
Yes, Will and Kate are perfection; Pippa was a dream bride; Meghan Markle bucked tradition and managed to embrace tradition all at the same time. You want it all, except…you're not a royal.
While taking slight inspiration here and there from regal celebrations is more than acceptable, totally ripping off bridal looks, decor, or details is not. Everyone attending your wedding has already seen these famous nuptials on the small screen and the internet many times over. The same goes for celebrity celebrations; wearing Amal Clooney's gown or copying Kim and Kanye's flower walls are just that—copies. Your guests are looking to attend your celebration, not a replica of someone else's.
Expand your royal vocabulary outside of England; royals from other European countries tend to have weddings that are more vibrant, bold and layered than the Brits. Take hints and details from celebrations you love, like all-lace veils and an overall formality, and incorporate them into a celebration all your own.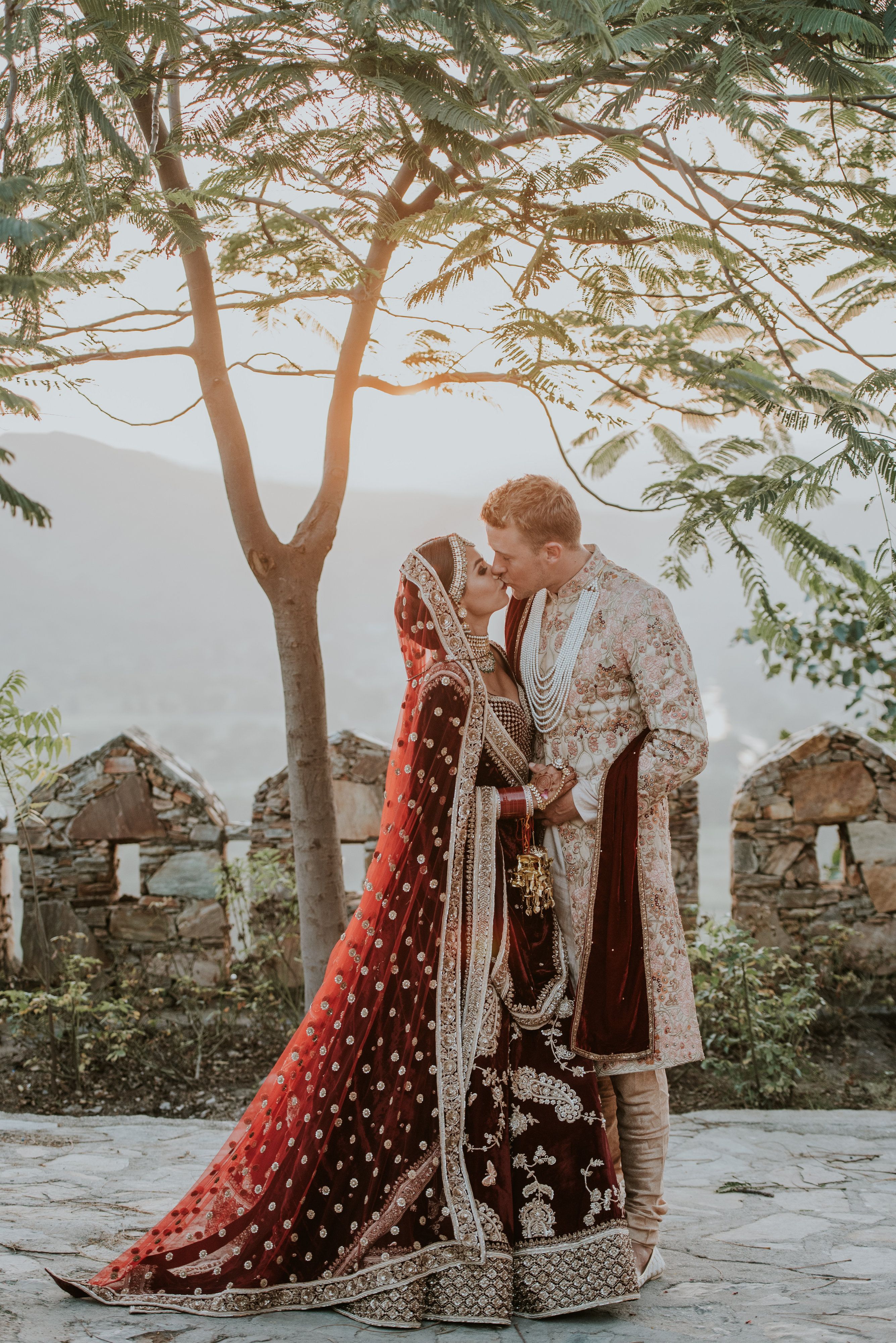 8. NON-KEEPSAKE PHOTOS
Wedding photographers now feel the need to capture every single detail of the wedding day and its decor, even photos you'll likely never use. Those shots of your dress hanging in a doorway, shots of single candles on your tablescape, drunken dance floor shots, and more take the place of what could be a longer bridal or couple's portrait session, or a shot of you in a candid moment with your friends. Skip the fluff and get to the heart of the matter; it's worth letting your photographers shoot what they know you'll want to keep as a memento for years to come.
Rid yourselves of all the excess and edit down to a shot list you really want to achieve on the day-of. Prioritize photos you'll want forever, like a gorgeous photo of you in your wedding gown and of you as a couple.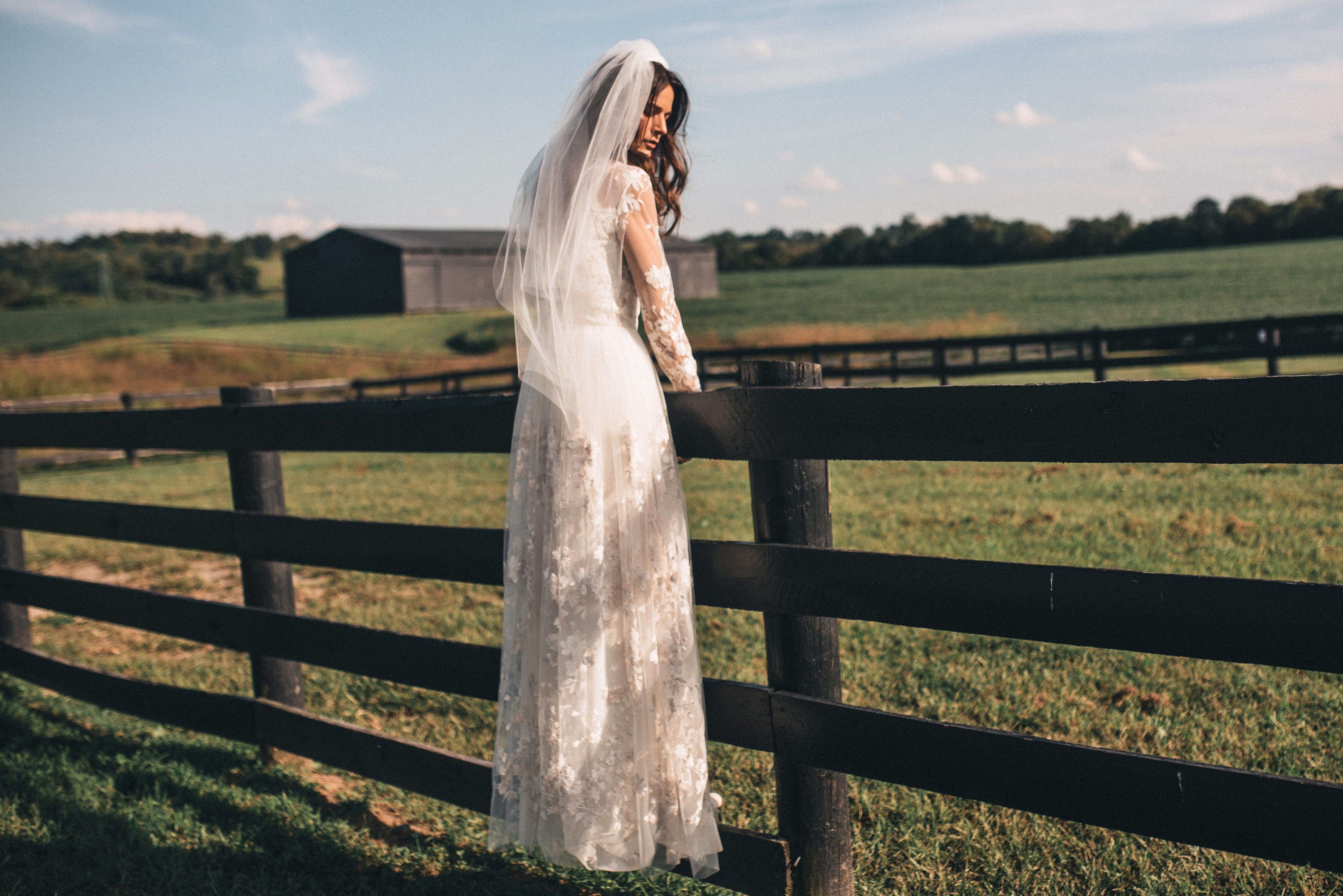 9. BAD SIGNAGE
Cheesy signs that take the place of basic directives are just that: cheesy. While they serve their purpose in ensuring guests take an escort card, choose their own seat, enjoy a cocktail, or drop your gifts off, they come off crafty.
There are very few truly luxurious ways to spell things out on your wedding day, and we suggest you choose your signage wisely (read: ditch the wood panels and chalkboards). Choose fonts wisely; hard-to-read script that hearkens to the faux calligraphy trend are not the best when trying to get your message across.
Instead, try this: Your event staff is there for a reason, and they can easily usher the guests in the right direction. If signs are a necessity, be direct: "Right This Way" with an arrow pointing guests toward cocktail hour or "Take a Seat" is far more elegant than a pun or a rhyme.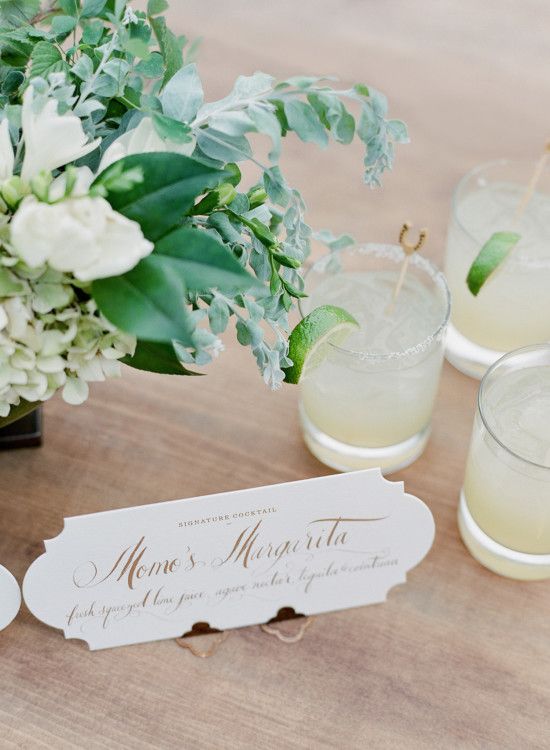 10. INEDIBLE DESSERTS AND FAVORS
Fondant-covered cookies and kitschy trinkets may have seemed like a good idea in the planning process, but your guests will have no idea what to do with them. A hand-painted macaron brushed in luster dust only works if it doesn't coat your mouth in gold and actually tastes good, and a takeaway at the end of the night that isn't something easily enjoyed will likely end up getting tossed. Skip the strange tokens of your appreciation and give guests food and beverage options they're going to want to eat.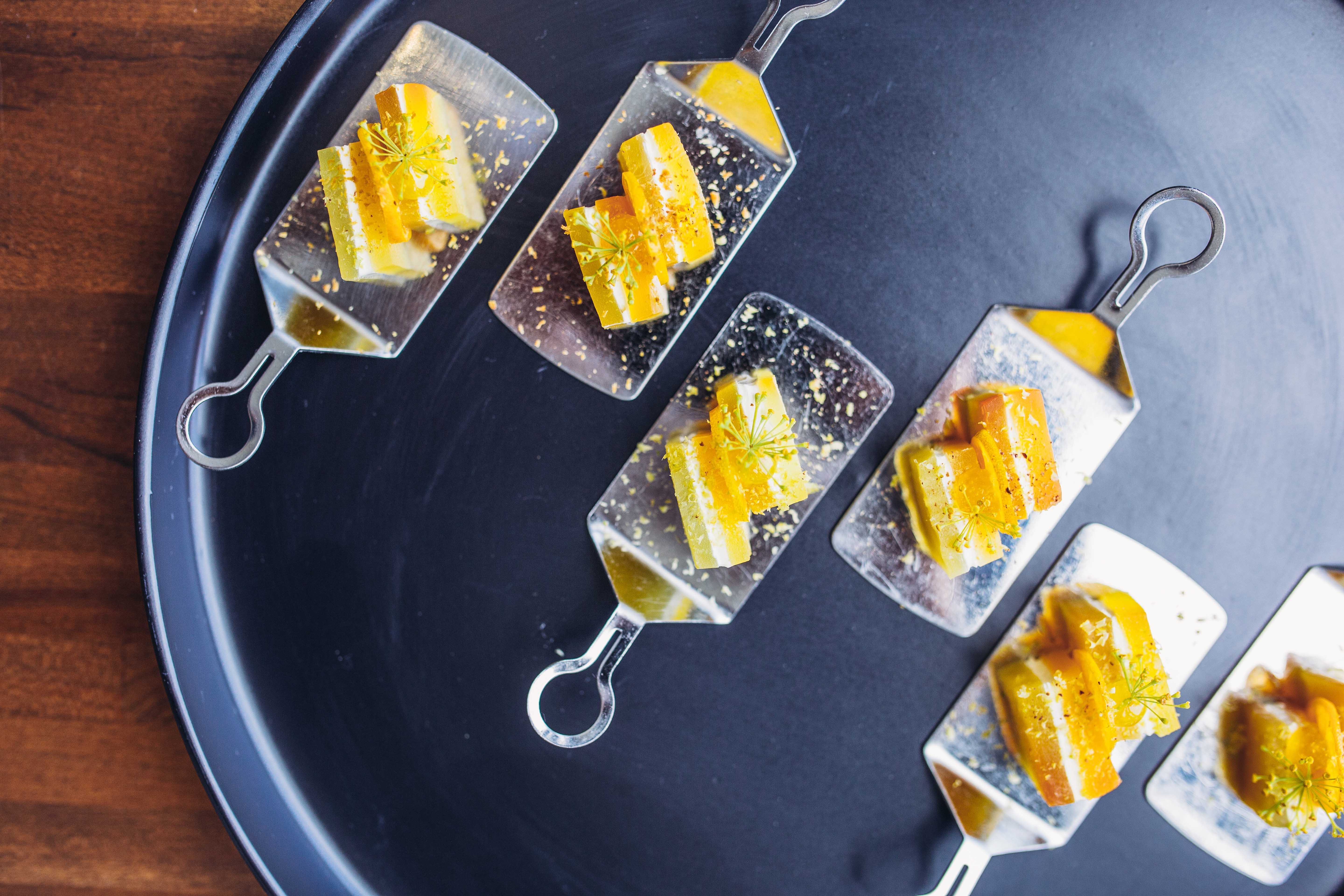 Instead, try this: Serve desserts that guests can't resist, and then send them home with something they can enjoy as a late night snack (like warm cookies and a spiked milk or a hangover kit full of goodies), a drink they can have as a nightcap (a petite bottle of whiskey with whiskey stones) or something they can have the next morning (artfully packaged bagels and schmear).
It only adds to your guests' experience when they can sense that you've thought about the element of surprise along with their wants and needs long after the party.
Source: Read Full Article