It may be the most controversial fast food product of all time. But as much as people love to hate it (or pretend to hate it while devouring it in private), no one can deny the incredible popularity and cult following of the McDonald's McRib sandwich. The company just announced on October 25 that the sandwich will be back for a limited time in 9,000 restaurants across the United States.
True fans of the sandwich might have anticipated that this was coming – after all, the last time McRib was available was in November of 2017. It's kind of like an early holiday gift from McDonald's to you, or at the very least a way to fuel your gift shopping extravaganzas.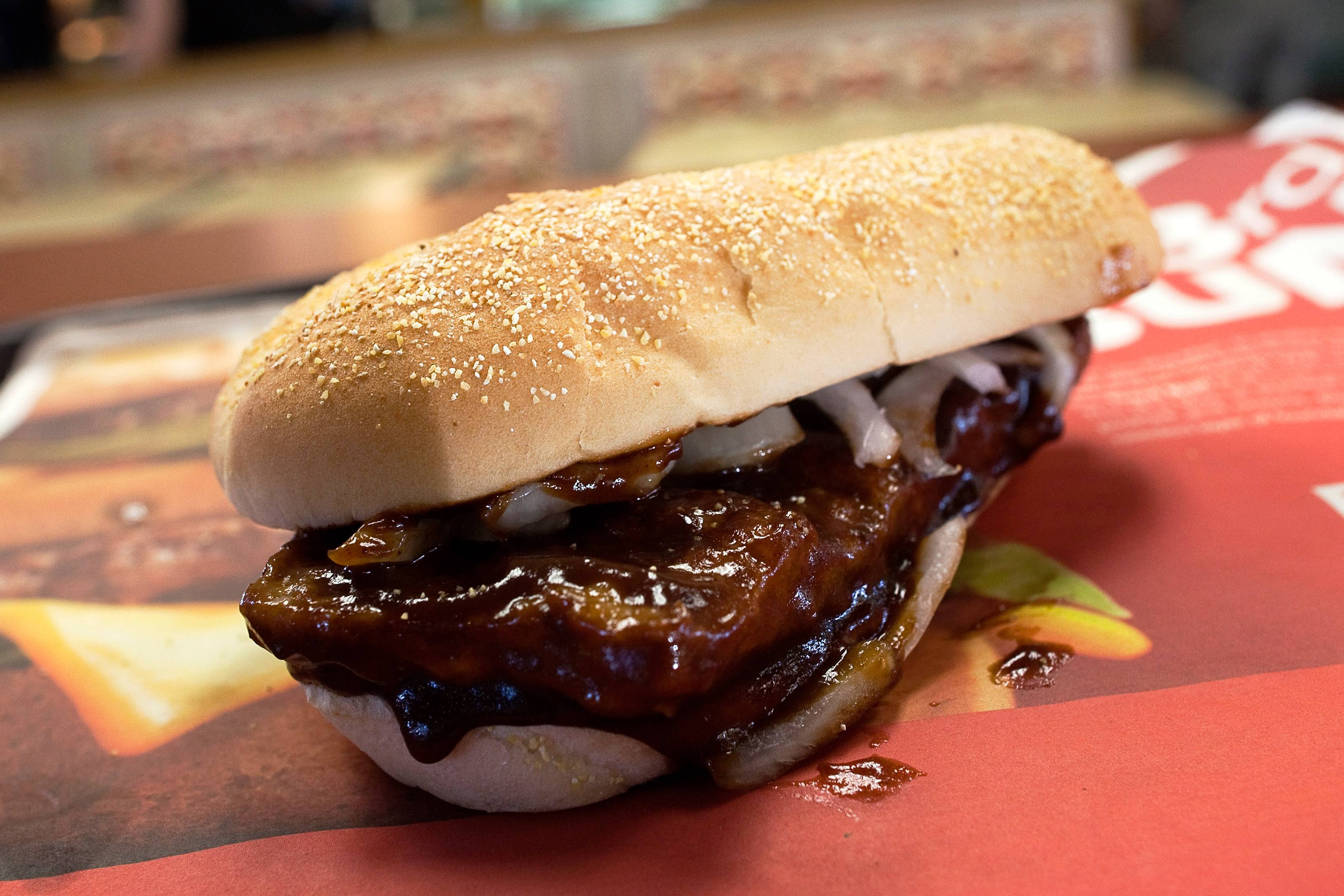 McDonald's McRib | David Paul Morris/Getty Images
People love the McRib because it's limited edition
The sandwich was first launched all the way back in 1982. McDonald's describes it as, "made with 100% seasoned boneless pork, McDonald's signature McRib sauce — a sweet, tangy, barbecue style sauce — and served with dill pickles and mild, fresh slivered onions on a toasted hoagie-style bun."  But even though this menu offering has staying power, it never remains on the menu for very long. Marketers must realize that's a huge part of the appeal.
One big difference this year? The McRib is becoming a lot more convenient. The sandwich will be available for delivery through Uber Eats of McDelivery in select locations.
It's healthier than a Big Mac
On the grand scale of fast food choices, the McRib isn't worse than anything else you can order. It only has 480 calories, 24 grams of protein, 45 grams of carbohydrates, 22 grams of fat and 890 milligrams of sodium. By comparison, a Big Mac has 540 calories, 28 grams of fat, 46 grams of carbs, and 940 milligrams of sodium.
McDonald's execs can't deny the appeal of the McRib, though they're quick to promote or defend other new menu offerings, too. "While McDonald's has ushered in many new items this year – such as fresh beef in our quarter-pound burgers – we know our fans love this limited-time classic," McDonald's chef Mike Haracz said in a statement. It's clear that they wish customers were just as excited about these tastier, more gourmet offerings as they are about the McRib, which is often seen as a little bit icky. But it all depends on who you ask.
Don't believe the rumors about retirement
Would the McRib be as coveted if it wasn't so elusive? The world may never know. Like so many rock stars, it's already been "retired" in 2005, 2006, and 2007. But somehow hungry customers keep forcing the company to bring it back.
To find availability near you, check out the McRib locator. And then get ready to wait in line.
Source: Read Full Article