Cooking a Thanksgiving dinner by yourself can be so intimidating. Your best bet? Ask everyone to bring a side and just tackle the turkey. But if you want to be an overachiever and plan to prepare every single part of the meal, a little planning can go a long way. Deep breaths. You can do this.
Who better to give Thanksgiving dinner cooking advice than celebrity chefs? These cooking masters have the experience and talent to take your meal to the next level. Your guests will leave full, happy, and impressed by your extreme cooking prowess.
First, it's vital to set the stage. Take a cue from the ultimate home décor expert Joanna Gaines and set your table with simple, understated accessories. Skip the high centerpieces – you'll want to encourage conversation without a bunch of flowers blocking the view.
Now, it's time to eat! Ahead, check out all the best cooking tips celebrity chefs use themselves.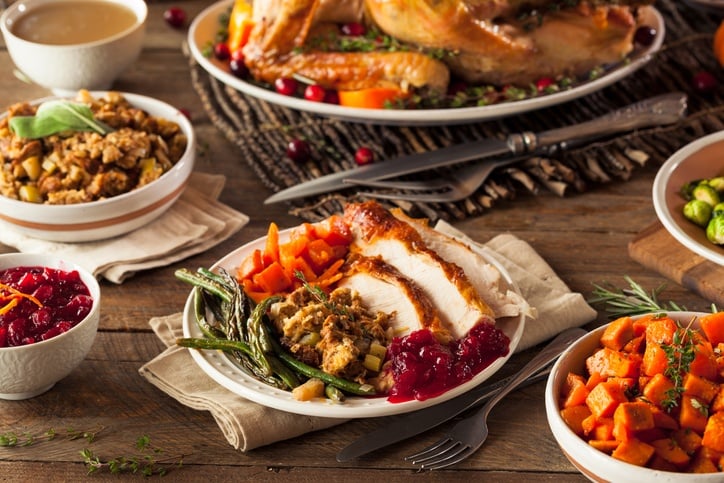 Thanksgiving | Bhofack2/iStock/Getty Images
Use a thermometer in the turkey
There is literally nothing worse on Thanksgiving than an over or undercooked turkey. Too long in the oven means your bird will be dried out. Too short and it could make everyone sick.
The solution? A simple meat thermometer. Be sure to stick it into the thickest part of the thigh meat, which is the part that takes longest to cook. If you don't have a meat thermometer, celebrity chef Alex Guarnaschelli recommends pulling the thigh away from the breast and checking to make sure the juices run clear.
Cook the turkey first, then let it rest
Trying to decide what order you should prepare everything? Always make the turkey first. It'll actually taste better when you make it ahead of time and allow it to sit, chef Laura Vitale told Today.
Simply roast to proper doneness, remove it from the oven, and wrap tightly with tin foil to preserve heat. Then go ahead and use your oven for the rest of your sides.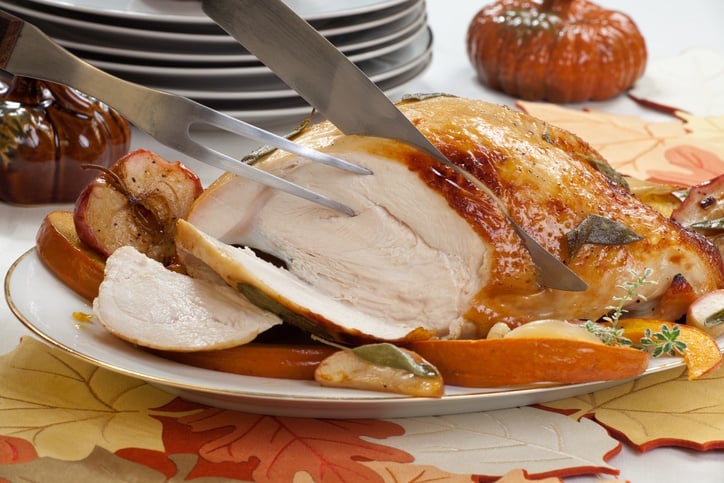 Slicing a turkey breast | evgenyb/iStock/Getty Images
Wrap the turkey in cheesecloth
Julia Child is one of the best-known and best-loved celebrity chefs of all time. Her advice for Instagram-perfect turkey is this: wrap the whole bird in cheesecloth before roasting to achieve that golden brown hue. You don't need to baste it when you use this method, either.
Spike your gravy
Want to make your gravy with a kick like Ina Garten? Then add a little cognac or brandy along with chicken stock to form the base. This is what she uses to deglaze the pan after caramelizing onions and the end result is so good.
Make cornbread stuffing
So many people automatically reach for the white bread when they're making stuffing. Celebrity chef JJ Johnson recommends substituting cornbread for white to give your stuffing a bit of Southern-themed flair. The sweetness and crumbly texture will add delectable taste to your stuffing that dinner guests are sure to love.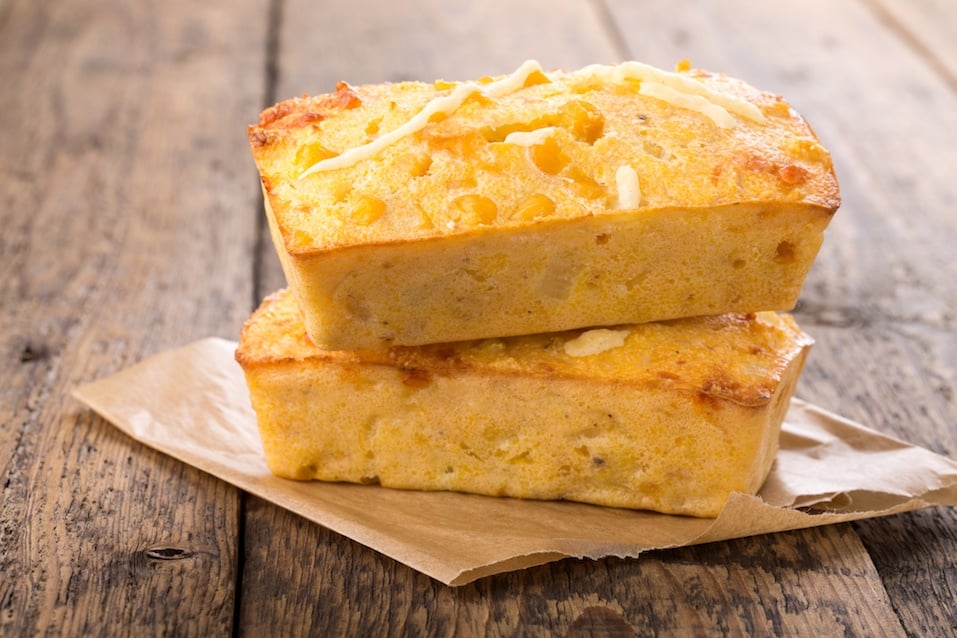 Freshly baked corn bread | iStock.com/Geshas
Forget canned cranberry sauce
It's the eternal debate: should you serve canned or homemade cranberry sauce? But the canned version is a little gross and is almost always made with high fructose corn syrup, so there's that. Skip the chemicals when you make your own like Jamie Oliver. It's simple!
Combine diced apples, fresh cranberries, sugar, and cinnamon for a taste that will beat that jiggly canned stuff any day.
Make sure your stuffing stays crispy
Martha Stewart is opposed to soggy stuffing – as she should be. To avoid this common issue, she recommends tearing bread into little pieces and drying it out in the oven for a little while first. This also gives stuffing great taste and texture.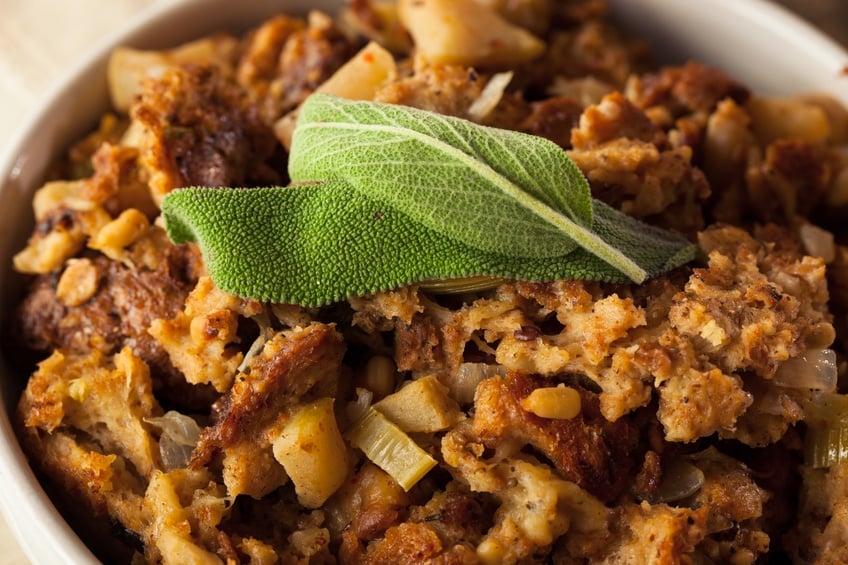 Stuffing | iStock.com/bhofack2
Upgrade your mashed potatoes
No Thanksgiving table would be complete without a heaping mound of creamy, dreamy mashed potatoes. But yours could benefit from a secret ingredient – pumpkin!
Chef Chloe Coscarelli says that by adding pumpkin puree to your mashed potatoes, you'll wind up with a sweet and salty combo that's both visually fun and delicious.
Make desserts first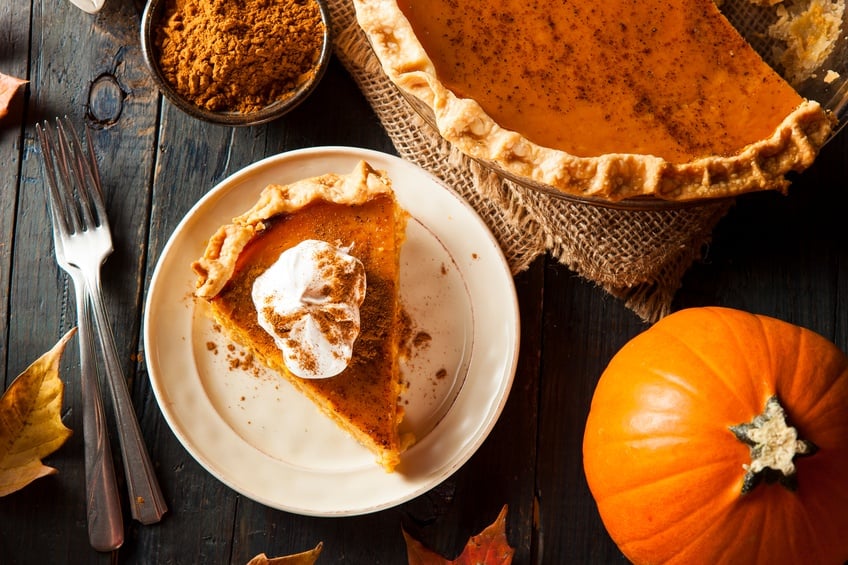 Pumpkin pie for Thanksgiving | bhofack2/iStock/Getty Images
The best use of your time is making desserts the day before Thanksgiving and freezing them. Lazarus Lynch confirmed to Today that just about any pies, cakes, or cookies don't need to be served fresh to taste amazing.
Rachel Ray makes her pie crusts a month ahead of time! Even if you don't go that far, desserts can be prepared well in advance.
Source: Read Full Article