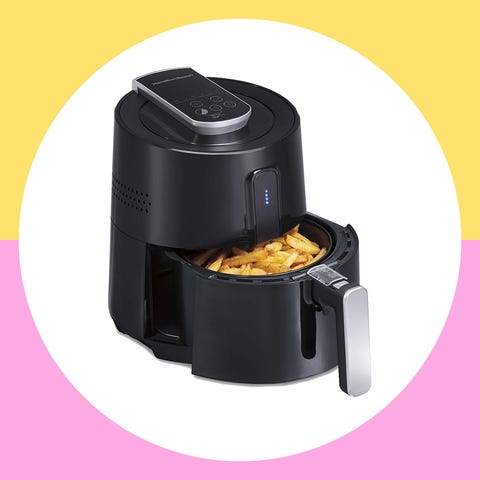 Sure, you're well aware that fried foods aren't exactly healthy—but they're just so damn delicious. Luckily, thanks to an absolutely genius gadget called an air fryer, you can get that crispy, crunchy fried food taste without all the extra cals.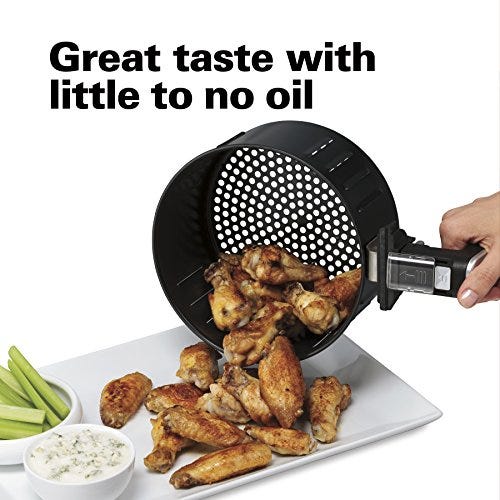 Of course, you have to pay to play and air fryers—like all amazing kitchen appliances—are far from free. That's why it's so freaking exciting that this Hamilton Beach 35050 Digital Air Fryer is nearly 50 percent off and costs just $60.99 today, thanks to a pretty sweet Amazon Deal of the Day.
This air fryer has a lot of awesome features. For starters, it's a good size—the frying basket holds two and a half liters of food. It's super-fast and doesn't require any preheating. So you can pop in your food, select the time and temp you need, and go about your life.
It also comes with six pre-programmed settings, allowing you to cook fries, chicken, seafood, steak, baked goods, and veggies with a touch of a button. Oh! And the food basket is nonstick and removable, so you can hand wash it easily. Plus, of course, you're getting all the perks of frying while using little to no oil.
People are loving on this fryer online:
Air frying is definitely healthier than "regular" fried foods (just keep tabs on how much oil you use since less = better). If you love fried foods but want to try to be a little more health conscious in the new year, this is definitely a gadget to consider.
Source: Read Full Article