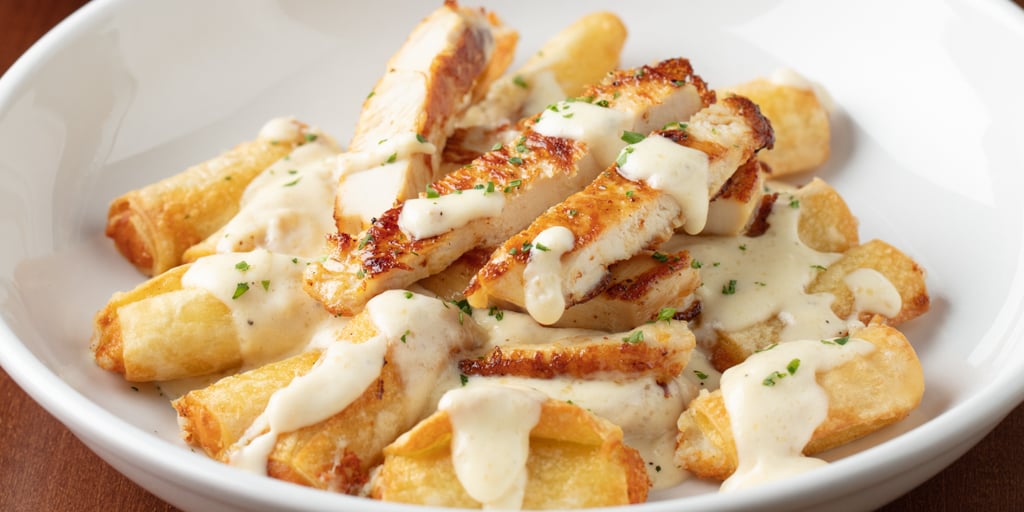 Ziti Fritta With Grilled Chicken and Alfredo

Olive Garden's Never-Ending Pasta experience has made it back to the table this year in an even bigger and better way. After kicking things up a notch last Summer by offering customers two equally enticing options for its pasta pass deal — guests could either pay $100 for an eight-week experience or $300 for an entire year of noodles — the restaurant just announced the introduction of its Never-Ending "Stuffed" Pasta dishes.
The deal is a build-your-own-pasta type of experience. Guests have the option to create their perfect pasta combination by choosing from four stuffed pastas (one of which is a deep-fried ziti that my body is 100 percent ready to inhale), which are paired with one of four sauces (Alfredo, meat sauce, marinara, or five-cheese marinara) and any five toppings (meatballs, garden veggies, grilled chicken, garlic shrimp fritta, or sautéed shrimp and scallops). In lieu of last year's annual pass experience, customers will pay $12.99 for each Never-Ending Stuffed Pasta entrée, and each one comes with unlimited breadsticks and homemade soup or salad.
The promotion is being offered at Olive Garden locations nationwide from now until March 31. Take a peek at a few pasta combinations ahead if you're ready to drool.
Source: Read Full Article