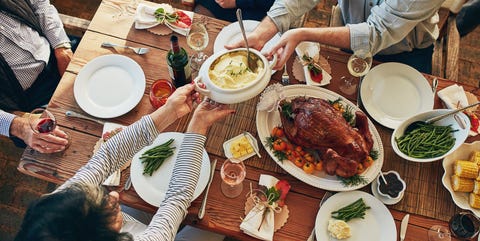 Thanksgiving may be about indulging in mouthwatering entrees and decadent desserts, but it's important to acknowledge that some of our all-time favorite holiday foods are filled with sky-high amounts of sugar, sodium, and calories. So if you're looking to stick to a healthy diet this holiday season, there are ways save calories and spare you the holiday pounds.
To help you save extra calories at your Thanksgiving dinner this year, we asked dietitians to share easy swaps, eating tips, and hacks that will ensure you stay on that healthy path. Trust us: You'll definitely want to keep these strategies handy for the upcoming holiday season.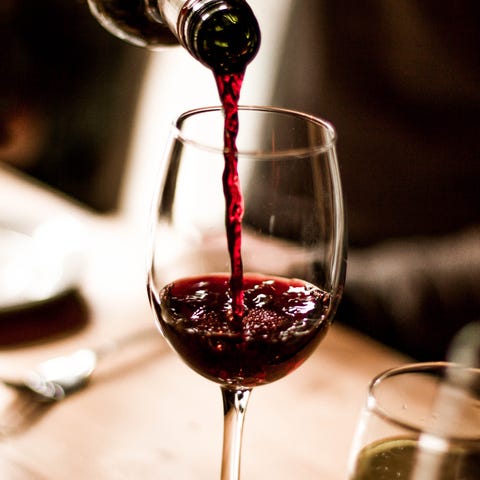 Getty Imagesdebyaho
Alternate your beverage choices
"Swap one cocktail for water during your Thanksgiving dinner," says Emily Cooper, RDN. This will not only help you save calories, but she says that this swap can help you stay hydrated without feeling the effects of a hangover the next day.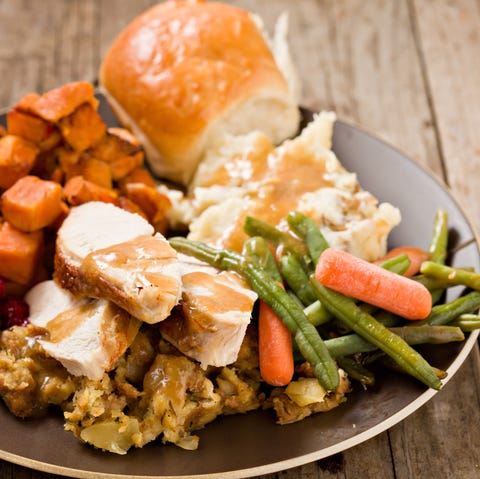 Getty ImagesDebbiSmirnoff
Load up on veggies
"Fill half your plate with non-starchy vegetables before you put anything else on your plate," Cooper suggests. This will leave less room on your plate for more decadent dishes that are calorie-dense, she adds.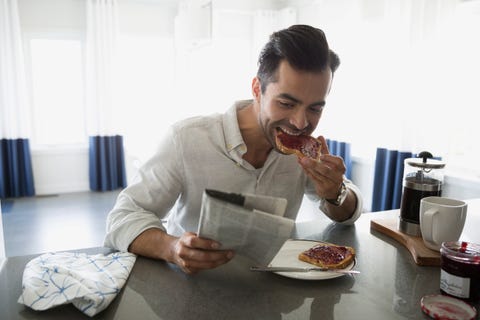 Getty ImagesHero Images
Don't forget to eat breakfast
"Start a healthy Thanksgiving with a filling bountiful breakfast like hot whole-grain cereal and an egg-white omelet brimming with veggies," says Kimberly Gomer, MS, RD, LDN, director of nutrition at the Pritikin Longevity Center and Spa.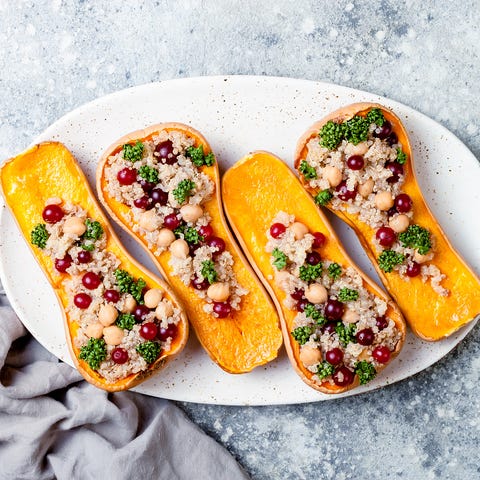 Getty Imagessveta_zarzamora
Bring your own healthy dish to share
"Don't be afraid to call your host and ask what they are planning on serving for Thanksgiving dinner," Gomer says. If you find that many of the dishes on the menu are unhealthy, she advises offering to bring a healthy dish instead. Some ideas include a cauliflower mash, roasted Brussels sprouts, and butternut mac and cheese.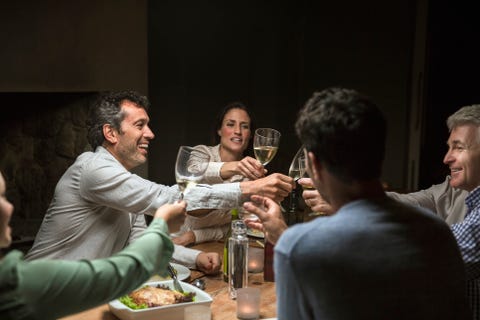 Getty ImagesPortra
Devise a strategy
"It's important to devise a strategy during your Thanksgiving dinner," Gomer explains. If you have a sweet tooth, plan for it, she recommends. If a taste of chocolate satisfies you, she says it's worth enjoying it. However, if one taste sends you lusting for a lot more, she advises offering to bring your own healthy dessert.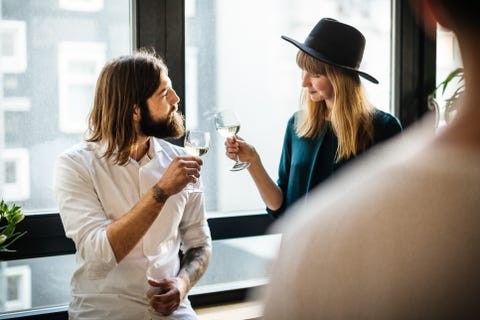 Getty ImagesHinterhaus Productions
Position yourself
"Don't put yourself right in front of the candy dish," Gomer suggests. Plant yourself elsewhere, facing other pleasures—a nice fire, warm smiles, good tunes, and/or a dance floor.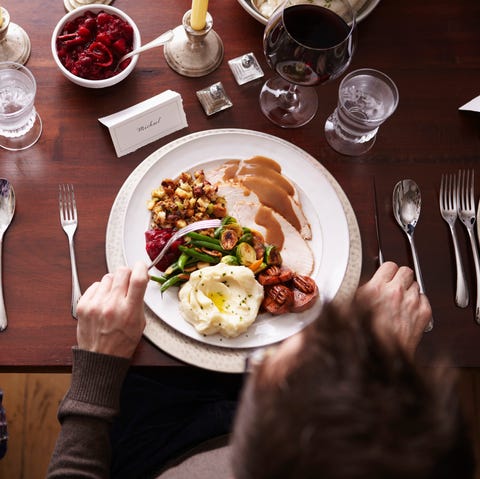 Getty ImagesMaren Caruso
Divide your plate well
"It's important to divide your plate well," Gomer says. Fill your plate half with vegetables, one quarter with white turkey meat, and the rest with a healthy starch (think corn on the cob or a baked potato), she recommends.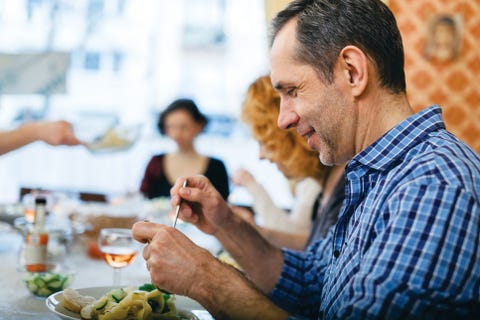 Getty ImagesHinterhaus Productions
Savor every bite during your meal
"Eat slowly and really savor each mouthful," Gomer explains. This is one of the easiest ways to enjoy your holiday meal without going overboard on calories, she suggests.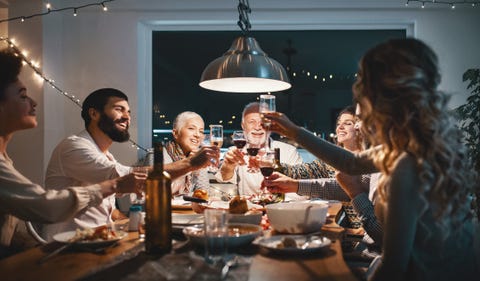 Getty Imagesgilaxia
Don't be afraid to say no
"People often think that if they say no to certain dishes, the host is insulted," Gomer says. However, she explains that there's a very good chance no one actually notices if you pass on a dish. Simply say, 'No thanks, I'm full,' if you aren't interested in something on the menu.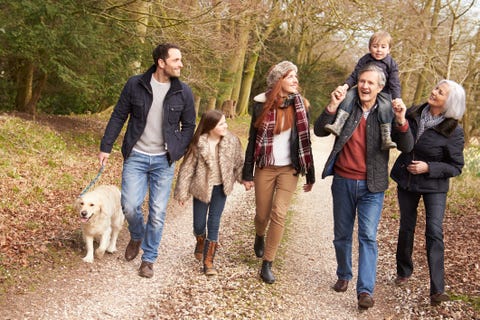 Getty Imagesmonkeybusinessimages
Plan some outdoor activity
"Plan some outdoor fun (try a game of soccer or volleyball with the kids) before dinner," Gomer advises. It's a great strategy for keeping the appetizer buffet at bay too, she says.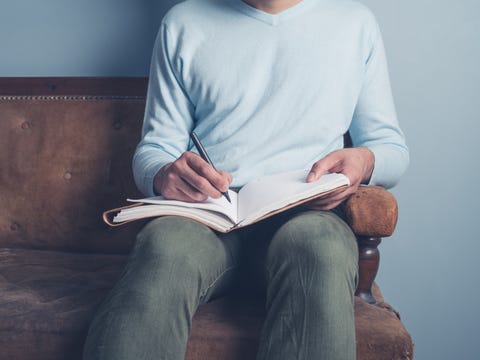 Getty Imageslolostock
Keep your goals firmly in mind
"Take a few deep breaths, and remind yourself of your ultimate vision–a leaner you, a healthier you, and a happier you," Gomer recommends.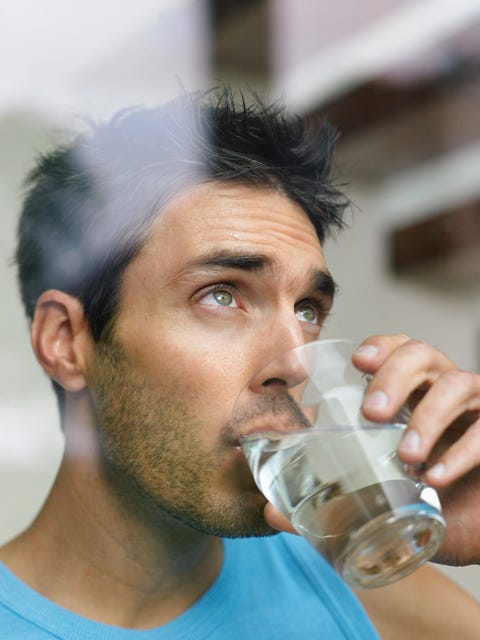 Getty ImagesMichael Blann
Make sure you stay hydrated
"Avoid dehydration by drinking water throughout the day and refilling your glass during your holiday dinner," says nutritionist Stacy Goldberg, MPH, RN, BSN. Don't let yourself be fooled into thinking you're hungry when you may just be thirsty, she explains.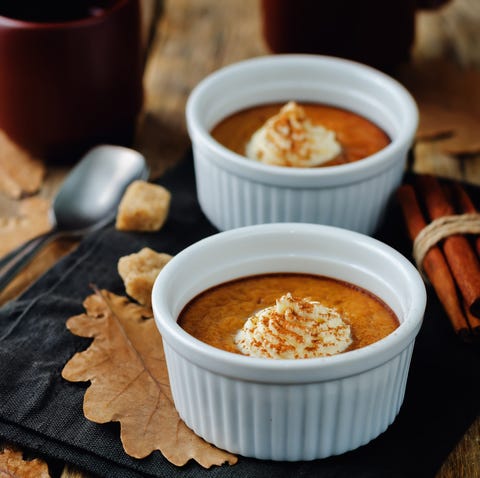 Getty Imagesnata_vkusidey
Make a crustless pumpkin pie
"Save on fat, calories, and carbs by making a crustless pumpkin pie," Goldberg suggests. Pumpkin is incredibly nutrient-dense, low in carbs, and high in fiber, she adds.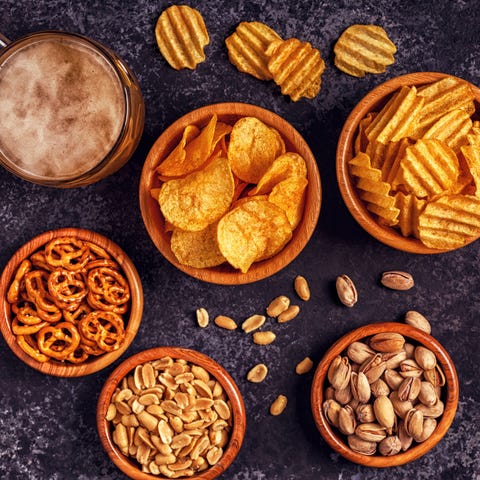 Getty Imagestbralnina
Skip foods and drinks you can have any day of the year
"Rolls, potato chips, and soft drinks are always available," says Julie Stefanski, MEd, RDN, CSSD, LDN, CDE. Instead, she recommends spending your calories on special treats that your family makes only one time of the year.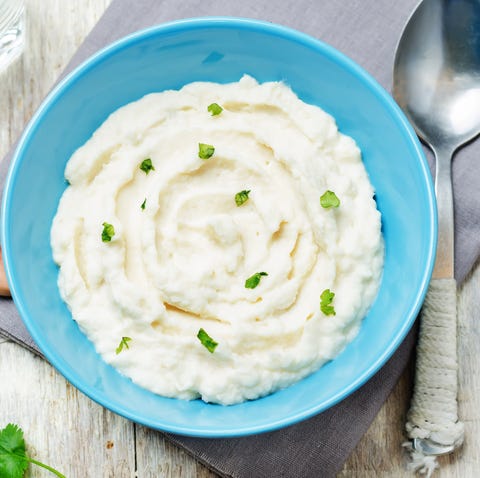 Getty Imagesnata_vkusidey
Swap cauliflower for mashed potatoes
"One cup of potatoes contains roughly 120 calories while one cup of cauliflower contains approximately 30 calories," says Maya F. Bach, MPH, RDN.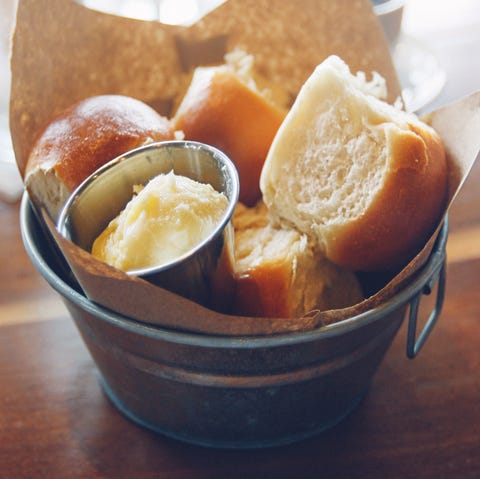 Getty Imagesva103
Skimp on using butter and oil
"Cutting back on sources of fat (butter, oil, and cream) will help to reduce how many calories you're putting into a recipe," Bach says. Fat contains nine calories per gram compared to carbohydrates and protein, which contain four calories per gram each, she adds.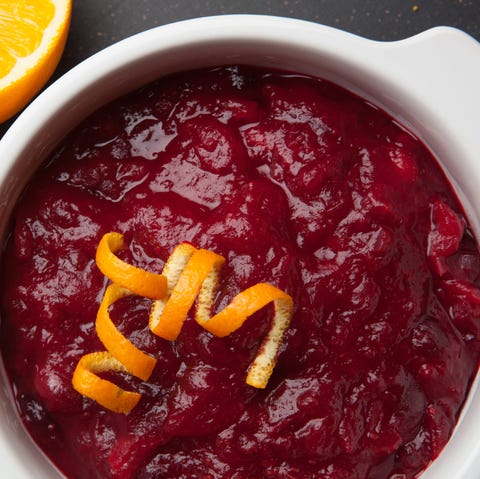 Getty Imageswolf_art
Sweeten your cranberry sauce naturally
"Skip the canned version of cranberry sauce to cut down on added sugars," Bach suggests. Cook fresh cranberries with a teaspoon (or two) of honey, a bit of orange juice, and a handful of fresh or frozen blueberries for some added sweetness, she suggests.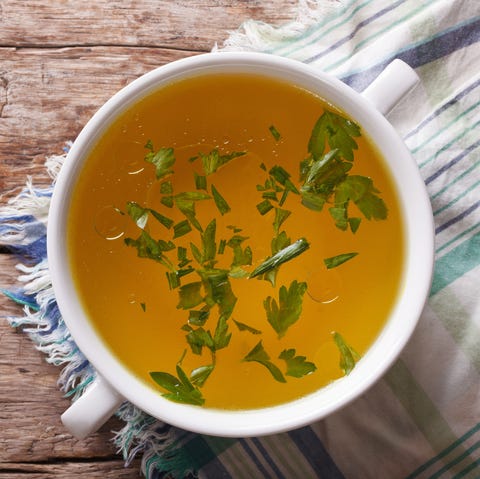 Getty ImagesALLEKO
Start your Thanksgiving dinner with a bowl of soup
"Begin your meal with a broth-based soup," says Ashley Reaver, MS, RD, CSSD. Soups are mostly fluid, which will make you feel full without actually including significant calories, she explains.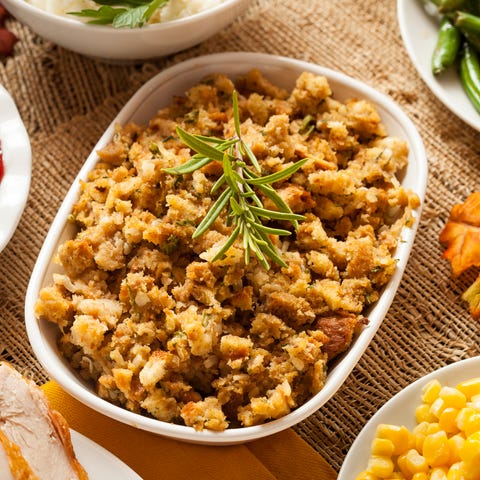 Getty Imagesbhofack2
Be choosy with the side dishes
"Calories from a Thanksgiving meal mostly live in delicious side dishes," says Reaver. Opt for only two or three sides instead of four or five, she recommends.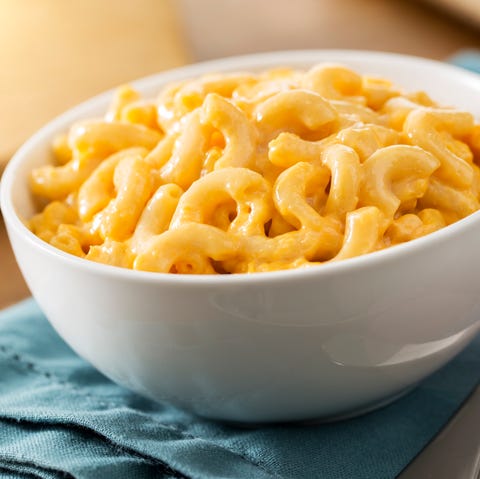 Getty Imagesmphillips007
Sneak veggies into your Thanksgiving recipes
"Sneak veggies into classic Thanksgiving dishes where you can," says Mia Syn, MS, RDN. For example, you can swap out half the rice for cauliflower rice in your stuffing, or half the cheese for butternut squash in your baked macaroni and cheese, she suggests.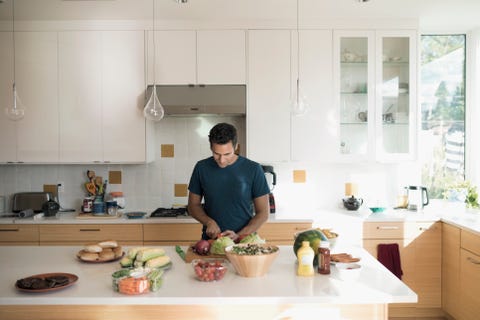 Getty ImagesHero Images
Don't snack while you cook
"It's tempting to take more than one taste of everything while you're prepping and cooking, but those calories can add up to 100 or more quickly," says Amy Sunderman, MS, RD, a dietitian at Swanson Health. Try adding a protein shake to your healthy breakfast, which can keep you feeling full longer and make you less likely to snack while you cook, she recommends.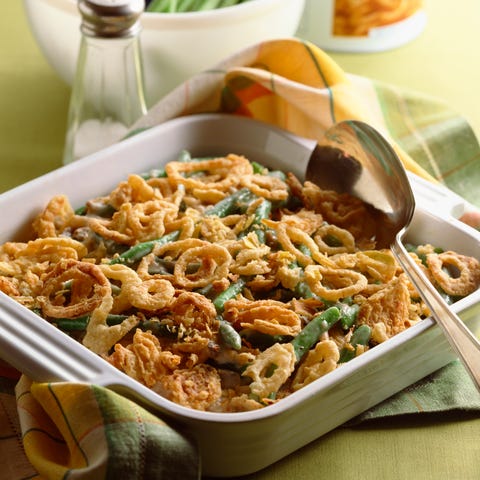 Getty ImagesBrian Hagiwara
Steer clear of creamy casseroles
"Thanksgiving casseroles can turn otherwise healthy ingredients into a calorie-heavy surprise since they often also include added oils and toppings," Sunderman says. Have a few helpings of steamed or raw veggies instead, she suggests.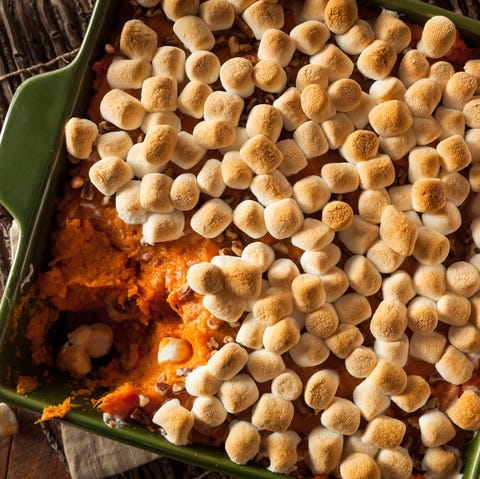 Getty Imagesbhofack2
Avoid toppings
"If your sweet potatoes are topped with marshmallows and pecans, that layer alone can add a substantial amount of calories," says Kelsey Peoples, MS, RDN. Just two marshmallows and one tablespoon of crushed pecans have 100 calories, she suggests.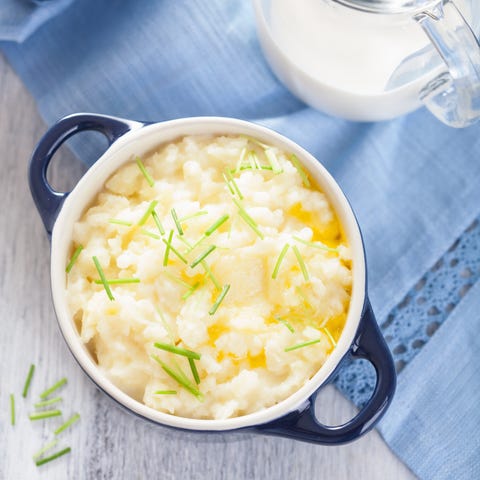 Getty ImagesOlgaMiltsova
Use milk instead of cream in recipes
"Swap out one cup of heavy cream for one cup of whole milk in your mashed potatoes and you'll save roughly 270 calories and 23 grams of saturated fat," says Edwina Clark, MS, RD, APD (Aus), CSSD.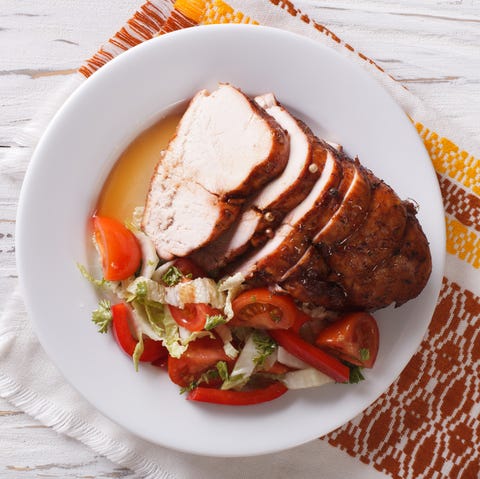 Getty ImagesALLEKO
Choose white meat over dark
"This simple swap can save a ton of calories because white meat is lower in fat than its darker counterparts," says Sara De Luca, RD, CPT. Turkey breast without the skin is only 161 calories while dark meat is 192 calories for the same serving size, she adds.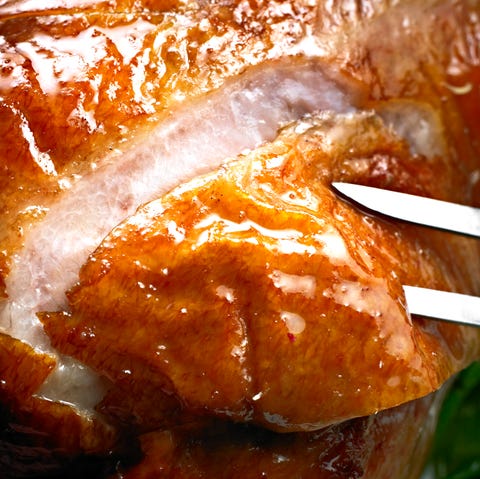 Getty Images4kodiak
Skip the skin
"The skin on the turkey is made up of mostly calories from fat," says De Luca. According to the USDA, one ounce of turkey skin provides 12 grams of fat and 137 calories, she suggests.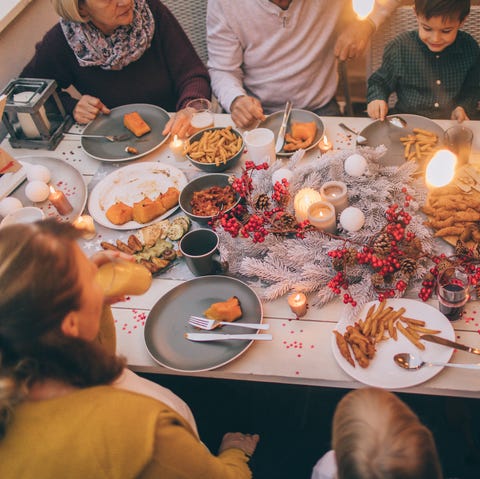 Getty ImagesAleksandarNakic
Wait before going back for seconds
"You may be tempted to get more food, but waiting 20 minutes can help that craving go away and eliminate unnecessary calories," says Colleen Chiariello, RD, the chief clinical dietitian at Syosset Hospital.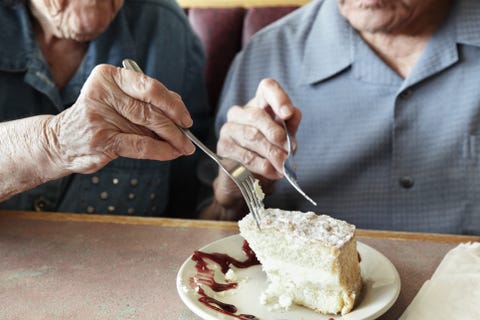 Getty ImagesWillowpix
Split dessert with family and friends
"Sharing dessert with another family member is an easy way to enjoy Thanksgiving sweets without overdoing it," Clark says. Split a slice of pumpkin or pecan pie and you'll save 160 to 250 calories, she suggests.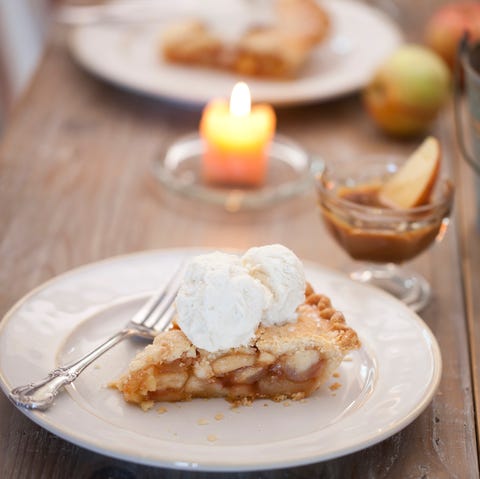 Getty ImagesLiliboas
Hold the a la mode
"Instead of a scoop of vanilla ice cream (145 calories for a half-cup), go for whipped cream (16 calories for two tablespoons), and save 129 calories," Aguirre suggests.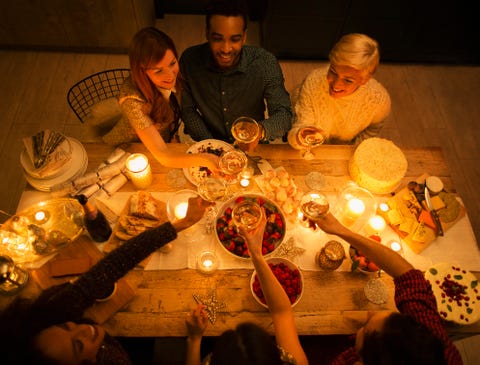 Getty ImagesCaiaimage/Robert Daly
Choose dry champagne over white wine
"Celebrate with a glass of sparkling instead of Sauvignon and save 20 calories per glass," says Carol Aguirre, MS, RD, LDN.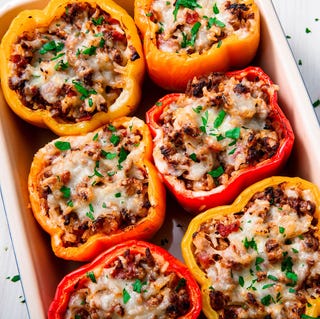 From: Prevention US
Source: Read Full Article