Can I get a "SPELL YEAH!" Williams Sonoma just expanded its (already incredibly awesome) collection of Harry Potter goodies. Now, in addition to aprons, towels, cookie cutters, linens, and cooking tools inspired by The Boy Who Lived, there are 38 brand new products. Since we no longer get to experience that "OMG THE NEW HP MOVIE IS IN THEATERS" exhilaration, new kitchenware inspired by the series must be the next best thing, right?
New items include candy treats, aprons, spatulas, water bottles, ice molds, and my personal favorite—a cookie jar shaped like everyone's favorite messenger, Hedwig the owl.
New sweet treats include Gummy Frogs, Acid Pops, Cinnamon Balls, and Lemon Sherbets, inspired by the wizarding sweets shop, Honeydukes. There's also Bertie Bott's Every-Flavour Beans, a classic, yet risky treat in the world of Harry Potter. (There are some realllly nasty flavors in there)! A highlight of the new candies, though, is the Chocolate Wands, available for $32.95. They're made from fair-trade milk chocolate, and you can choose from Dumbledore, Hermione, or Harry's wands.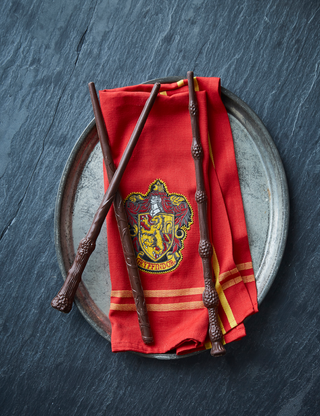 You can really impress your muggle friends with Harry Potter-inspired ice molds. There's a set of two Snitch ice molds, for sipping a good ol' Butterbeer on ice during your favorite Quidditch scene. There's also a Slytherin house crest ice tray.
You can check out the entire collection on Williams Sonoma website, and some of the products are even on sale right now! Thank you Williams Sonoma, for inspiring my Christmas wish list!
From: Delish
Source: Read Full Article