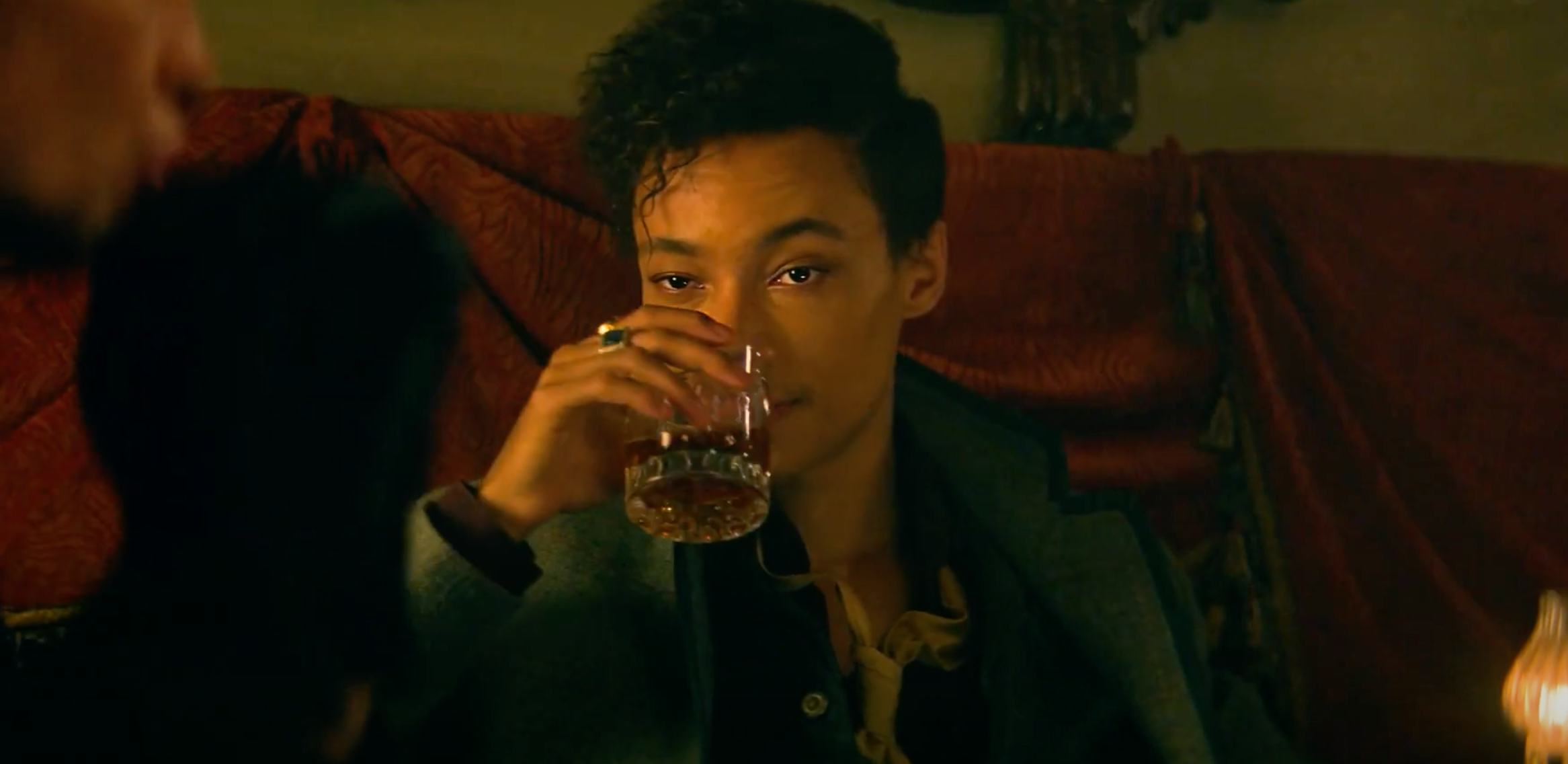 The perfect Friday night at home plans consist of finding a cozy spot on the couch, turning on your fave Netflix show, and simply chilling. The only thing that would make your night even better is if you had a delicious cocktail to match whatever show you're watching. Luckily, there are plenty of Netflix-inspired cocktail recipes out there that are easy to make and incredibly sip-worthy.
Are you about to go in for a rewatch of Netflix's new hit series Shadow and Bone? Well, make yourself a Mal-inspired drink (if you're 21 and up) to enjoy as you sip your way through the Grishaverse. Or maybe you want something worthy of a queen. There are sophisticated concoctions for sipping on while watching The Crown or Bridgerton. There's even a The Queen's Gambit drink that's definitely the right move to make before rewatching the miniseries. All you need to do is find the right Netflix-inspired cocktail recipe to make for whatever show is on the schedule.
You could even plan a super cute roomie night where you marathon a few episodes of your latest obsession with your fave people. Put together a tasty charcuterie board of snacks to go along with your Netflix-inspired drinks, and you'll be set to keep watching all night long.
1. The Darkling From 'Shadow And Bone'
Darklina shippers will definitely want to mix together this delicious drink inspired by your fave Shadow Summoner. The Darkling from TikToker @nerdy_gourmet_jenni is made with ingredients like:
Vodka
Ice
Cointreau
Cherry bitters
Activated charcoal
The latter is what gives this drink its dark color to match the Shadow and Bone character.
2. Tea Cocktail From 'Bridgerton'
Enjoy an elevated tea party with this tea cocktail inspired by Bridgerton. Brew yourself some butterfly pea flower tea first before adding in:
2 oz vodka
½ oz simple syrup
Ice
This drink by TikToker @join_jules is both fancy enough for Queen Charlotte, and changes colors when you add some lemon juice. You'll burn for this drink.
3. Mal From 'Shadow And Bone'
If you're more Team Malina than Team Darklina, you'll want to make this Mal-inspired cocktail from TikTok. This Blushin' Russian is made with:
Vodka
Amaretto
Coffee liqueur
Whipped cream
Salt and chocolate to garnish
This drink from TikToker @paperbackpotables is just as sweet as Mal's letters to Alina.
4. Kiawah Sunrise From 'Selling Sunset'
The Timber Kiawah in Kiawah Island, SC has a Kiawah Sunrise that's inspired by Selling Sunset on Netflix. This is the perfect drinking for sippin' by the pool while watching the show on your phone. The ingredients you need are:
2 sliced strawberries
½ oz lemon juice
¼ oz sugar syrup
¼ oz strawberry simple syrup
2 oz whiskey bourbon
2 dashes black walnut bitters
Club soda
1 strawberry to garnish
Muddle together your strawberries and lemon juice before adding in your ice, sugar syrup, strawberry syrup, bourbon, and bitters. Shake well and pour into a cute glass, and add some of the club soda before garnishing with your strawberry. Be sure to snap a pic of this drink before taking your first sip.
5. Gibson Martini From 'The Queen's Gambit'
Take a trip back to the 1950s with this Gibson Martini inspired by The Queen's Gambit. This drink from TikToker @miss.rox.the.fox requires the following ingredients:
Dry gin
Vermouth
Cocktail onions
Ice
Stir together your ingredients before pouring into a martini glass. You'll feel like Beth Harmon in no time.
6. Duke of Earl From 'Bridgerton'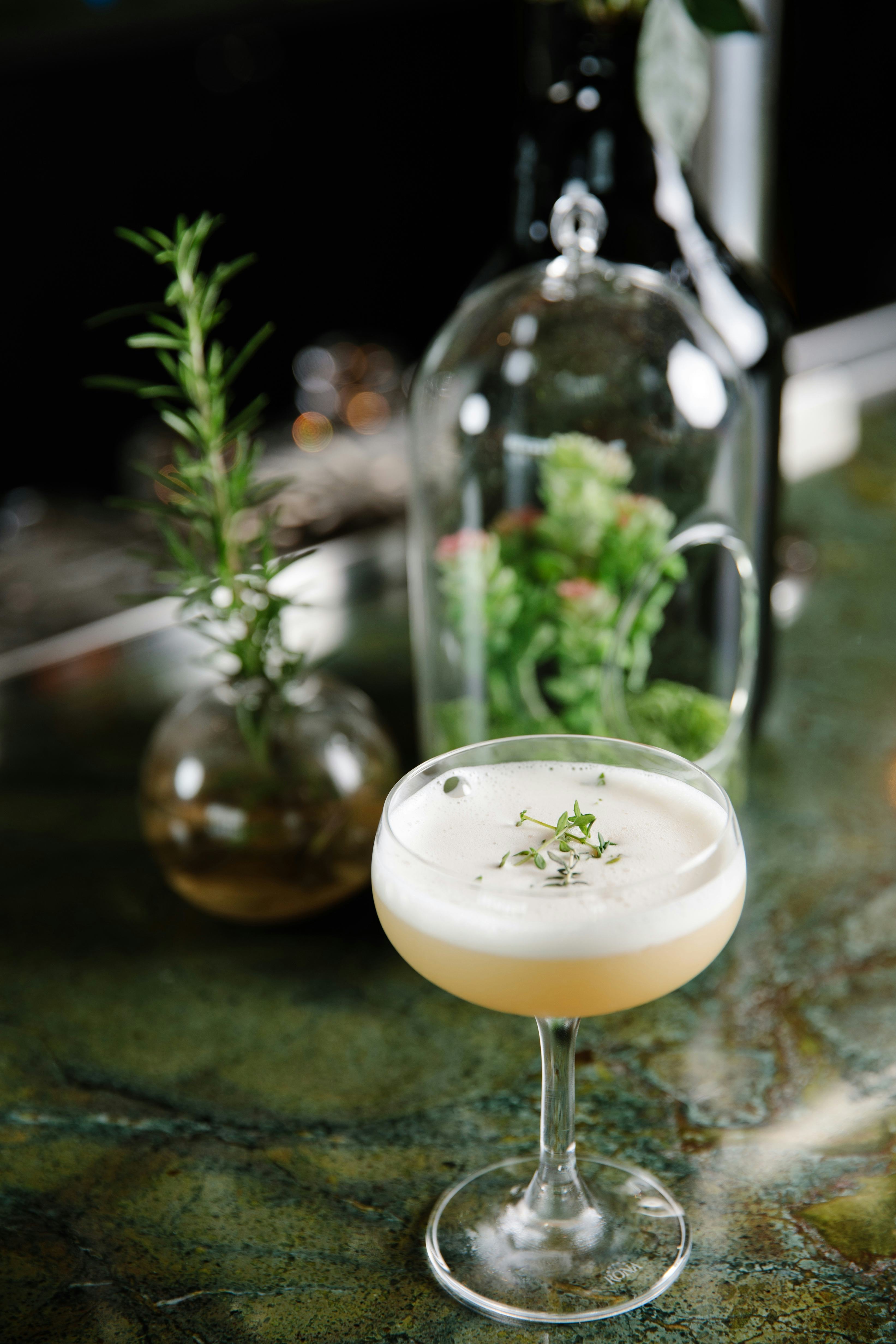 As you wait for Season 2 of Bridgerton, enjoy a Duke of Earl cocktail inspired by our beloved Duke of Hastings. This drink comes from 700 Drayton, located at Mansion on Forsyth Park in Savannah, GA. Here's what you'll need to recreate it:
¾ oz earl grey syrup
½ oz lemon juice
1 oz dry gin
1 oz Lillet blanc wine
For the best results, mix together all your ingredients and shake vigorously before pouring into a chilled coupe. Garnish with a lemon twist if you really want to impress the Simon to your Daphne.
7. Aperol Spritz From 'Emily In Paris'
Escape to The City of Light with an Emily in Paris-inspired Aperol Spritz. This refreshing drink is great for the summer season and revisiting your fave Netflix show before Season 2 arrives at the end of 2021. This drink from TikToker @spritzandspice is real simple. All you'll need is:
1 orange slice
Ice
2 oz Aperol
Champagne
Sparkling water
Combine in a glass, and you're good to go.
8. Nina From 'Shadow And Bone'
You'll love this Nina-inspired drink from Shadow and Bone a waffle lot. Since waffles are Nina's "truest love," TikToker @paperbackpotables has put together this Maple Leaf cocktail just for everyone's favorite Heartrender. What you'll need to combine into one glass is:
2 oz bourbon
½ oz lemon juice
½ oz maple syrup
Ice
Top with some whipped cream and a waffle if you're feeling fancy.
9. Eleven From 'Stranger Things'
Turn your world upside down with this drink inspired by Stranger Things. TikToker @basicbartender's Eleven cocktail needs:
1 ½ oz vanilla whiskey
½ oz maple syrup
3 oz Mountain Dew
1 ½ cranberry vodka
Mix together and enjoy as you wait for Stranger Things, Season 4.
10. Royal Dog From 'The Crown'
Since you'll have to wait until 2022 for Season 5 of The Crown, you might as well revisit the previous four seasons with your royal family. While admiring Princess Diana's fashion and getting wrapped up in the drama, sip on some Royal Dog cocktails from the Mico Restaurant at the Grand Bohemian Hotel Charlotte. For this sophisticated sip, you'll need:
1 ½ oz Lillet blanc wine
½ oz St. Germain Elderflower Liqueur
2 oz Ketel One Grapefruit & Rose Botanical Vodka
Lavender powder
Just shake together your ingredients with some ice, and strain into your classiest glass.
11. Maverick Martini From 'The Circle'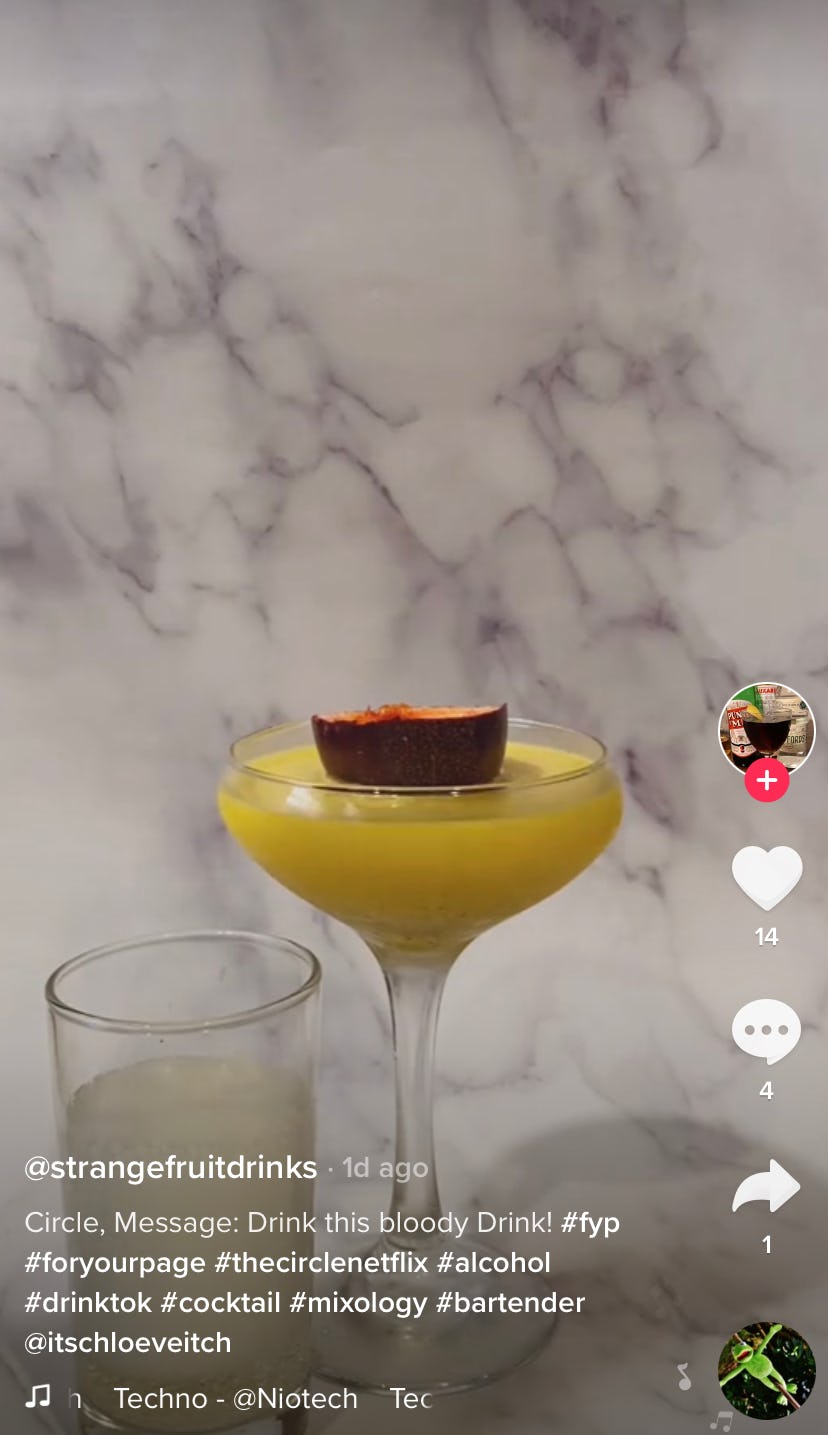 If you're currently caught up on the latest season of The Circle, you know that Chloe has mentioned the Porn Star Martini — aka Maverick Martini — a few times, so it's time for you to make one yourself. Follow TikToker @strangefruitdrinks' tutorial and mix together:
Vanilla syrup
Passionfruit puree
Passionfruit liqueur
Vanilla vodka
Ice
Now that the Season 2 finale is on Netflix, celebrate with a martini in your hand.
12. Pogue Tea From 'Outer Banks'
You may be wondering where Season 2 of Outer Banks is going to go, but until it drops on Netflix, you'll just have to watch Season 1 all over again. This time, enjoy it with a delicious Pogue Tea cocktail. This drink comes from Bogue Sound Distillery from North Carolina, where Outer Banks is located. Just mix together:
2 oz JAPC Salted Caramel Spirit
½ oz triple sec
A combo of ½ sour mix and ½ coke
Once combined, you'll have a refreshing drink that's perfect to enjoy during the summertime.
13. Bridgerton 75 from 'Bridgerton'
With this Bridgerton 75 drink and the other Bridgerton-inspired cocktails on this list, you'll have a whole menu ready for a Bridgerton-themed party with your bestie. You could be like Daphne and plan the social event of the season. All you need for this drink from TikToker @the.boozy.ginger is:
2 oz pink gin
½ oz earl grey
½ oz lemon juice
2 oz sparkling wine
Lemon twist
14. Genya From 'Shadow And Bone'
This Genya drink from TikToker @paperbackpotables was tailor-made for a Shadow and Bone rewatch. This is actually a South Slope cocktail, which uses:
¾ oz gin
¾ oz Aperol
¾ oz Lillet blanc wine
½ oz Cointreau
½ oz lemon juice
Ice
If you're looking to make it Insta-worthy, add a lemon twist garnish that looks like a rose.
15. Den Of Iniquity From 'Bridgerton'
For a romantic evening with your partner, mix together some Den Of Iniquity cocktails inspired by Bridgerton. What you'll need for this drink from TikToker @lovelyoneontheinside is:
1 ½ oz vodka
1 oz Chambord
1/2 oz Cointreau
1/2 oz pomegranate juice
1/2 oz lemon juice
Ice
Pour your shaken drink into a nice glass and enjoy during a sweet picnic in the living.
Source: Read Full Article