Unless you're missing a pulse, you've seen them: the viral "Teenage Dirtbag" Tik Toks that have monstered the platform.
Everyone from Lady Gaga to Reese Witherspoon, Kevin Bacon, Victoria Beckham and Martha Stewart have joined in, posting the sort of awkward teenage photos that most of us have spent decades shoving into the back of drawers.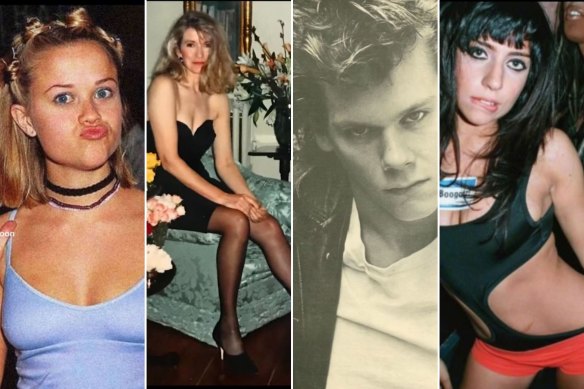 In their "Teenage Dirtbag" era: from left, Reese Witherspoon, Martha Stewart, Kevin Bacon and Lady Gaga.Credit:Tik Tok
The photos of celebrities with out-of-date haircuts and poses that reveal the personas they were cycling through when they were younger – the cringey ones that inspire all of us to utter that universal prayer, "Thank God there wasn't the Internet back then" – are all set to the catchy 2000 hit song, "Teenage Dirtbag" by Wheatus.
"Part of what it means to be a celebrity and remain relevant is to participate in these mass culture events," says social media expert Jenny Davis, explaining why so many celebrities of all ages have, along with countless others, posted photos of themselves in get-ups seemingly made by short-sighted seamstresses.
"And it's really important to post things that don't always seem flattering because part of what it means to get others to appreciate you as a person is to perform this relatability, and authenticity and awkwardness is a great way to do that," says Davis, a sociology lecturer at The Australian National University. "That's part of what it means to be a brand [now]."
So far, the hashtag #TeenageDirtbag has garnered nearly 1.5 billion views. This, in itself, is no surprise given that the montages are both emotionally evocative and relatable – the two necessary components to make any meme go viral, says Davis.
"There's a nostalgia element about it, in the sense that a lot of people go, 'I remember when I used to wear my eyeliner too heavy'," says Dr Lauren Rosewarne, a popular culture expert at the University of Melbourne.
But if you look at the celebrity videos a little more closely, you'll find they're actually self-congratulatory rather than embarrassing, says Rosewarne.
"OK, your haircut wasn't flattering, or that jumper wasn't that exciting, but that's a really small 'dirtbag' quality," says Rosewarne of the celebrities' take on the trend, which began in 2021 and began resurfacing in July this year. "Particularly people like Reese Witherspoon; she's been famous since she was a teenager. Her dirtbag phase was when she was being a Hollywood commodity. So it's kind of like, 'well, yeah, you look different', but you were still successful. So, there's a limit to the transition."
She's not wrong. Reese Witherspoon may sport bantu knots and tadpole eyebrows, and Martha Stewart might look like a Dynasty extra in her black bustier. And, sure, Kevin Bacon looks like he's trying to seduce his teacher in a cheesy 1980s rom-com in a photograph in which he runs his hands through his hair. But none would make the cut for Revenge of The Nerds.
And, adds Davis of the meme: "It's generally looking back at an unflattering past in a way that casts light on a more flattering present."
And the memes have ushered in kudos for the participating celebrities.
"YOU'RE SO GORGEOUS EVERYTIME" wrote one person, below Demi Lovato's Tik Tok.
"You haven't aged at all!!xxx" wrote another, under Victoria Beckham's.
This is because the "Teenage Dirtbag" meme is just the latest #glowup meme, like the "How It Started vs How It's Going" meme and the "10 Year Challenge", says Rosewarne. They're all avenues for people to show how they've become more attractive or accomplished (or both).
So, the latest meme is just more evidence that we're all a bunch of narcissists, endlessly seeking validation?
"Right," says Davis. "We're all, I think, just maybe a little bit needy."
But it could be worse, she says. The 1960s and 1970s version of the "Teenage Dirtbag meme" – the ritual countless people partook in as a means to, like the current meme, share who they once were and bask in nostalgia – was the dreaded vacation slide show.
"The vacation slide show was a thing, [where people would say] 'Do you want to see our vacation slide show?' The person's bored out of their mind watching another person's slide show."
At least, she says, the Teenage Dirtbag memes are entertaining. "Yeah, we've come a long way. It's funnier. And there's music."
Make the most of your health, relationships, fitness and nutrition with our Live Well newsletter. Get it in your inbox every Monday.
Most Viewed in Lifestyle
From our partners
Source: Read Full Article