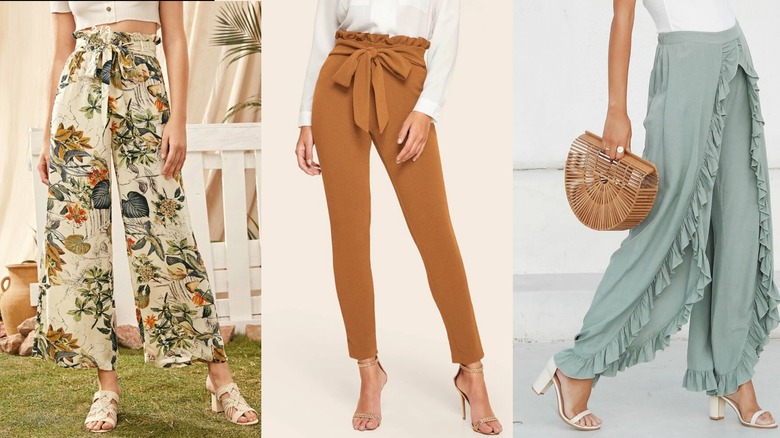 Sometimes, you see ads for impossibly inexpensive fashion sites and wonder whether or not they're legit. Will the item you order actually look like the picture on the website — or will it be a cheap facsimile? 
Luckily, when it comes to SHEIN, the e-tailer is the real deal, and we love the site for its larger-than-life variety and major cuteness. Fans of SHEIN still get surprised at how good the quality and prices are, like TikTokers @ms.ganschow, who's obsessed with the "super unique looks," and @jodi.opuda, who bought a whopping 91 items from the site. 
The thing is, with such a large quantity of adorable items on SHEIN, it's difficult to narrow down your shopping cart. That's where their "best selling" lists come in, which are handy to make sure you're buying the top-reviewed, best-quality items. If you're looking for wallet-friendly, flattering pants, look no further than the best-selling pants of all time on SHEIN. Keep reading for the scoop!
SHEIN's wide-leg pants are a no-brainer
First off, we have an ah-mazing selection of printed trousers, ready to pair with a solid-color top, a sunhat, and summer sandals. We're going with these Botanical Print Paperbag Waist Wide Leg Pants, a warm-weather staple we'll reach for time and time again. With 4.9 stars and almost 3,000 reviews, these pants are described as "soft," "fashionable," "flowy," and "comfortable," with countless photos to prove the point. 
Next up, these Paperbag Tie Waist Solid Pants in a gorgeous camel shade will go from work to dinner dates seamlessly. Pair these with heels or flats, and you're good to go. The thick fabric, wide belt, and stretchy fit are super flattering. SHEIN's Simplee Slit Hem Ruffle Trim Wide Leg Pants are another great option for pure summer breeziness, complete with a sea glass hue, ruffles, and open construction.
You know the kind of pants that you can wear for any occasion or season? Meet SHEIN's Simplee Split Thigh Tie Waist Striped Wide Leg Pants. In stunning burnt orange stripes, these trousers are split in the front and almost resemble a maxi skirt, complete with a tie waist and flattering front pleats. Cute and boho with a crop top, sandals, or booties, these pants have 4.8 stars with tons of reviewer photos showing how "nice" and "well made" they are. 
If you love the wide-leg look but want something sleeker, the best-selling Self Belted Box Pleated Palazzo Pants will do the trick. With nearly 10,000 reviews, buyers describe them as "really good quality," "very cute," and "nicely made," and they're wearable for work or play with basic tanks or button-downs. Other trousers we can't get enough of include the top-reviewed Paperbag Tie Waist Striped Pants, which are perfectly stretchy and body-skimming in flattering vertical stripes.
These SHEIN pants are all about the details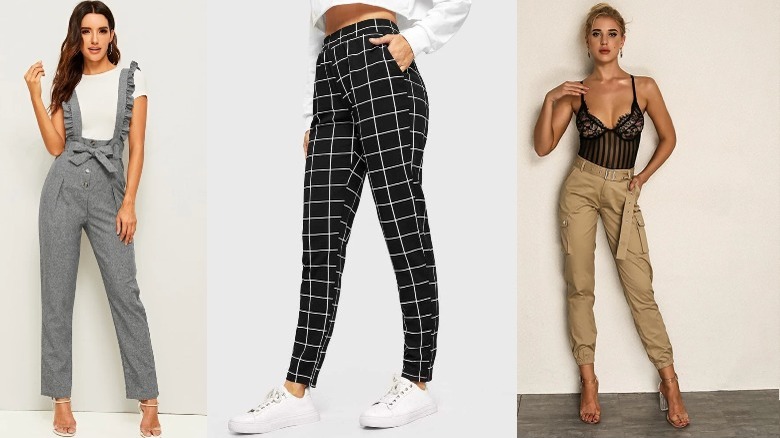 If you already have countless trouser options in your closet, you might just want one pair of head-turning statement pants. That's where these Belted Button Fly Pants With Ruffle Straps come in: In a marled gray, these overalls are the epitome of adorable. Ruffle straps, buttons, and a bow at the waist complete the look, and they can easily be paired with simple T-shirts, button-downs, or knits in the fall. Wear with heels for a date-night look, for work, or for anything at all; these pair especially great with black booties, but look equally great with flats.
For a different take on the work trouser, these Elastic Waist Slant Pocket Grid Pants are ideal. Featuring a classic black-and-white checkered print, these elastic-waist pants are cropped at the ankle and pair perfectly with white sneakers. These nice and stretchy pants have more than 10,000 reviews for a reason and work with both blazers and graphic tees.
If you want something chic, military-inspired, and as comfortable as joggers, try SHEIN's Joyfunear Pocket Side Elastic Hem Belted Utility Pants. The definition of fancy cargo pants, these khaki trousers have a built-in belt, zippers, pockets, and an elastic hem for utilitarian cuteness. Reviewers pair these pants with tight long-sleeve tees or corset tops, and they look absolutely amazing with sneakers. A true SHEIN best-seller, the 10,000-plus reviews deem these pants "love at first sight." We're in!
These breezy SHEIN pants are perfect for summer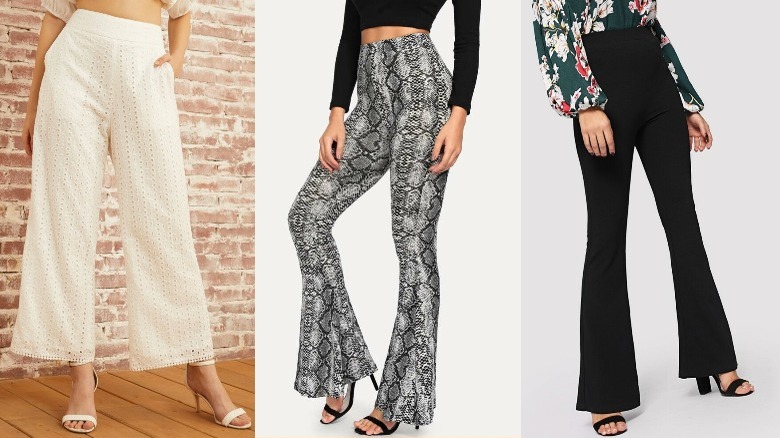 The perfect summer trousers don't exis– they definitely do when it comes to these breezy SBetro Wide Waistband Schiffy Wide Leg Pants. These ivory pants, made of an eyelet material, hit at the ankle and feature a super-flattering high waist. With tiny white pom-poms dangling from the hems, the beauty of these warm-weather trousers is all in the details. The best part? These pants have pockets, and reviewers say they are "soft" and can even be used as a swim coverup. Win!
If you want something figure-shaping and body-skimming, look no further than SHEIN's Snake Print Flare Hem Pants — they're seriously amazing. With an on-trend python print in a neutral gray-and-black color scheme, these stretchy pants will show off all your curves. Pair them with sandals, boots, sneakers, or heels for nighttime glam. We love a good high waist, and these pants are comfortable with a fashionable flared hem to boot. Reviewers love to pair these with white crop tops and black bodysuits or even fancier blazers and turtlenecks. 
Did we mention we're loving '70s flares lately? Go a more classic route with these black Elastic Waist Flare Hem Pants, giving new meaning to "traditional with a twist." In a stylish shape, these 10,000-plus reviewed pants are loved by SHEIN customers for being "classy," "good for work," "so pretty," and "comfortable." They will look gorgeous with sparkly tops, vests, or all-black looks — and so will you.
Source: Read Full Article