Is it just me, or is it beginning to look a lot more like Black Friday every time you open your email? With brands sliding into your inbox with bigger pre- and post-Thanksgiving promotions than last year, forget strategizing over which stretchy pants to wear to holiday dinners and Friendsgiving brunches. I don't know about you, but I'm too busy mapping out the best athleisure discounts so I don't miss a single sale. Priorities, amirite? But athletic-wear goes beyond yoga leggings, my friend (hard to believe, I know), and the Adidas 2018 Black Friday sale is bae if your go-to sneaks are looking a little rundown, or you're looking for a track jacket to keep you warm through winter workouts.
FYI, Adidas is ahead of the game this season. It looks like the brand's Black Friday and Cyber Monday sales have already kicked off, and will continue through the Thanksgiving holiday weekend, so if you have the itch to start spending now, you can head on over to the site and begin adding staples like shoes, zip ups, pants, and more to your cart.
And the best part about Adidas' Black Friday sale? You don't even have to wait for the top deals to go into effect. Adidas is marking prices down up to 50 percent off this year, and there are plenty of deals to go around (58 pages of deals, to be exact). Here's a sneak peak at the sales you can expect this year.
An Oversized Sweater To Bundle Under All Winter Long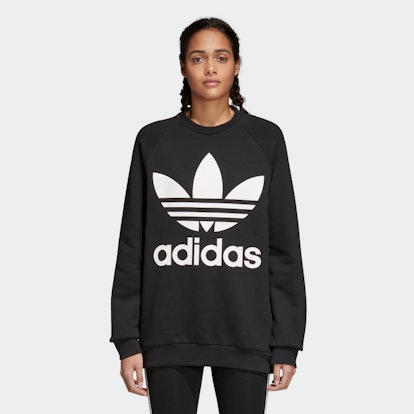 Adidas Trefoil Oversize Sweatshirt
$56
Adidas
Is anybody else getting serious Ariana Grande vibes from this massive sweatshirt? Currently available in black and steel blue, I'm definitely imagining this piece working a few different ways in your wardrobe: first, as a dress, à la Grande's style. Just pair the oversized top with some skin-hugging, knee-high boots and a high ponytail, and you're good to go.
But if the Sweetener singer's street style isn't your taste, athletes will still get a lot of wear out of this piece. The roominess makes it easy for layering on a cold, wintery trek to the gym, plus it just looks like the most epic loungewear staple.
Dozens Of Sneakers To Fit Your Sole's Style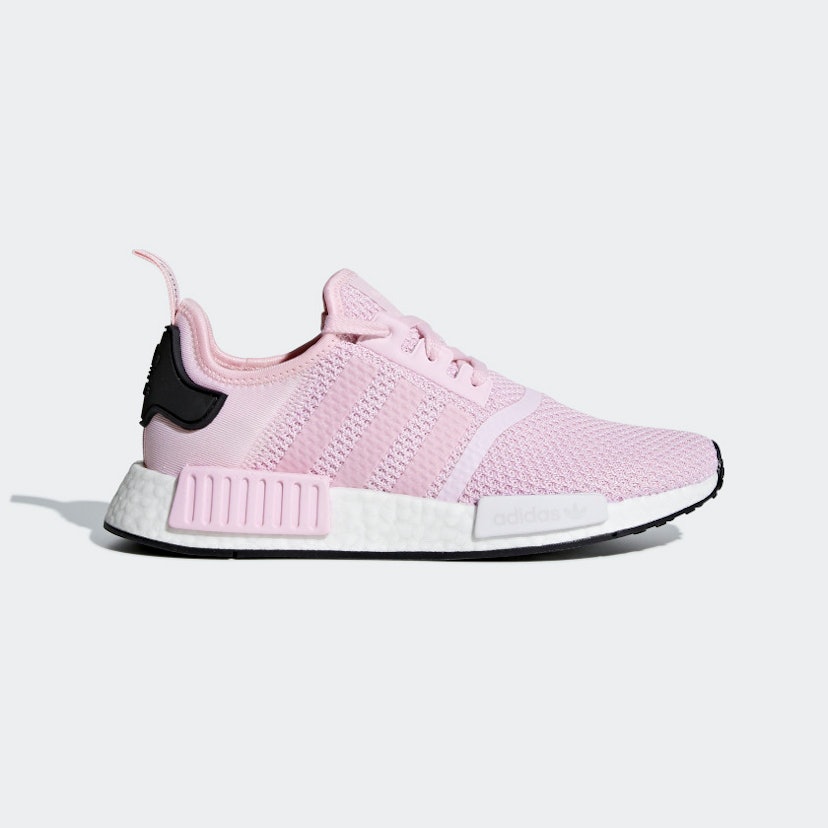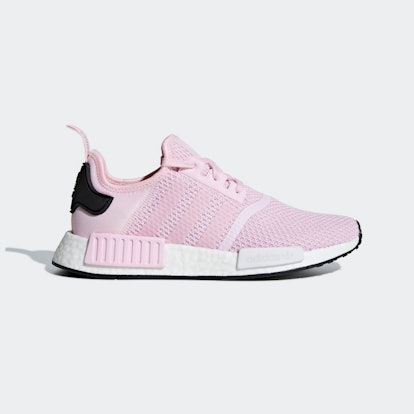 Adidas NMD_R1 SHOES
$91
Adidas
OK, so these sneaks might be more Barbie than they are millennial pink, but come on, ladies. You cannot honestly tell me you haven't waited all your life for a pop of pink in your athletic wardrobe.
Personally, I'm a huge fan of this pair in particular, but rest assured, Adidas isn't only doling out discounts to bright pastel footwear. There are a ton of sneaks on sale for Black Friday, and you can check those out here.
A Pair Of Comfy Pants Casual Enough For The Office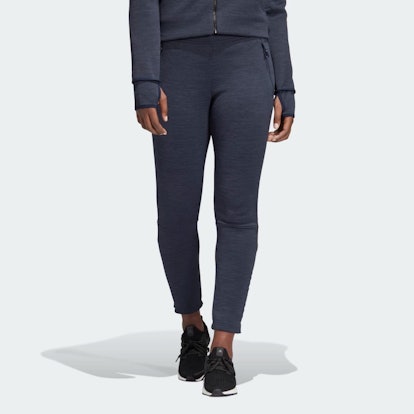 Adidas Z.N.E. Pants
$63
Adidas
A quick heads up: As you're browsing through Adidas' Black Friday sale, make sure that, when you click on an item, you pay attention to the price changes. Depending on the color of some items, the holiday discount may not apply.
For example, these super comfy, ah-dorable athletic pants with a tie at the waist and sleek slip pockets on the sides also come in Noble Maroon and Ash Silver, but only the Black/White and Legend Ink colors are marked down for Black Friday. C'est la vie, right?
You'll Save Huge On These Brand Name Shorts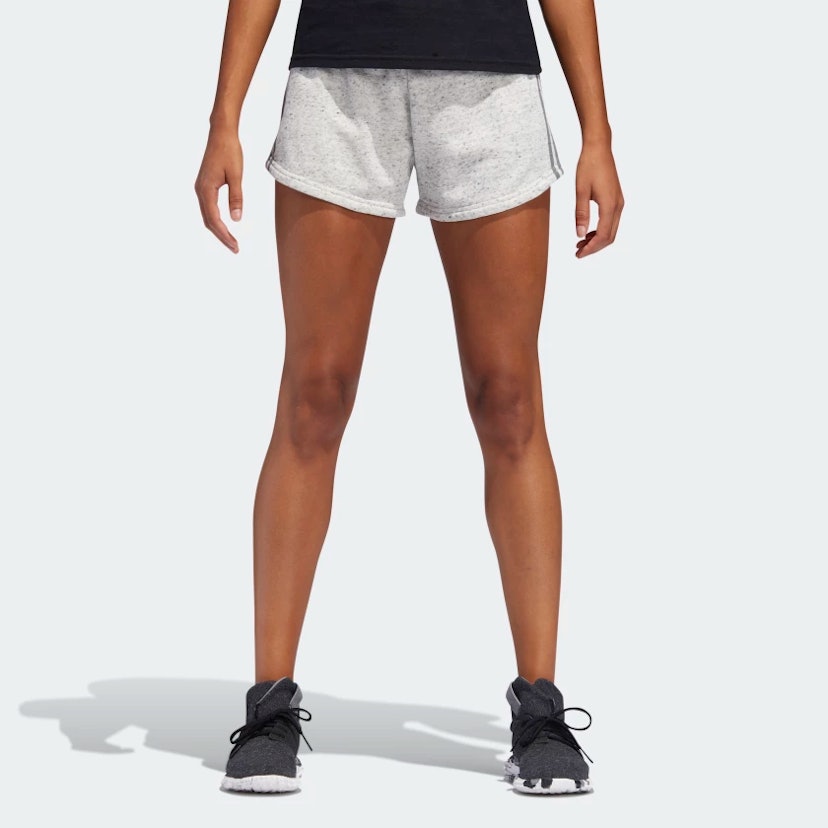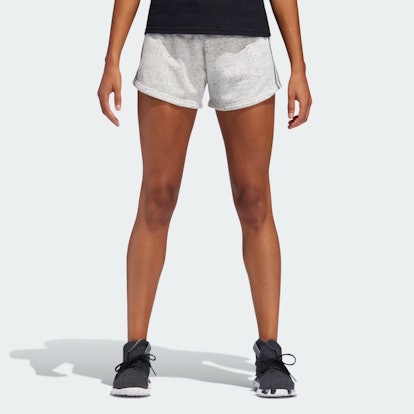 Adidas S2S Shorts
$18
Adidas
Yes, I know the temperatures are dropping, and pretty soon fall will become frigid, and then winter will be here before you know it. But guys, Adidas shorts for $18? You just can't beat it.
Again, this pair is only discounted in White Melange/Gray, but it'll literally match everything in your wardrobe. Plus, the pair is made from a soft terry fabric, so you might be chilly, but at least you'll be comfy.
Crop Tops For Winter Workout Sessions That Get Heated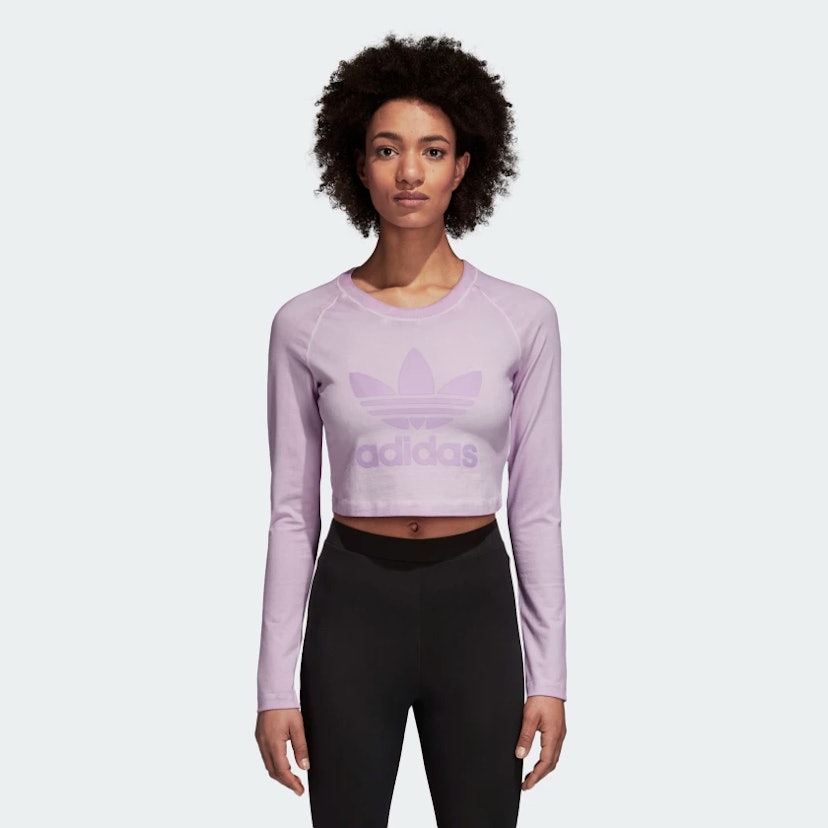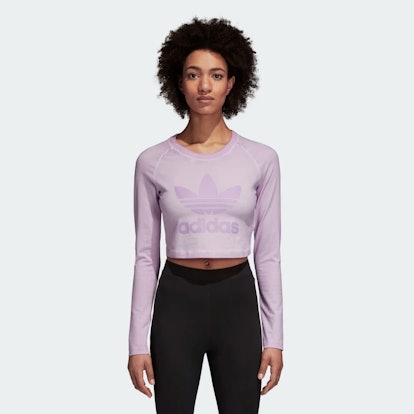 Adidas Crop Top
$42
Adidas
For some reason unbeknownst to me, crop tops are totally acceptable at the gym year-round, regardless of the weather. You might be chilly in transit, but layering is always an option from home to your car to the studio and back. Plus, when you're in the middle of a kickass workout, even if it's cold outside, your internal body temp feels like summer, so it all balances out.
Source: Read Full Article