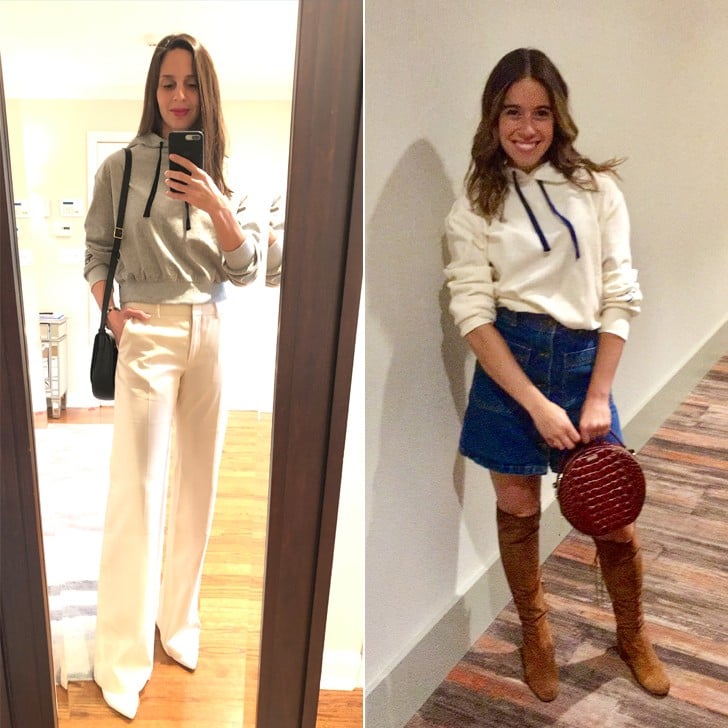 The $26 Velour Hoodie Our Fashion Editors Want to Live In

Despite the ever-growing athleisure trend, I only ever wear hoodies while lounging at home or working out at the gym. I'm just the type of girl who likes to go full-on glam for a night out in a dress, a new midi skirt, sequins, beads — you name it. But things are changing. Now I know why I've always regarded hoodies as leisurewear — I just hadn't found the right one! Well, I just landed upon this POPSUGAR at Kohl's velour design, and I swear I have rocked it for every activity under the sun.
Here, you see executive style director Dana Avidan Cohn and I sporting the sleek piece in Heather Gray and Pristine, respectively. Our outfits are sophisticated; they might even be work appropriate for some. The sweatshirt, which is currently on sale for $26, also comes in Bridal Rose and Jet Black, and it's offered in extended sizes, too. But these are just the first few reasons I love it. When you feel the cozy, fuzzy fabric, you'll simply want to melt to the floor. The interior and exterior are equally soft. There's no standard jersey lining to be disappointed about when you slip it over your head.
I like rocking mine with leggings and trainers just as much as I do with wide-leg pants and cowboy boots, or this denim miniskirt with my suede thigh-highs. Dana has also styled it with a pleated skirt, and I'm crazy about the adorable star stitched onto the sleeve, which finishes any look with a fun stamp of personality. If you want to take the hoodie to fancier territory, I can promise you it'd work in black with a floor-skimming silk slip, pumps, statement earrings, and a clutch for the evening. I doubt you need further convincing at this point, so read on to shop.
Source: Read Full Article